Engaging Citizens Can Be a 'Win-Win' Approach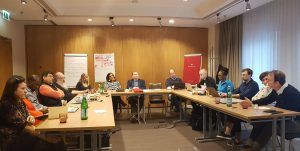 It is never easy to set the limits of citizens' engagement in participatory policymaking. The sky is usually too high, but a useful approach is: "consult early, consult often". But how early is early, and how often is often – and can't this actually result in procrastination and an endless cycle of consultations?
This question could be applied to the co-creation process underpinning the formulation of the commitments in an OGP Action Plan, but equally to the decision by a local authority on where to locate a new school or sports arena, or where to build a new road bypassing a city centre.
At the national level, the challenges of inclusivity are magnified many times more, particularly trying to have an inclusive OGP Action Plan in Ukraine or Germany, let alone a country with a population the size of the US, Indonesia, Nigeria or Brazil.
In the end, the issue of "resources" is key to the efficiency and inclusivity of the process. If the public authorities have both the skills and human resources to manage the decision-making cycle or the Action Plan co-creation process in a way that includes the public, and reaches out to key stakeholders affected by the envisaged decisions, then the application of participatory policymaking can be a win-win for all stakeholders. Similarly, the process is greatly enhanced when the groups consulted also have skills in formulating recommendations and amendments to laws or policies, or even contributing to initial policy scenarios before a draft decision is even formulated. For the participatory process to flourish, public officials, such as the agenda-setters in ministries, must be ready to set aside time and resources to make it happen.
As was seen in the OGP Action Plan co-creation process in Armenia in 2018, during a period of democratic revolution, political will and resources must be combined to manage expectations and to communicate why and how different inputs and recommendations have or have not been taken on board.
Very often, citizens are presented with a draft policy or law, when the authorities really should start out by outlining a problem, challenge, or new initiative, and a series of policy scenarios for consideration by a wide variety of stakeholders. This "green paper" approach – still too rarely used in most countries – enables proper stakeholder and context analysis, as well as impact assessment of different scenarios, sparing all concerned the prospect of unanticipated side-effects further down the road.
From World Café in Ukraine and public crowd-sourcing in Armenia to awareness-raising and feedback events in several cities in Slovakia, there are different ways of engaging citizens in the OGP Action Plan co-creation process. In the Philippines, civil society members sit on the steering committee that puts together the Action Plan, and are supported by a civil society secretariat – a model that strengthens face-to-face contact between NGOs and public officials, and broadens ownership of the process. A similar model has evolved in Argentina where NGOs and public official sit together at the Open Government National Table.
Even in such a situation, both the government side and the engaged NGOs must remember to reach out to the rest of the NGO community, and never to assume that the place at the table of a handful of NGOs is the end of the story. The perspectives of civil society, expert groups, and the business community can strengthen the process of designing legislation at the stages of conception, drafting, impact assessment, decision-making, and also later when monitoring implementation. Likewise, targeted inputs from stakeholders can support the design and strategic focus of OGP commitments, and this can be complemented by the subsequent consideration of the perspectives of a wide range of stakeholders to identify potential problems and facilitate the fine-tuning  of commitments.
Learning from these different approaches, the IRM recommends the following to OGP participants when developing their Action Plans:
Develop skills both in government and civil society to manage the participatory process and invest time in preparing and carrying out public consultations.

Start out by outlining a problem or challenge for a variety of stakeholders to consider.

Reach out to harness a variety of perspectives, but identify whom you will need to consult, according to the type of input you need at the different moments in the multi-tiered process of developing the Action Plan.

Manage expectations and communicate why and how different inputs are considered or not.
To make this possible, the key is people – both in government and in civil society. A strong culture of consultative communications is essential to sustain open government and to open up an understanding of why open government makes sense. When implemented effectively, open government  provides a win-win in terms of effective decision-making, value for money, and a sense of democratic participation and ownership of the choices and decisions taken.
No es fácil establecer los umbrales de la participación ciudadana en el diseño participativo de políticas. La meta puede ser demasiado alta, pero la recomendación es "la consulta temprana y constante". ¿Pero qué tan temprano es temprano y qué tan frecuente es frecuente – y no podría esto conducir a la procrastinación y a un ciclo infinito de consultas?
Esta pregunta podría ser aplicada a los procesos de cocreación que sustentan la formulación de los compromisos del plan de acción de OGP y a las decisiones tomadas por las autoridades locales sobre dónde construir una escuela, un centro deportivo o una nueva carretera que evite el paso por el centro de la ciudad.
A nivel nacional, los retos sobre inclusión en los procesos de cocreación son mucho mayores, especialmente cuando se trata de hacer un plan de acción de OGP inclusivo como en Ucrania y Alemania, sin mencionar en países con poblaciones grandes, como Estados Unidos, Indonesia, Nigeria o Brasil.
Al final, el tema de los "recursos" es la clave de la eficiencia e inclusividad de los procesos. Solo si las autoridades tienen la capacidad y los recursos humanos para encargarse de la toma de decisiones o del proceso de cocreación del plan de acción con la participación del público y los actores clave afectados por sus decisiones, la aplicación de las políticas de participación será un "ganar-ganar" para todos. Asimismo, este proceso se fortalece cuando los grupos consultados tienen la capacidad de plantear recomendaciones y enmiendas a leyes y políticas o incluso contribuir a los escenarios de políticas iniciales aun antes que el proyecto de decisiones sea formulado. Para que el proceso de participación se florezca, los funcionarios públicos, como aquellos que establecen la agenda en los ministerios, deben estar listos para reservar tiempo y recursos para que esto suceda.
Como se evidenció durante la creación del plan de acción de OGP en Armenia en 2018, durante un periodo de revolución democrática, la voluntad política y los recursos deben unirse para manejar las expectativas y la comunicación del por qué y cómo las distintas aportaciones y recomendaciones han sido o no tomadas en cuenta.
Con mucha frecuencia, las autoridades presentan a los ciudadanos proyectos de ley, cuando realmente deberían haber empezado por plantear un problema, reto o iniciativa y una serie de escenarios de política para la consideración de diversos actores. Este método del "Libro Verde" – aún poco empleado en la mayoría de los países, garantiza la participación de todos los grupos interesados y el análisis de la situación, así como la evaluación de impacto de los diferentes escenarios, minimizando la posibilidad de efectos secundarios negativos en el futuro.
Como lo demuestran las distintas experiencias y enfoques en los procesos de cocreación de planes de acción de OGP – del World Café en Ucrania, al crowd-sourcing en Armenia, hasta los eventos de sensibilización y retroalimentación en varias ciudades de Eslovaquia en el Open Gov Week 2019 – existen muchas maneras de incorporar a los ciudadanos. En Filipinas, los miembros de la sociedad civil forman parte del comité que establece el plan de acción, apoyados por la secretaría de sociedad civil – un modelo que fortalece el contacto entre ONGs y los funcionarios públicos y amplía el empoderamiento del proceso. Un modelo similar se ha dado en Argentina donde ONG y funcionarios públicos comparten las Mesas de Diálogo del Gobierno Abierto.
Aun en estas circunstancias, tanto el gobierno como las ONG involucradas deben entrar en contacto con las demás ONG y nunca asumir que todo el trabajo ya está hecho porque unas cuantas ONG están participando. Desde el punto de vista de la sociedad civil, los grupos de expertos y el sector privado pueden fortalecer el proceso de diseño de leyes y el monitoreo de su implementación. Además, considerar los puntos de vista de un gran número de actores puede facilitar la formulación de compromisos de OGP más efectivos.
Al aprender de estos diferentes enfoques, el IRM recomienda lo siguiente a los participantes de OGP al desarrollar sus planes de acción:
Desarrollar habilidades tanto en el gobierno como en la sociedad civil para gestionar el proceso participativo e invertir tiempo en la preparación y realización de consultas públicas.
Comenzar por delinear un problema o desafío para que lo consideren una variedad de partes interesadas.
Ponserse en contacto para aprovechar una variedad de perspectivas, pero identificar a quién se necesitará consultar, de acuerdo con el tipo de información que se necesite en los diferentes momentos del proceso de múltiples niveles de desarrollo del Plan de Acción.
Gestionar las expectativas y comunicar por qué y cómo se consideran o no las diferentes entradas.
Para hacer esto posible, la clave es la gente – tanto el gobierno como la sociedad civil. Una cultura fuerte de comunicación consultiva es esencial para demostrar que el gobierno abierto es un enfoque efectivo. Un gobierno abierto que se implementa efectivamente ofrece un "ganar-ganar" en términos de toma de decisiones efectivas, rentabilidad y un sentido de participación democrática y apropiación en la toma de decisiones.