Faces of Open Government: Jen Bretaña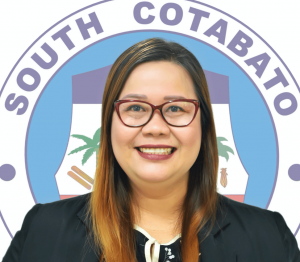 South Cotabato joined OGP in 2018 and is currently implementing five commitments on open government to strengthen public procurement, increase access to information, and bring citizens closer to their government.  Jen Bretaña is the OGP Government Point of Contact for South Cotabato, Philippines.
We've seen many open government innovations at the local level, from Austin's equity tool to Sekondi Takoradi's sanitation efforts. What are some open government innovations you've seen in South Cotabato? 
For a government to be open to its people, there must be an existing environment to allow openness to thrive in. This means that there must be constant collaboration between the government and its people through a co-creative process. By practicing this basic precept of democracy of engaging citizens here in South Cotabato, we were able to let people be empowered and have their voices heard.
 In 2015, South Cotabato already successfully pioneered the implementation of an integrity program at the local government level through the iSouthCotabato or South Cotabato for Integrity for Jobs program. Introduced by a consortium led by the civil society and the private sector – Konrad Adenauer Stiftung (KAS) and the European Chamber of Commerce in the Philippines (ECCP), South Cotabato formed the South Cotabato Integrity Circle (SCIC) and developed twenty-four (24) integrity mechanisms following Caren Levy's Web of Institutionalization model. Composed of twenty-one (21) members with equal representation from the local government unit, civil society organization and business sector of seven (7) each, the Integrity Circle demonstrates increased multi-stakeholder co-ownership and co-creation in ensuring the effective implementation of integrity initiatives in the province. Championing the culture of integrity in the province, South Cotabato's integrity program has been recognized by the Development Academy of the Philippines (DAP) as one of the Government Best Practices in 2018.
 In 2018, with the help of our government, civil society and private/business sector partners, we were able to co-create five (5) commitments to the OGP. Among these are technological innovations in the public procurement process as well as in the monitoring of provincial infrastructure projects.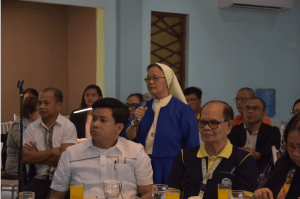 Open Contracting: Enhancing Efficiency and Transparency of the Public Procurement Process
With the assistance of the European Chamber of Commerce in the Philippines (ECCP) and Hivos, and through constant dialogues with the civil society organizations and the business sector particularly local contractors and suppliers, various improvements and milestones were realized in the procurement process including the regular presence of the Civil Society Organization (CSO) Observers in the bids opening of the Bids and Awards Committee, the issuance of an Administrative Order Providing the Internal Rules and Policies to Improve the Procurement Process of the Provincial Government of South Cotabato, and the development of a Procurement Data System that enables the uploading and analysis of procurement documents in machine-readable format. Further, using this system, students are encouraged to utilize the procurement data in conducting research studies by launching a Research Grant Competition using open procurement data.
Participatory Infrastructure Project Monitoring
 Along with the procurement data system, we also developed a system for the monitoring of provincial infrastructure projects and the online disclosure of monitoring reports near real-time (one day or two after the conduct of monitoring activity), particularly those that have negative slippages or implemented beyond the target schedule of completion. Using the Open Data Kit (Kobo Toolbox), we were able to create user friendly monitoring forms for the use of the Provincial Project Monitoring Committee as well as other community-based stakeholders taking part in the monitoring activity. The system is also an online platform for citizens to directly communicate their concerns especially regarding provincial infrastructure projects within their communities or localities. It is the goal of the commitment to eventually capacitate and empower grassroots-level / community-based monitors representing the basic sectors such as women, farmers or indigenous peoples who will be engaged in the monitoring of projects that are located in their communities.
Increasing Inclusivity in Public Access to Government Information
Another deliverable in the OGP commitment is the development of the Integrated Provincial Online Database (iPOD), which is both a supply-and-demand driven online database where the public can access, save and print provincial data and information right at their homes. The iPOD aims to increase inclusivity in public access to statistical data by harnessing technology for enhanced transparency. It shall serve as the Central Provincial Online Database that will link into one platform six databases/portals: 1)Interactive Socio-Economic Profile System(iSEPS) that will be a supply-driven system that captures sectoral data pertaining to demographics, economic, social, environment/DRR-CCA and institutional development for ready use of individuals/researchers/schools, communities and organizations; 2)Provincial Government Programs and Services Portal where programs and services of provincial departments shall be made available; 3) Procurement Data System that houses all procurement data with analytics and visualization; 4)Mining Information Portal where all data on the small-scale mining activities of the province shall be accessed; 5)Legislative Information Tracking System that will feature a database with query functions on all provincial legislations; and 6)Infrastructure Monitoring System Using ODK that allows the Provincial Project Monitoring Committee to monitor locally-funded projects using any Android device and post monitoring results near-real-time giving users access to automated analytics, data visualizations and maps.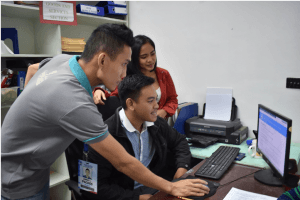 Bringing the People Together
 With this experience, we found that having constant communication with the people resulted to a more holistic implementation of programs and services. We also learned that through constant engagement with them, we were able to know about their problems and discuss possible solutions with them. In essence, we are bringing people closer together in shaping a more open government.
Future of Open Government in South Cotabato 
We can safely say that the open government seed we have planted is slowly growing. In order for it to continue to grow and thrive, we have to nurture and sustain the already existing open government mechanisms improve on areas that require more work.
South Cotabato has made interesting commitments across a range of policy areas, including open contracting, successfully bringing the private sector to the table to discuss this and other open government initiatives. How was the government able to bring this group into the discussion and how did it impact the co-creation process? 
South Cotabato has since had a strong relationship with its private/business sector, even before joining the OGP. The provincial government has always been keen in engaging both its civil society organizations and the private and business sector through their inclusion and participation in the different local special bodies.
This particular relationship has enabled balance in the whole co-creation process. Since there is already an existing partnership between the provincial government and its private and business sectors, it was never difficult to ask for their support. There were also a number of ideas and suggestions from them during the co-creation process that were incorporated in the action plan.
How has including voices who don't typically participate in the process (especially marginalized communities) affected co-creation and the impact of open government in South Cotabato?
For some time, the government has been providing programs and services that it thinks the people need. This eventually resulted in narrow, circumscribed and apolitical solutions to the people's needs. To fully address issues such as poverty, there must be a need to improve in making governance and development more inclusive to build up the power of those who are excluded.  
Grassroots participation is essential in social and economic development. This is especially true if citizen involvement is limited. With the Open Government Partnership and open government initiatives of the provincial government, the inclusion of marginalized communities, specifically our indigenous peoples and women, in the co-creation process as well as in open governance has allowed for these communities to become more empowered. To make sure that nobody is left behind, measures were done to allow for their participation.
During the co-creation process, efforts were done to ensure that there will be a wide range of consultation for different stakeholders. The Indigenous People's Mandatory Representative (IPMR) of the provincial legislative body was among the participants involved during the co-creation workshop. Consultation activities were also conducted for different stakeholders, among them are indigenous people representatives and women's groups.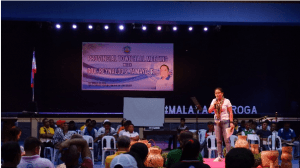 Along with the response to the Call to Action for a More Inclusive OGP, further assessment of the commitments and milestones were done in 2019 to make them more gender-sensitive and inclusive to the marginalized sectors especially the indigenous peoples. This resulted in gender-mainstreamed commitments and milestones such as the annual conduct of the Provincial Townhall Meetings. The milestone evolved from being limited to only include the one hundred ninety-nine (199) barangay (village) leaders into including different grassroots-level groups among of which are women and indigenous peoples. Another milestone under Open Contracting was also improved to include gender sensitivity, especially for women. The Open Contracting Webpage was further enhanced by gender-tagging of women-owned businesses joining biddings or awarded with contracts.
Building and sustaining trust is never easy, and so is finding agreeable methods in engaging both government and its people. But if we continue to strive to allow trust to flourish and harness the potential of collective action among citizens, there will be more room for inclusivity and development in government, especially with marginalized communities. Therefore, government should create a bureaucracy that is efficient, transparent, and accountable. We do it by having our constituents co-own government so that they will be represented and heard. They will be given information in the language and form that they understand and they should be given the capacity to take part in government.
Related Content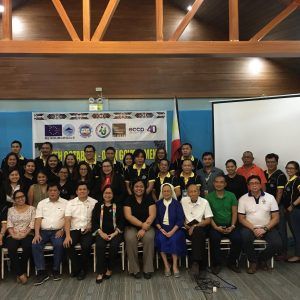 South Cotabato, Philippines
South Cotabato is currently implementing 5 commitments from their 2018-2020 action plan. This action plan features commitments related to open contracting, open monitoring of local infrastructure, open legislation, open mining…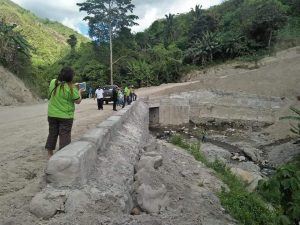 South Cotabato, Philippines – Citizen Monitoring of Public Infrastructure Projects
Inefficiencies in South Cotabato's procurement process led to delayed completion or hold up on implementation of 95 percent of planned infrastructure projects in 2017. A lack of publicly accessible information…
Challenges and Solutions
On the Road to a Better Procurement System in South Cotabato
The local government of South Cotabato, a province in the south of the Philippines, only completed 4.1 per cent of the development projects - most of them related to infrastructure…