Faces of Open Government: Rakesh Rajani
In 2011, leaders in government and civil society came together to ask how we can better work side by side to tackle persistent problems and turn good ideas into real actions. To realize and maintain meaningful change so that the government works for all, not just the most powerful. As OGP celebrates its 10th anniversary, we sat down with Rakesh Rajani, an open gov advocate who has been involved with OGP since its inception.
You've been involved in OGP since the early days and watched it grow from a Partnership of just a few countries and civil society partners to 78 countries, 76 local governments and thousands of civil society organizations. How has open government changed in the last decade? 
The world has changed and become much more closed and authoritarian — from the U.S. to the U.K., Brazil to the Philippines, and my own country Tanzania. This shows that democratic values and open government can never be taken for granted; they need to be owned by and championed by both elites and ordinary citizens. Lofty words will only take you so far in light of deepening inequality, misogyny and racism. We need to connect more deeply with constituencies, do long-term organizing, and help rebuild a practical social compact that provides tangible services and hope. 
Since joining OGP you've held a variety of roles from OGP civil society co-chair to open government envoy. What have been some of your proudest moments working with the OGP community?
There are many. Co-creating a global platform where government leaders and civil society have equal voice and votes in the highest governance body. Deepening the diversity of civil society actors — engaging more feminists, more from the Global South, critics of the OGP model. Establishing a core mechanism involving countries making commitments that are independently assessed — and published — for meaningfulness and delivery. And through all these, helping advance the idea that government needs to work for people, not the other way round. 
As OGP gears up for the next ten years, starting with the OGP Global Summit in December, what would you like to see in the next decade of OGP?
The risk is that OGP becomes a complacent club of the converted few. How do we get other constituencies who care about justiceTo address barriers that prevent citizens from having their justice needs met, OGP participating governments are working to expand transparency, accountability, and inclusion into all systems of justi... — such as women rights activists or educationAccountability within the public education system is key to improving outcomes and attainment, and accountability is nearly impossible without transparent policies and opportunities for participation ... reformers or green economy advocates — come to see OGP as a critical platform to achieve their goals and have lasting impact at scale? The fact is that we will not be able to meet any of our social justice goals at scale without governments being open, inclusive, representative, responsive and accountable. Our dreams can be realized so much more when we ensure that we are government and government is us. Getting that core idea to have traction broadly across society, and organizing practical action to make it real, is a core challenge for the next decade. 
En 2011, un grupo de líderes de gobierno y la sociedad civil se reunieron para pensar cómo podíamos trabajar juntos en atender los problemas recurrentes y convertir las buenas ideas en acciones reales. Para crear y mantener cambios verdaderos para que el gobierno trabaje para todos y no solo para los poderosos. OGP está celebrando su décimo aniversario y en ese contexto platicamos con Rakesh Rajani, impulsor del gobierno abierto que ha colaborado con OGP desde su creación.
Has estado vinculado con OGP desde sus inicios y la has visto crecer desde ser una alianza de unos cuantos países y líderes de la sociedad civil a incluir a 78 países, 76 gobiernos locales y miles de organizaciones de la sociedad civil. ¿Cómo ha cambiado el gobierno en los últimos diez años?
El mundo ha cambiado y se ha tornado mucho más cerrado y autoritario, desde Estados Unidos hasta el Reino Unido, desde Brasil hasta Filipinas hasta mi propio país, Tanzania. Esto demuestra que los valores democráticos y el gobierno abierto no se deben dar por sentado y que tienen que ser impulsados tanto por las elites como por la ciudadanía. Las palabras elegantes solamente llevan hasta cierto punto en un contexto de cada vez mayor desigualdad, misoginia y racismo. Es necesario que nos involucremos de forma más profunda con los constituyentes, nos organicemos para el largo plazo y ayudemos a reconstruir un acuerdo social que otorgue servicios tangibles y esperanza.
Desde que te incorporaste a OGP, has ocupado diferentes roles, desde copresidente de la sociedad civil hasta enviado de gobierno abierto. Menciona algunos momentos que te han generado mayor orgullo en tu trabajo con la comunidad de gobierno abierto.
Hay muchos. Cocrear una plataforma global en la que los líderes de gobierno y la sociedad civil tienen voz y voto por igual en el organismo de gobernanza de alto nivel. Incrementar la diversidad de actores de la sociedad civil: involucrar a más feministas, grupos del hemisferio sur y a críticos del modelo de OGP. Establecer un mecanismo central sobre los países que establecen compromisos evaluados independientemente (y publicados) para generar mayor impacto. Además, ayudar a comunicar la idea de que el gobierno tiene que trabajar para la gente y no lo contrario.
p style="text-align: center;">
A partir de la Cumbre Global de OGP de diciembre, OGP se está preparando para los próximos diez años. ¿Qué esperarías para la próxima década de OGP?
El riesgo es que OGP se convierta en el club complaciente de los pocos convertidos. ¿Cómo hacemos para que los otros constituyentes que luchan por la justicia (activistas en derechos de las mujeres, reformadores de la educación o impulsores de la economía verde) encuentren en OGP una plataforma clave para lograr sus objetivos y tener impacto duradero y a escala? El hecho es que no podremos lograr ninguno de nuestros objetivos de justicia social a escala si los gobiernos no son abiertos, incluyentes, representativos, responsivos y responsables. Nuestros sueños pueden cumplirse de mucho mejor manera cuando aseguramos que el gobierno somos nosotros y nosotros somos el gobierno. El reto para la próxima década es llevar esta idea al grueso de la sociedad y organizar acciones prácticas para hacerla una realidad.
En 2011, des dirigeants politiques et de la société civile se sont réunis pour s'interroger sur la manière de mieux coopérer afin de résoudre des problèmes persistants et transformer de bonnes idées en actions concrètes. Pour réaliser et maintenir un changement significatif afin que le gouvernement travaille pour tous, et non seulement pour les plus puissants. Alors que le PGO célèbre son 10e anniversaire, nous avons rencontré Rakesh Rajani, un défenseur du gouvernement ouvert qui est impliqué dans le PGO depuis sa création.
Vous êtes impliqué dans le PGO depuis ses premiers jours et vous l'avez vu passer d'un partenariat de quelques pays et partenaires de la société civile à 78 pays, 76 gouvernements locaux et des milliers d'organisations de la société civile. Comment le gouvernement ouvert a-t-il évolué au cours de la dernière décennie?
Le monde a changé et est devenu beaucoup plus fermé et autoritaire – des États-Unis au Royaume-Uni, du Brésil aux Philippines, jusqu'à mon propre pays, la Tanzanie. Cela montre que les valeurs démocratiques et le gouvernement ouvert ne peuvent jamais être tenus pour acquis ; les élites et les citoyens ordinaires doivent se les approprier et les défendre. Les belles paroles ne sont pas suffisantes face à l'accroissement des inégalités, de la misogynie et du racisme. Nous devons établir des liens plus étroits avec les circonscriptions, mettre en place une organisation à long terme et aider à reconstruire un contrat social pratique qui fournit des services tangibles et de l'espoir.
Since joining OGP you've held a variety of roles from OGP civil society co-chair to open government envoy. What have been some of your proudest moments working with the OGP community?
Depuis que vous vous êtes joint au PGO, vous avez occupé divers postes, allant de coprésident de la société civile du PGO à envoyé du gouvernement ouvert. Quels sont les moments où vous avez été le plus fier de travailler avec la communauté du PGO ?
Il y en a plusieurs. Co-créer une plate-forme mondiale où les dirigeants politiques et la société civile ont une voix et des votes égaux au sein de la plus haute instance de gouvernance. Approfondir la diversité des acteurs de la société civile – engager davantage de féministes, davantage de pays du Sud, de critiques du modèle du PGO. Établir un mécanisme de base impliquant les pays prenant des engagements qui sont évalués de manière indépendante – et publiés – pour leur pertinence et leur mise en œuvre. Et à travers tout cela, aider à faire avancer l'idée que le gouvernement doit travailler pour les gens, et non l'inverse.
Alors que le PGO se prépare pour les dix prochaines années, en commençant par le , qu'aimeriez-vous voir au cours de la prochaine décennie du PGO ?
Le PGO risque de devenir un club complaisant de quelques convertis. Comment faire en sorte que d'autres groupes se souciant de la justice – tels que les militants des droits des femmes, les réformateurs de l'éducation ou les défenseurs de l'économie verte – en viennent à considérer le PGO comme une plate-forme essentielle pour atteindre leurs objectifs et avoir un impact durable à grande échelle ? Le fait demeure : nous ne pourrons atteindre aucun de nos objectifs de justice sociale à grande échelle sans que les gouvernements soient ouverts, inclusifs, représentatifs, réactifs et responsables. Nos rêves sont beaucoup plus susceptibles de se réaliser lorsque nous nous assurons que nous sommes le gouvernement et que le gouvernement est nous. Faire en sorte que cette idée centrale ait une influence à travers toute la société et organiser des actions pratiques pour la concrétiser représente un défi majeur pour la prochaine décennie.
Related Content
Champions
Q&A with Rakesh Rajani "Government is Us"
Q&A with Rakesh Rajani "Government is Us"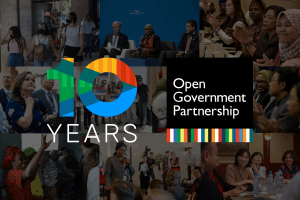 10 Years of OGP
Ten years ago reformers inside and outside government launched OGP – a simple yet distinct way to join forces to create transparent, participatory, inclusive, and accountable solutions