How Can We Get EU Recovery Right?
The European Union's Recovery and Resilience Facility (RRF) is a landmark opportunity to rebuild economies and livelihoods destabilized by the COVID-19 pandemic. As spending plans take shape, calls are growing louder from across the European Union (EU) for more transparencyAccording to OGP's Articles of Governance, transparency occurs when "government-held information (including on activities and decisions) is open, comprehensive, timely, freely available to the pub... More, accountability, and civic engagement around this enormous stimulus fund of 750 billion euros. If these calls are left unanswered, the fund is at significant risk of misuse and fraud. This could exacerbate existing inequalities and further erode European democracy, as well as limiting the fund's potential to reach climate and digital targets.
So how do we get recovery right? OGP brought together EU officials, national governments and civil society representatives, gathering three actionable ideas that European leaders can adopt for a strong, inclusive, and sustainable recovery.
1. Make public spending more transparent
Public spending is notoriously prone to waste and corruption, and, as experts have warned, this fund is no exception. European institutions and governments must raise the bar from what is currently required by the RRF regulationGovernment reformers are developing regulations that enshrine values of transparency, participation, and accountability in government practices. Technical specifications: Act of creating or reforming ... and national laws to deliver greater transparency in order to prevent corruption, foster legitimacy in recovery investments and priorities, and improve trust in government.
Governments should proactively publish detailed information about spending of their National Recovery and Resilience Plans. Specifically, governments can publish all contracting information according to the Open Contracting Data Standard; publish all loan and grant agreements; and publish details of final recipients – including beneficial owners of recipients. 
The new Open Spending EU Coalition has published specific recommendations and tools to help governments make pandemic recovery spending more transparent.
2. Make published spending data accessible and usable
The details of how and where public spending information is published is equally important. Open dataBy opening up data and making it sharable and reusable, governments can enable informed debate, better decision making, and the development of innovative new services. Technical specifications: Polici... and central data portals are key to making spending data accessible and usable, for tracking, researching, monitoring, and auditing public expenditure. 
Specifically, the Open Spending EU Coalition recommends that all published information should be made available in open data formats which can be freely used, re-used, and shared by anyone for any purpose. The European Commission and EU member states should establish central, interactive web portals – and ensure all the information is up to date and published on time. These data portals should categorize and link published data to original sources for more meaningful transparency. 
3. Create avenues for civic participation
The active engagement of citizens and civil society in the design, implementation, and monitoring of recovery spending is critical for a prosperous and sustainable recovery. Participation can help ensure that spending addresses citizen priorities, and that the fund reaches its intended goals. New research from OGP clearly shows that stronger civil society engagement leads to better outcomes. 
European institutions and governments should create opportunities for positive engagement with civil society and citizens that goes beyond basic public consultations and information sharing. These include:
creating space for civic dialogue to identify spending priorities; 

collaborating with civil society as implementing partners;

investing in participatory infrastructure to enable civil society to monitor and evaluate spending;

ensuring that under-represented groups are brought to the table; 

enabling entry points for the public to hold institutions to account, including through public audit and redress mechanisms; 

considering civil society organisations as beneficiaries of the funds to ensure they have the capacity to engage. 
To help governments and institutions improve civic engagement around EU recovery spending, Civil Society Europe and the European Center for Not-for-Profit Law have published a set of recommendations and tools.
Open up recovery spending, together
Getting recovery right depends on EU institutions and member state governments opening up their spending. Internal and cross-border dialogue, cooperation, and collaboration can support these efforts. The EU institutions have an important role to play in this regard, and the common RRF framework could provide an opportunity for member states to exchange best practices and learn from each other as they implement the facility. EU member states should also take advantage of other existing multilateral frameworks such as OGP and OECD for learning, sharing, and collaborating with each other. OGP also provides a ready-made platform for dialogue and implementation of policies that deliver more open, inclusive and sustainable spending.
For more in-depth guidance and recommendations, as well as examples of how crisis recovery can be – and has been – done right, see the roundtable backgrounder, "Getting Recovery Right | Three ideas to open up EU RRF spending."
Related Content

A Post-Covid-19 Social Compact Rooted in Openness and Citizen Engagement
The European Commission has been instrumental in the swift European response to the pandemic, playing a critical role in flattening the curve. The bigger challenge is ahead.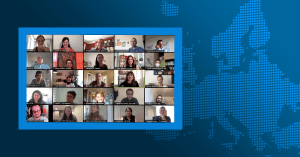 Challenges and Solutions
Open Response + Open Recovery: Conversations with Europe's Open Gov Community
Read how Europe's open government community is leveraging the OGP platform during the pandemic and tackling the challenges it poses to civic space.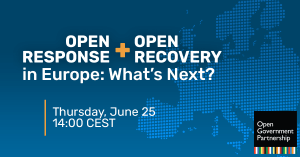 Open Response + Open Recovery in Europe: What's Next?
In this series of lightning talks, European reformers explore how to keep open gov values forefront as the region moves through pandemic response and recovery. Watch the recording...