How Legislative Footprints and Lobby Registers Can Rebuild Trust
On the sidelines of the February OGP Steering CommitteeThe Steering Committee is OGP's executive decision-making body. Its role is to develop, promote and safeguard OGP's values, principles and interests; establish OGP's core ideas, policies, and ru... meeting in Berlin, Germany, reformers from TransparencyAccording to OGP's Articles of Governance, transparency occurs when "government-held information (including on activities and decisions) is open, comprehensive, timely, freely available to the pub... More International Germany, LobbyControl, and Open Knowledge Foundation Germany held an event on law-making, lobbyingLobbying transparency allows the public to ensure that there is diversity of participation and contribution to public decision-making. Technical specifications: Policies and actions affecting lobbying..., and the role of the private sectorGovernments are working to open private sector practices as well — including through beneficial ownership transparency, open contracting, and regulating environmental standards. Technical specificat... More.
As global distrust in democracies grows, we believe intransparent legislative structures are a big factor. When lobbyists influence laws, it can create feelings of injustice and distrust within a society. Yet, lobbying, or the articulation of and advocacy for various interests, is essential for democracies. So, what does a fair and transparent lobbying system that enhances trust for political procedures look like?
We believe such a system should include both a legislative footprint and a mandatory lobby register, two of the most discussed ideas during the consultation for Germany's second OGP action planAction plans are at the core of a government's participation in OGP. They are the product of a co-creation process in which government and civil society jointly develop commitments to open governmen... in 2019. While both ideas are closely linked, they should be viewed separately. A legislative footprint records every step of a law's creation, while a lobby register documents who is lobbying whom and how much money they spend.  
Knowing how the law is being made
Before laws enter parliamentary debate in Germany they are usually drafted in the responsible ministry. Their staff is often already in touch with experts (lobbyists) during the draft. After passing through the federal cabinet, draft laws are introduced to parliament  where MoPs debate and parties invite stakeholders such as associations, businesses, researchers or NGOs to officially comment on proposed legislationCreating and passing legislation is one of the most effective ways of ensuring open government reforms have long-lasting effects on government practices. Technical specifications: Act of creating or r.... 
While such statements are public, they were not recorded or published anywhere. This changed after the Open Knowledge Foundation Germany ran a crowdsource FOI campaign for these documents. Ministries were quickly overwhelmed by the requests and decided to preemptively publish all expert statements from then on. While the federal government celebrates this as a major open government reform, it is only a small step towards implementing a legislative footprint.  
A legislative footprint means each law will have an electronic identifier (ID) as soon as it is drafted. All documentation of the law will be referenced under the ID and made public. This creates a clear overview on how laws are being made and who might influence them throughout the process. 
Expanding lobby registers in the EU
A mandatory lobby register is a necessity for regulating lobbying activities. Both France and Ireland introduced mandatory lobby registers as part of their OGP action plans and the European Commission and the European Parliament have their own lobby registers. While Germany is falling behind, civil society continues to push for regulationGovernment reformers are developing regulations that enshrine values of transparency, participation, and accountability in government practices. Technical specifications: Act of creating or reforming .... 
In February 2017, LobbyControl and Parliament watch presented a draft law to establish a mandatory register. Therein, all lobbyists would have to indicate on whose behalf and with which budget they are trying to influence policy. Defining lobbyists remains crucial. Ordinary citizens or small enterprises who may occasionally talk to legislators should not count as lobbyists. The distinction between citizens and professional lobbyists who work on behalf of companies, NGOs, or associations is also important for the introduction of a legislative footprint. Interactions with lobbyists should be part of the footprint, but interactions with citizens should not. 
A mandatory lobby register would make it more difficult to exert covert influence. It helps visualize power imbalances and focus public debate. Registers strengthen democratic control and serve as an important source of information for journalists, civil society organizations, citizens, and last but not least political decision-makers. All registered lobbyists would have to adhere to clear rules and a code of conduct. 
The birth of an unusual alliance
Introducing a lobby register is not part of the current governing coalition agreement of conservatives and social democrats, albeit being part of previous negotiations. Nonetheless – at least before the coronavirus crisis –  there was some momentum in parliament to introduce a lobby register. This change of attitude especially in the conservatives was in no small part due to the influence of an unusual coalition between industry and civil society. 
In 2018, the German Chemical Industry Association (VCI) formed an alliance with Transparency Germany and others. The VCI was tired of being the "bad guys" and suggested pushing for a mandatory lobby register with combined forces. This obviously made some impression with the more industry friendly politicians in the Bundestag, which until recently announced there would be a draft law coming soon.
With the current situation it remains unclear when the lobby register will be back on the agenda. Nonetheless, we remain hopeful for future implementation of regulation on a legislative footprint and a mandatory lobby register and Germany thereby leading by example in the OGP Steering Committee. Because as Merkel said in her address on COVID-19, making political decisions transparent and explaining them is what open democracy is all about.
Related Content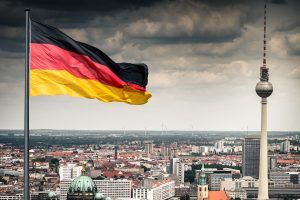 Germany
Germany's third action plan continues the goals of previous plans to increase open data, digitise public administration, consult citizens in specific policy areas, and improve open government at the subnational…