How – Together – We Can Break the Roles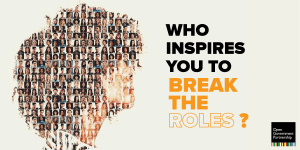 There are women who were the first…..
Women who demanded justice…
Women who defied silence….
And upended expectations…
But this isn't a story about some of us.
This is a story about how we all move past the stereotypes that hold us back.
These are the opening lines in the Open Government Partnership's (OGP) new video announcing Break the Roles – a campaign asking all of us to strengthen the gender perspectives in our OGP commitments and increase women's voices across open government. OGP's goal is to encourage at least 30 percent of OGP members  to take meaningful action on gender and inclusion in 2019.
OGP members have made nearly 4,000 open government reforms, covering everything from extractives to anti-corruption, yet  less than two percent of these reforms have explicitly mentioned women or gender. And what data we do have on OGP processes indicates that women's voices and expertise are limited in co-creation and implementation.
This lack of inclusion limits our collective ambition and ability to serve all citizens, including those most directly impacted by corruption, injustice, inequality, and lack of information and resources. We lack valuable insights and experiences when women are not at the table. And while the encouraging news is that the amount of commitments that mention gender has doubled in the last year, this pace of change is – quite frankly – far too slow. If we keep growing at 1% per year, it will take us 48 years to have 50% of commitments reflect the specific concerns of around 50% of the population.
The Break the Roles message is clear: if we want to see better more responsive, more transparent and more accountable government, we must take deliberate steps to ensure that all voices are included in open government. We must all take action – now. In doing so we are pleased to promote Open Heroines' ongoing work to capture the stories of women and LGBTQ people in open government through the Open Gender Monologues.
The campaign also showcases the Feminist Open Government Initiative's work to conduct real-world research into how open government can better work with and for women. International Development Research Centre (IDRC), the Government of Canada, and Results for Development (R4D) are our critical partners in this effort.
Currently, Break the Roles features women such as Aida Kasymalieva, first Female Deputy Speaker of Parliament, Aruna Roy, long-time human rights advocate, ground-breaking journalist Romina Colman, United Nations Executive Secretary for the Economic Commission in Africa Vera Songwe, and open contracting guru and Open Heroines champion Hera Hussain.
But as the video says, this is the start of a much bigger story – one we hope will spotlight the voices, experiences, and expertise of women across open government. A story that leverages the knowledge of those who understand that women and underrepresented groups often experience government services, such as healthcare and justice, differently, with unique barriers to information, access, and input. A story about how we address corruption and inefficiency, which disproportionately affect women and minority groups. A story about the potential of opening up contracts so that women and underrepresented groups can take part in 15 percent of the global GDP.
A story about the courage to break the roles that hold us back, so we can change the rules that carry us forward.
We recognize that Break the Roles is just one step in our journey. OGP remains committed to addressing gender issues both in how we work with governments and civil society and the actual daily work of our own staff.  More will be done in the coming months to build the capacity of OGP staff and key stakeholders to conduct gender analysis and integrate the findings into their work. In addition to OGP members, we encourage OGP partners to join us in these important reforms.
We are previewing this campaign with you as many of us prepare to gather in Canada for the 6th OGP Global Summit. Please share your feedback with us using #BreaktheRoles and watch for happenings in Ottawa, including:
The formal launch of Break the Roles at a Plenary session featuring Mary Robinson, the first female President of Ireland, former Chair of the United Nations High Commission on Refugees and current Chair of the Elders on May 30 at 4:40 PM
The launch of the Break the Roles Coalition
The second annual Feminist Open Government Day on Wednesday, May 29, starting at 8:30 AM
A Feminist Open Government Networking Event on Tuesday, May 28 from 5 – 7 PM
Story sharing through the Open Gender Monologues
On-site story collection through the European Youth Press and OGP
A status announcement on the 30 percent goal as well as examples of new gender commitments from Uruguay, Canada, Kenya and more
Hay mujeres que fueron las primeras…
Mujeres que exigieron justicia…
Mujeres que desafiaron el silencio…
Y acabaron con las expectativas…
Pero ésta no es una historia de algunas de nosotras.
Es una historia sobre cómo superamos los estereotipos que nos reprimen.
Estas son las palabras con las que abre el nuevo video de Open Government Partnership (OGP) que anuncia la campaña Romper los roles, la cual nos pide a todos fortalecer la perspectiva de género en nuestros compromisos de OGP y fortalecer la voz de las mujeres en todos los esfuerzos de gobierno abierto. El objetivo de OGP es inspirar a por lo menos 30% de los miembros de OGP a adoptar medidas trascendentes sobre género e inclusión en 2019.
Los páises y gobiernos locales miembros de OGP han adoptado cerca de 4 000 reformas de gobierno abierto, las cuales abarcan todos los temas desde las industrias extractivas hasta la lucha contra la corrupción. Sin embargo, menos del 2% de estas reformas han mencionado explícitamente los términos mujeres o género. Lo que es más, los datos que tenemos sobre los procesos de OGP indican que las voces y experiencia de las mujeres han sido poco escuchadas en los procesos de cocreación e implementación.
Esta falta de inclusión limita nuestro nivel colectivo de ambición y nuestra capacidad de servir todos los ciudadanos, incluyendo los más afectados por la corrupción, injusticia, desigualdad y la falta de información y recursos. Cuando las mujeres no participan en los procesos, nos perdemos de su valiosa opinión y experiencia. Aunque hay buenas noticias: la cantidad de compromisos que mencionan el término género se ha duplicado en el último año, este ritmo es, francamente, demasiado lento. Si seguimos creciendo 1% cada año, nos tomará 48 años que el 50% de los compromisos reflejen las preocupaciones del 50% de la población.
El mensaje de Romper los roles es muy claro: Si queremos lograr gobiernos más responsables y transparentes y que rindan cuentas, debemos tomar medidas para asegurar que todas las voces se incluyan en los procesos de gobierno abierto. Tenemos que tomar medidas -ahora. En ese contexto, nos da gusto mucho dar a conocer el trabajo de Heroínas Abiertas que busca capturar las historias de las mujeres y de las personas LGBTQ en el gobierno abierto a través de los Monólogos Abiertos de Género.
Además, la campaña muestra el trabajo de la Iniciativa de Gobierno Abierto sobre investigaciones de cómo el gobierno abierto puede generar mejores resultados para las mujeres. International Development Research Centre (IDRC), el Gobierno de Canadá y Results for Development (R4D) son nuestros socios clave en este esfuerzo.
Actualmente, Romper los roles presenta el trabajo de mujeres como Aida Kasymalieva, primera mujer portavoz adjunta del Parlamento; Aruna Roy, defensora de los derechos humanos; la periodista pionera Romina Colman; la Secretaria Ejecutiva de la Comisión Económica de África de la Organización de las Naciones Unidas, Vera Songwe y la gurú de la contratación abierta y líder de Heroínas Abiertas Hera Hussain.
Como lo dice el video, este es el principio de una historia mucho más grande en la que esperamos poder capturar las voces, experiencias y conocimiento de todas las mujeres de la comunidad de gobierno abierto. Una historia que aprovecha el conocimiento de quienes comprenden que las mujeres y los grupos poco representados en muchas ocasiones tienen acceso a los servicios públicos, como el acceso a la salud y justicia, de forma diferenciada y con barreras de información, acceso y entrada. Es una historia sobre nuestra lucha contra la corrupción y la desigualdad, las cuales afectan desproporcionadamente a las mujeres y a las minorías.
Una historia sobre la valentía que implica romper los roles que nos reprimen para poder cambiar las reglas que nos impulsan.
Reconocemos que Romper los roles es solo un paso de nuestro camino. OGP sigue comprometido con los retos de género que existen en nuestro trabajo con los gobiernos y la sociedad civil y al interior de nuestro equipo. Seguiremos trabajando en los próximos meses para desarrollar las capacidades del personal de OGP y actores clave para llevar a cabo análisis de género e integrar los resultados en su trabajo. Además de los miembros de OGP, invitamos a los socios de OGP a incorporarse a estas importantes reformas.
Compartimos con ustedes un adelanto de la campaña como parte de los preparativos para la sexta Cumbre Global de OGP de Ottawa. Por favor, envíanos tu retroalimentación usando el hashtag #BreaktheRoles y entérate de los eventos de Ottawa, incluyendo:
El lanzamiento formal de Break the Roles (Romper los roles) en una sesión plenaria en la que participará Mary Robinson, la primera presidenta de Irlanda, ex presidenta de la Alta Comisión de las Naciones Unidas para los Refugiados y actual presidenta de las personas mayores el 30 de mayo a las 4:40 pm
El lanzamiento de la coalición Romper los roles
El segundo Día Feminista de Gobierno Abierto anual el miércoles 28 de mayo a partir de las 8:30 am
Un evento de networking feminista de gobierno abierto el martes 28 de mayo de 5 – 7 pm
Un intercambio de historias en los Monólogos Abiertos de Género
Colecta de historias in situ a través de European Youth Press y OGP
Un anuncio sobre la meta de 30% y ejemplos de nuevos compromisos sobre género de Uruguay, Canadá, Kenia y más