How – Together – We Can Break the Roles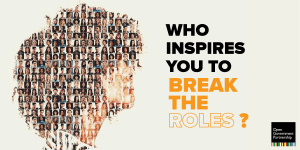 There are women who were the first…..
Women who demanded justice…
Women who defied silence….
And upended expectations…
But this isn't a story about some of us.
This is a story about how we all move past the stereotypes that hold us back.

These are the opening lines in the Open Government Partnership's (OGP) new video announcing Break the Roles – a campaign asking all of us to strengthen the gender perspectives in our OGP commitments and increase women's voices across open government. OGP's goal is to encourage at least 30 percent of OGP members  to take meaningful action on gender and inclusion in 2019.
OGP members have made nearly 4,000 open government reforms, covering everything from extractives to anti-corruption, yet  less than two percent of these reforms have explicitly mentioned women or gender. And what data we do have on OGP processes indicates that women's voices and expertise are limited in co-creation and implementation.
This lack of inclusion limits our collective ambition and ability to serve all citizens, including those most directly impacted by corruption, injustice, inequality, and lack of information and resources. We lack valuable insights and experiences when women are not at the table. And while the encouraging news is that the amount of commitments that mention gender has doubled in the last year, this pace of change is – quite frankly – far too slow. If we keep growing at 1% per year, it will take us 48 years to have 50% of commitments reflect the specific concerns of around 50% of the population.
The Break the Roles message is clear: if we want to see better more responsive, more transparent and more accountable government, we must take deliberate steps to ensure that all voices are included in open government. We must all take action – now. In doing so we are pleased to promote Open Heroines' ongoing work to capture the stories of women and LGBTQ people in open government through the Open Gender Monologues.
The campaign also showcases the Feminist Open Government Initiative's work to conduct real-world research into how open government can better work with and for women. International Development Research Centre (IDRC), the Government of Canada, and Results for Development (R4D) are our critical partners in this effort.
Currently, Break the Roles features women such as Aida Kasymalieva, first Female Deputy Speaker of Parliament, Aruna Roy, long-time human rights advocate, ground-breaking journalist Romina Colman, United Nations Executive Secretary for the Economic Commission in Africa Vera Songwe, and open contracting guru and Open Heroines champion Hera Hussain.
But as the video says, this is the start of a much bigger story – one we hope will spotlight the voices, experiences, and expertise of women across open government. A story that leverages the knowledge of those who understand that women and underrepresented groups often experience government services, such as healthcare and justice, differently, with unique barriers to information, access, and input. A story about how we address corruption and inefficiency, which disproportionately affect women and minority groups. A story about the potential of opening up contracts so that women and underrepresented groups can take part in 15 percent of the global GDP.
A story about the courage to break the roles that hold us back, so we can change the rules that carry us forward.
We recognize that Break the Roles is just one step in our journey. OGP remains committed to addressing gender issues both in how we work with governments and civil society and the actual daily work of our own staff.  More will be done in the coming months to build the capacity of OGP staff and key stakeholders to conduct gender analysis and integrate the findings into their work. In addition to OGP members, we encourage OGP partners to join us in these important reforms.
We are previewing this campaign with you as many of us prepare to gather in Canada for the 6th OGP Global Summit. Please share your feedback with us using #BreaktheRoles and watch for happenings in Ottawa, including:
The formal launch of Break the Roles at a Plenary session featuring Mary Robinson, the first female President of Ireland, former Chair of the United Nations High Commission on Refugees and current Chair of the Elders on May 30 at 4:40 PM
The launch of the Break the Roles Coalition
The second annual Feminist Open Government Day on Wednesday, May 29, starting at 8:30 AM
A Feminist Open Government Networking Event on Tuesday, May 28 from 5 – 7 PM
Story sharing through the Open Gender Monologues
On-site story collection through the European Youth Press and OGP
A status announcement on the 30 percent goal as well as examples of new gender commitments from Uruguay, Canada, Kenya and more