Mobadarat.ma: Countering COVID-19 with Open Innovation
A time of crisis can shine a spotlight on the quality of services offered by governments. As is the case during the COVID-19 pandemic, some governments are faced with unprecedented challenges that are hard to address due to unpreparedness and absence of appropriate response mechanisms. 
To overcome the COVID-19 pandemic, "Impact For Development" (IFD), an NGO based in Morocco, has implemented an open innovation approach to promote the role of civil society as a partner of the government. This approach was inspired by the historic role of civil society in crisis management (like conflicts and natural disasters) where it leveraged its solid understanding of the local needs and its power to mobilize quickly to offer and implement pragmatic solutions. 
In March 2020, one week after the declaration of lockdown in Morocco, IFD built an open innovation online platform called mobadarat.ma (or "initiatives" in Arabic) to unleash the power of the collective intelligence of the community and appropriately address the effects of COVID-19 in Morocco. Given the importance of applied research in this context, the platform was launched in partnership with two leading universities: the School of Collective Intelligence of University Mohammed VI Polytechnique and Al Akhawayn University.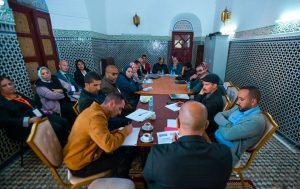 The Mobadarat platform offers three technical features:
Ideation

: Through this classical crowdsourcing technique well documented in the

OGP co-creation toolkit

, citizens can share ideas and proposals regarding different problems that have emerged during this unprecedented crisis.   

Initiatives Observatory

(Bottom-Up approach)

:

Because various open government stakeholders (including citizens, researchers, civil society organizations and private sector actors) have been collectively and proactively trying to tackle the pandemic, the platform has been utilized as an innovative tool to collect and publish lessons learned. This enabled cross learning and knowledge exchange, in addition to establishing the foundation of a new community of changemakers. This feature was inspired by the

OECD Observatory of Public Sector Innovation

.

Open Challenges

(Top-Down approach)

:

Decision-makers can also use the platform as a space to share their challenges and ask the community to submit their proposals and solutions. In this context, IFD, in partnership with Al Akhawayn University, has launched the

SDG Youth Innovation Challenge

in order to engage youth in solving Sustainable Development challenges related to education, health, economy, public services and the digital transformation.
"
It was clear to us that the transition from an open government to an open ecosystem can be achieved by extending the application of the principles of openness and innovation beyond the public sector to all actors including academia, civil society and the private sector. 
Two months after we launched the platform, we noticed that the community proposed measures to counter fake news, enhance research on the psychological effects of confinement and advocate for the use of data science for prediction.  However, there were three main areas of high interest to the community:
Health:

A community of open source developers and open hardware builders mobilized to create and produce masks and ventilators. This community includes a partnership between a network of engineers with 3D printers and

FabLabs

. The government also had a quick reaction and crucial role in scaling up the production of these masks.

Education:

Education was particularly hindered during the pandemic. An initiative was led by the University Mohammed VI6 Polytechnique to transition the regular high school curriculum into an innovative and digitized format.

Social Solidarity:

Civil society has been instrumental in providing assistance to vulnerable populations. A number of online platforms were marketplaces, launched to facilitate the connection between providers and requesters including

PackSocial

,

M3akoum

,

Mosanada

,

Yatimi

, and

Innovarius

. In partnership with local CSOs in the city of Tanger, IFD also launched

Yaqada.org

, which means "vigilance" in Arabic. Yadaqa acts as a watchdog initiative, aiming to mobilize the community to respect the prevention measures (social distancing, wearing masks, etc.) and advocate for better government actions to enforce them. It is worth noting that

Ushahidi

, an African born mapping platform, was used to collect and analyze the community data. 
Based on this experience, it was clear to us that the transition from an open government to an open ecosystem can be achieved by extending the application of the principles of openness and innovation beyond the public sector to all actors including academia, civil society and the private sector. Concepts such as "open science", "citizen science" and "frugal innovation" are emphasized in this context and require broadening the reach of civil society actors. In addition to the classical OGP players (advocates of transparency and human rights), new actors, including researchers, engineers, doctors and educators, should play explicit roles in the open ecosystem.
This experience also evidenced the need to break the innovation silos. Since the virus knows no borders, the approach and resulting actions should have an encompassing and comprehensive basis. An international, open innovation framework would accelerate the knowledge transfer and reduce the development gaps.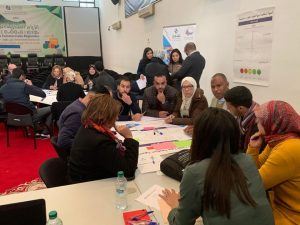 Governments have already built spaces for exchange. For instance, Morocco has assisted 15 African countries with medical equipment. To build on this momentum and push the open innovation agenda forward, an international multi-stakeholder forum is critically needed to push the open innovation agenda forward.
IFD is currently engaged in discussions with the MIT Center of Collective Innovation and the UAE university Science and Innovation Park revolving around bridging the silos of national, open innovation and building a model that promotes universal open knowledge learning.
However, the discussions and efforts around open innovation should not be solely focused around the COVID-19 crisis. The OGP platform  offers a suitable framework to enable and implement its universal vision. If you are interested in joining the efforts to build an international open innovation community, contact us at impactfordevelopment@gmail.com.
All photos used in this blog are owned by Impact For Development.
Los tiempos de crisis tienden a descubrir la calidad de los servicios que ofrecen los gobiernos. Tal es el caso de la pandemia del COVID-19: algunos gobiernos están enfrentando retos sin precedentes debido a la falta de preparación y la ausencia de mecanismos de respuesta adecuados.
 Con el fin de superar la pandemia del COVID-19, "Impact for Development" (IFD), organización sin fines de lucro basada en Marruecos, ha implementado métodos innovadores para impulsar el papel de la sociedad civil como socio del gobierno. Lo anterior, reconociendo el papel que la sociedad civil ha ocupado históricamente en tiempos de crisis (como en el caso de conflictos y desastres), aprovechando su conocimiento profundo de las necesidades locales y su capacidad de movilizarse rápidamente para identificar e implementar soluciones pragmáticas
 En marzo de 2020, una semana después de declararse el confinamiento en Marruecos, el IFD creó una plataforma digital de innovación llamada mobadarat.ma (iniciativas en árabe) con el fin de desplegar el poder de la inteligencia colectiva de la comunidad para atender los impactos del COVID-19 en Marruecos. Dada la importancia de la investigación aplicada en este contexto, la plataforma se creó en alianza con dos universidades: la Escuela de Inteligencia Colectiva de la Universidad Mohammed VI Polytechnique y la universidad Al Akhawayn.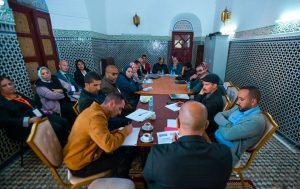 La plataforma Mobadarat cuenta con tres funciones: 
Búsqueda de ideas

: A través de una técnica clásica y bien documentada en la

caja de herramientas de cocreación de OGP

, la colaboración abierta (

crowdsourcing

), los ciudadanos pueden compartir ideas y propuestas sobre los problemas que han surgido en el contexto de esta crisis sin precedentes.

Observatorio de iniciativas

(de abajo hacia arriba): Diversos actores de gobierno abierto (ciudadanos, investigadores, organizaciones de la sociedad civil y sector privado) han promovido iniciativas para enfrentar la pandemia de forma colectiva y proactiva. En ese sentido, la plataforma ha sido utilizada como herramienta innovadora para recopilar y publicar lecciones aprendidas. Como resultado, se logró un intercambio de aprendizaje y experiencias y fue el inicio de una nueva comunidad de innovación. Esta función tomó inspiración del

Observatorio de Innovación Pública de la OCDE

.

Retos abiertos

(de arriba hacia abajo): Los tomadores de decisiones pueden utilizar la plataforma como espacio para compartir sus retos y pedir a la comunidad enviar propuestas y soluciones. En ese contexto, IFD, en colaboración con la universidad Akhawayn lanzaron el

reto de innovación de jóvenes para los ODS

para involucrar a los jóvenes en retos de los Objetivos de Desarrollo Sostenibles sobre educación, salud, economía, servicios públicos y transformación digital.
 Dos meses después del lanzamiento de la plataforma, observamos que la comunidad propuso medidas para combatir las noticias falsas, promover investigaciones sobre los efectos psicológicos del confinamiento e impulsar el uso de datos para predecir. Resaltan tres áreas de interés para la comunidad:
Salud:

Una comunidad de programadores de código abierto y desarrolladores de hardware abierto se organizaron para crear y producir mascarillas y respiradores. La comunidad incluye una alianza entre una red de ingenieros y un grupo de impresoras en 3D y

FabLabs

. El gobierno, por su parte, jugó un papel clave en la producción de mascarillas.

Educación

: La educación ha sido muy debilitada durante la pandemia. La universidad Mohammed 6 Politécnica lideró una iniciativa para promover la transición de los contenidos tradicionales de las secundarias hacia un formato innovador y digital.

Solidaridad social

: La sociedad civil ha sido fundamental en la asistencia a las poblaciones vulnerables. Se crearon una serie de plataformas para facilitar la comunicación con proveedores, incluyendo

PackSocial

,

M3akoum

,

Mosanada

,

Yatimi

, y

Innovarius

. En asociación con organizaciones de la sociedad civil de la ciudad de Tánger, IFD lanzó la aplicación

Yaqada.org

que significa "vigilancia" en árabe. Yaqada es una iniciativa de vigilancia, movilizando a la comunidad para respetar las medidas de prevención (distanciamiento social, uso de mascarillas, etc.) y promover acciones del gobierno para asegurar que éstas se cumplan. Cabe mencionar que se utilizó la plataforma de origen africano

Ushahidi

para colectar y analizar datos comunitarios.
Con base en esta experiencia, nos quedó muy claro que la transición de un gobierno abierto hacia un ecosistema abierto puede lograrse ampliando la aplicación de los principios de apertura e innovación más allá del sector público hacia todos los actores, incluyendo la academia, sociedad civil y el sector privado. En ese sentido, resaltan conceptos como "ciencia abierta", "ciencia ciudadana" e "innovación frugal". Además de los actores que tradicionalmente participan en OGP (promotores de la transparencia y los derechos humanos), grupos adicionales como investigadores, ingenieros, doctores y educadores deben participar en el ecosistema abierto.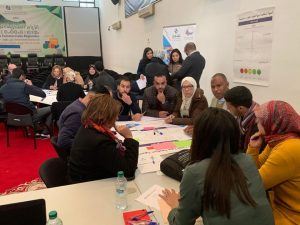 Además, esta experiencia ha evidenciado la necesidad de romper con las barreras para la innovación. El virus no conoce fronteras, así que nuestras estrategias y acciones deben ser integrales e incluyentes. Un marco internacional de innovación abierta podría acelerar el intercambio de conocimientos y reducir vacíos de desarrollo.
Algunos gobiernos ya han creado espacios de intercambio. Por ejemplo, Marruecos envió equipo médico a 15 países africanos. Aprovechando esta inercia y con el fin de seguir impulsando la agenda de innovación es necesario crear un foro multisectorial internacional.
Actualmente, IFD está colaborando con el Centro de Innovación Colectiva del MIT y el Centro de Ciencia e Innovación de la Universidad UAE en vincular los modelos de innovación abierta a nivel nacional y en la creación de un modelo universal de aprendizaje abierto.
Sin embargo, las discusiones y esfuerzos de innovación abierta no deben enfocarse únicamente en la crisis del COVID-19. OGP ofrece una plataforma adecuada para promover e implementar su visión universal. Si te interesa unirte a los esfuerzos de la comunidad internacional de innovación abierta, escríbenos a impactfordevelopment@gmail.com.
Une période de crise peut mettre en lumière la qualité des services offerts par les gouvernements. C'est le cas durant la période de la pandémie de COVID-19, où certains gouvernements ont été confrontés à des défis sans précédent, difficiles à surmonter en raison d'un état de préparation insuffisant et d'un manque de mécanismes de réponse appropriés.
Pour surmonter la pandémie de COVID-19, "Impact pour le Développement", une ONG basée au Maroc, a mis en œuvre une approche basée sur l'innovation ouverte qui permet de promouvoir le rôle de la société civile en tant que partenaire du gouvernement.
Cette approche est inspirée du rôle historique que jouait la société civile dans la gestion des crises (comme dans le cas des conflits et des catastrophes naturelles). La société civile a su tirer parti de sa solide compréhension des besoins locaux et de sa capacité à se mobiliser rapidement pour proposer et mettre en œuvre des solutions pragmatiques. 
En mars 2020, une semaine après la déclaration officielle du confinement au Maroc, "Impact pour le Développement" a développé une plateforme en ligne basée sur l'innovation ouverte, appelée mobadarat.ma (ou "initiatives" en arabe), afin de déclencher le pouvoir de l'intelligence collective de la communauté et ainsi aborder de manière appropriée les effets de la COVID-19 au Maroc. 
Étant donné l'importance de la recherche appliquée dans ce contexte, la plateforme a été lancée en partenariat avec deux universités de renom : l'École d'intelligence collective de l'Université Polytechnique Mohammed VI et l'Université Al Akhawayn.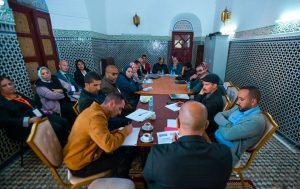 La plateforme Mobadarat offre trois caractéristiques techniques :
L'idéation:

Grâce à cette technique classique de crowdsourcing qui est d'ailleurs bien documentée dans

la boîte à outils de co-création du PGO

, les citoyens peuvent partager des idées et des propositions concernant différents problèmes ayant survenus au cours de cette crise sans précédent.   

Observatoire des initiatives (approche ascendante):

Étant donné que diverses parties prenantes du gouvernement ouvert (y compris les citoyens, les chercheurs, les organisations de la société civile et les acteurs du secteur privé) ont essayé collectivement et de manière proactive de lutter contre la pandémie, la plateforme a été utilisée comme un outil innovant pour collecter et publier les leçons apprises. Cela a permis un apprentissage croisé et un échange de connaissances, en plus d'établir les fondements d'une nouvelle communauté d'acteurs du changement. Cette fonctionnalité a été inspirée par

l'Observatoire de l'innovation dans le secteur public de l'OCDE.

Défis ouverts (approche descendante):

Les décideurs peuvent également utiliser la plateforme comme étant un espace de partage des défis et ainsi demander à la communauté de soumettre leurs propositions et solutions. Dans ce contexte, "Impact pour le Développement", en partenariat avec l'Université Al Akhawayn, a lancé le

«SDG Youth Innovation Challenge»

afin d'engager les jeunes à résoudre les défis du développement durable liés à l'éducation, la santé, l'économie, les services publics et la transformation numérique.
Deux mois après le lancement de la plateforme, nous avons constaté que la communauté proposait des mesures pour combattre les fausses actualités, renforcer la recherche sur les effets psychologiques du confinement et plaider pour l'utilisation de la science des données à des fins de prédiction.  Cependant, trois domaines principaux ont suscité un grand intérêt de la part de la communauté :
La santé :

Une communauté de développeurs de logiciels open source et de constructeurs de open hardware s'est mobilisée pour créer et produire des masques et des machines respiratoires. Cette communauté inclut un partenariat entre un réseau d'ingénieurs travaillant avec des imprimantes 3D et les

FabLabs

. Le gouvernement a également eu une réaction rapide et un rôle crucial dans l'augmentation de la production de ces masques.

L'éducation :

L'éducation a été particulièrement entravée pendant la pandémie. Une initiative a été menée par l'Université Polytechnique Mohammed VI pour transformer le programme habituel du lycée en un format innovant et numérisé.

La solidarité sociale :

La société civile a joué un rôle important quant à l'aide et l'assistance apportées aux populations vulnérables. Un certain nombre de plateformes en ligne ont servi de marchés, lancés pour faciliter la liaison entre les fournisseurs et les demandeurs, notamment

PackSocial

,

M3akoum

,

Mosanada

,

Yatimi

, et

Innovarius

. 
"Impact pour le Développement" a aussi lancé Yaqada.org, qui signifie "vigilance" en langue arabe, en partenariat avec les associations de la société civile locales au niveau de la ville de Tanger. Yadaqa consiste en une initiative de vigilance, visant à mobiliser la communauté autour du respect des mesures de prévention (distanciation sociale, port de masques), et à plaider pour de meilleures actions gouvernementales destinées à être appliquées. Il est important de noter aussi que cette initiative a utilisé la technologie de  Ushahidi, une plateforme cartographique qui a vu le jour en Afrique, afin de collecter et analyser les données de la communauté. 
Sur la base de cette expérience, il nous est apparu clairement que la transition d'un gouvernement ouvert vers un écosystème ouvert peut être réalisée en généralisant l'application des principes d'ouverture et d'innovation au-delà du secteur public, en incluant tous les autres acteurs, y compris les universités, la société civile et le secteur privé.
Des concepts tels que "science ouverte", "science citoyenne" et "innovation frugale" sont mis en avant dans ce contexte et nécessitent d'élargir la participation des acteurs de la société civile. Outre les acteurs classiques du PGO (Militants de la transparence et des droits de l'homme), de nouveaux acteurs, tels que les chercheurs, les ingénieurs, les médecins et les éducateurs, devraient jouer un rôle explicite dans l'écosystème ouvert.
Cette expérience a également mis en évidence la nécessité de briser les barrières de l'innovation. Etant donné que le virus ne connaît pas de frontières, l'approche et les actions qui en découlent devraient avoir une dimension globale et exhaustive. Un cadre international d'innovation ouverte accélérerait le transfert de connaissances et réduirait les écarts de développement.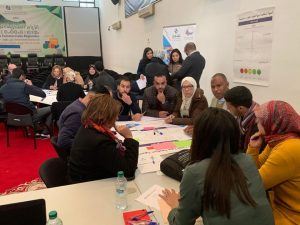 Les gouvernements ont déjà mis en place des espaces d'échange. Par exemple, le Maroc a apporté son aide à 15 pays africains en leur fournissant du matériel médical. Pour tirer parti de cette dynamique et faire avancer le programme d'innovation ouverte, un forum international réunissant plusieurs parties prenantes est absolument nécessaire.
"Impact pour le Développement" est actuellement engagée dans des discussions avec le Centre d'innovation collective du MIT et le Parc de la science et de l'innovation de l'université des EAU, qui visent à faire tomber les cloisons de l'innovation ouverte nationale et à construire un modèle qui favorise l'apprentissage universel de la connaissance ouverte.
Cependant, les discussions et les efforts autour de l'innovation ouverte ne devraient pas être uniquement axés sur la crise de la COVID-19. Le PGO en tant que plateforme offre un cadre approprié pour permettre et mettre en œuvre sa vision universelle. Si vous souhaitez vous joindre aux efforts visant à construire une communauté internationale de l'innovation ouverte, contactez-nous à l'adresse impactfordevelopment@gmail.com .
Related Content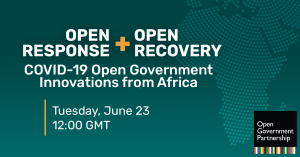 Open Response + Open Recovery: COVID-19 Open Government Innovations from Africa
Reformers showcase best practices from African governments and civil society in response to COVID-19, focusing on practical recommendations to help tackling the current pandemic through open government approaches. Watch the…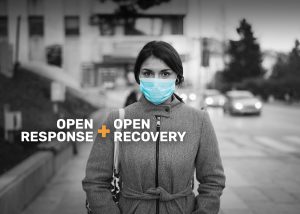 Open Response + Open Recovery
Our community's fundamental values of accountability, transparency, inclusivity, and responsiveness are vital as we move through COVID-19 response to recovery. Find resources, events and examples from OGP and partners.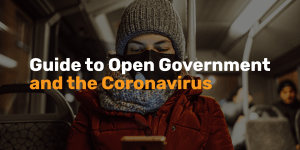 A Guide to Open Government and the Coronavirus
This is a moment of peak uncertainty for governments, civil society and citizens. Facing a unique challenge from the coronavirus, new policies and approaches are being tested in real-time. Many…