Toyota and the Anti-Democracy Caucus
LobbyingLobbying transparency allows the public to ensure that there is diversity of participation and contribution to public decision-making. Technical specifications: Policies and actions affecting lobbying... and political finance disclosure is only one part of a healthy political system
Last week, Toyota was found to be the largest donor to 37 anti-democratic legislators who voted against certifying the results of the 2020 United States election. In response to reporting, company representatives offered a widely panned defense of support for those officials, stating that, "Toyota supports candidates based on their position on issues that are important to the auto industry and the company."
The findings came from public disclosures of lobbying and campaign finance activity as mandated by law in the United States, assembled by Citizens for Responsible Ethics in Washington (CREW). Arguably, in this case the law is working as it should: companies disclose and face the consequences, especially when those companies run astray of broadly accepted public norms. We all need the freedom to advocate for policies, to lobby our public officials, and to know who else they are talking to. Yet disclosing what is legally required doesn't render us automatically ethical or free us from consequences.
Toyota is not a one-off case. Amid greater public scrutiny, companies are now facing significant backlash. AT&T, Pfizer, and Home Depot made similar donations, for major anti-LGBTQIA+ organizations and politicians. ExxonMobil has faced similar risk-exposure for funding climate deniers. It is important to contrast this with companies that have taken a different approach: nearly 200 companies also suspended donations to these donors. This shows that disclosure policies are essential but that, by themselves, will not result in more ethical behavior.
Cases like Toyota's pose a reputational and financial risk for companies and shareholders. More importantly, they can contribute to the capture and ransacking of public goods like health, the environment, or democratic institutions. They also deepen perceptions that lobbying (discussing policy with public officials) is corrupt and corrosive by its very nature.
Gaps in the regime
These various cases are revealing – first, for what they say about the strengths of lobbying and financial disclosure, and second, for the yawning gaps they expose. These gaps include the absence of disclosure laws in some regions (a "legal gap"); the gap between law and implementation (an "implementation gap"); and, most importantly for Toyota, the gap between legal compliance and ethical actions (an "action gap").
The Toyota controversy shows that disclosing information is absolutely a step in the right direction. Using a variety of sources, including the CPA-Zicklin Index benchmarks on corporate political spending, people can see who is influencing whom and see whether corporate branding matches actions. This reinforces accountability both for politicians and their patrons, but few would argue that it is sufficient.
The U.S. system, with all of its flaws, is still ahead of many other places. In many countries, we do not know who gets officials' attention, or worse, who is paying for politicians' time and votes. Surprisingly, few countries require clear, useful political finance disclosures for political parties, individuals, and outside finance. This is the huge legal gap that still exists in many countries, where basic laws are simply not in place.
Even where there are laws, compliance and enforcement often trail legislationCreating and passing legislation is one of the most effective ways of ensuring open government reforms have long-lasting effects on government practices. Technical specifications: Act of creating or r... by years or decades. OGP and its partners, Global Data Barometer and TransparencyAccording to OGP's Articles of Governance, transparency occurs when "government-held information (including on activities and decisions) is open, comprehensive, timely, freely available to the pub... More International hope to complement political finance disclosure data with comprehensive lobbying data worldwide in the coming year so that we can assess just how big this compliance gap really is.
In the case of the United States and Toyota, laws are on the books and, relatively speaking, well-enforced. Yet, some companies act in a way that is inconsistent with the values of a democratic society. This belies the biggest of the gaps around lobbying – between law and ethical behavior. Addressing this gap requires more than policy. It requires nurturing a broad set of actors and innovations.
A growing confluence of interest groups for ethics?
Some of this movement is already taking place. Shareholders, regulators, and asset managers are increasingly taking action to ensure that publicly traded companies are not socializing private risks. 
In the regulatory space, work on risk disclosure has been well underway for years on overseas corruption and foreign bribery and is increasingly being seen in climate change policy. BP, ExxonMobil, and Occidental Petroleum have also seen major pushes by shareholders to disclose climate risk. The European Union is now taking action to reduce greenwashing by financial companies as well.
In the U.S., shareholders have advanced corporate lobbying disclosure as a top priority over the last five years. A growing number of investors filing proposals to companies are asking for lobbying reports that include federal and state lobbying payments and payments to trade associations used for lobbying. The think tank Preventable Surprises has reiterated just how important this is: "Corporate political capture is a central component of investors' approach to Environmental, Societal, and Governance stewardship and integration".
Asset managers, who are by far the most persuasive actors in nudging companies towards greater corporate political accountability, are also looking into their companies' political activities and expect greater transparency. 
But a similar multi-pronged push has not yet translated into a government-led regulatory framework mandating reporting on ethics, full lobbying disclosure, and other subtler forms of corporate influence, such as gifts, "study" trips, or revolving door hiring in major firms.
Such a push would entail more than just reporting on spending and visits to elected officials' offices. It would require a series of approaches, such as:
Ethics management systems:

Reporting on ethics and compliance controls within a company.

Standards-setting bodies:

Standardization of disclosure, including non-financial contributions and participation.

Auditing: Third-party audits

Institutional and legal frameworks are necessary for providing assurance of the integrity of financial information and of compliance with budgetary rules and procedure. Technical specifications: These...

of political disclosure.
Regulators's oversight:

Verification and enforcement capacity to address non-reporting and falsification of disclosures.

Private sector ratings:

Ratings of ethics of political influence to be mainstreamed into financial risk ratings. Examples include

Global Reporting Initiative (GRI) standard for voluntary sustainability

and

Vigeo-eiris

, a division of Moody's.

Professional services standards:

Standards of professional practice for lobbyists, communications firms, and public relations professionals to ensure high standards of ethics consistent with living in democratic societies.
Setting reforms in motion
OGP and The Good Lobby offer pathways to begin tackling some of these tough issues. 
Through OGP,  reformers inside and outside of governments develop two-year action plans to tackle issues like ethics and political disclosure. (Find out if your country, city, or province is a member and whether they are tackling the tough issues here.) OGP's membership has increasingly become concerned with issues of ensuring utmost political integrity while promoting the right to participate in decisions for everyone. One can imagine an OGP action planAction plans are at the core of a government's participation in OGP. They are the product of a co-creation process in which government and civil society jointly develop commitments to open governmen... supporting the critical reforms above with the right advocates inside and outside of government. And, while commendable work has been done to get basic lobbying and financial disclosure online, much remains to be done. For countries with more advanced disclosure regimes, more can be done to bring in investors, third-party agencies, professional organizations and regulators.
The Good Lobby, a nonprofit committed to equalize access to power through more sustainable corporate lobbying and the enhancement of the advocacy capacity of civil society, supports the development of "good lobbying frameworks", which are applicable to both for-profit and non-profit organizations. The Good Lobby helps them embed the exercise of political influence into their day-to-day governance by ensuring their sustainable impact. 
Lobbying, including advocacy and other ways of influencing public policies, is and remains a legitimate act of political participation. It is enshrined and guaranteed under many constitutions in one form or another, and for good reason. Political finance disclosure (and public oversight and enforcement) is also a necessary pillar of ensuring that decisions are being arrived at in a fair, open, and equitable manner. But, like any other form of lobbying, when political finance begins to undermine those very democratic values, it can serve the opposite purpose. 
La transparencia en el cabildeo y en las finanzas políticas es sólo un elemento de los sistemas políticos sólidos
La semana pasada se descubrió que Toyota fue el donante más importante entre los que financiaron a los 37 legisladores antidemocráticos que votaron en contra de la certificación de los resultados de la elección de Estados Unidos del 2020. En respuesta al reporte, los representantes de la empresa defendieron a los funcionarios, por lo que fueron seriamente criticados, declarando que "Toyota apoya a candidatos con base en su posición sobre temas que son importantes para la industria de los autos y de la empresa". 
Los hallazgos se encontraron gracias a información que se publica de las actividades de lobbying y campañas, como lo exigen las leyes de Estados Unidos. Esta información fue recopilada por la organización Citizens of Responsible Ethics in Washington (CREW). Presumiblemente, en este caso la ley funcionó como debe: las empresas publican información y enfrentan las consecuencias, sobre todo cuando éstas no se apegan a las normas públicas. Todos necesitamos la libertad de apoyar políticas, cabildear a los funcionarios y saber con quién más están teniendo conversaciones. Sin embargo, publicar la información que exige la ley no hace que el proceso sea automáticamente ético o que no tenga consecuencias. 
El caso de Toyota no es aislado. En un contexto de mayor escrutinio público, hoy las empresas están enfrentando situaciones complicadas. AT&T, Pfizer y Home Depot hicieron donaciones similares a organizaciones y políticos con posturas anti LGBTQIA+. ExxonMobil ha sido expuesto por financiar a negacionistas del cambio climático. Por otro lado, cerca de 200 empresas suspendieron las donaciones a estos funcionarios. Esto demuestra que las políticas de transparencia son esenciales pero que, por sí mismas, no generan comportamientos más éticos. 
Casos como el de Toyota implican riesgos reputacionales y financieros para las empresas y sus accionistas. Lo que es más importante, pueden contribuir a la captura y saqueo de bienes públicos como la salud, el ambiente o las instituciones democráticas. Además, pueden fortalecer la percepción que el cabildeo (debatir políticas con funcionarios públicos) es por naturaleza un acto corrupto y corrosivo. 
Gaps in the regime Brechas en el régimen 
Estos casos son reveladores. Primero, por lo que expresan sobre las fortalezas del cabildeo y de la transparencia financiera y , segundo, por las brechas tan importantes que ponen en descubierto. Estas brechas incluyen la ausencia de las leyes de transparencia en algunas regiones (brecha legal); la brecha entre la ley y su implementación (brecha de implementación) y, lo que es más importante en el caso de Toyota, la brecha entre el cumplimiento de la ley y los actos éticos (brecha de acción"). 
La controversia generada por Toyota demuestra que la transparencia de la información definitivamente es un paso en la dirección correcta. Cuando se utilizan recursos como el Índice CPA-Zicklin sobre gastos de las empresas en asuntos políticos, las personas tienen acceso a información sobre quién influye en quién y saber si los mensajes de comunicación de las empresas están alineados a sus acciones. Esto puede reforzar la rendición de cuentas tanto para los políticos como para sus patrocinadores, pero pocos creen que esto sea suficiente. 
Con todas sus fallas, el sistema de Estados Unidos está más avanzado que muchos otros. En muchos países, no sabemos quién tiene la atención de los funcionarios o, lo que es peor, quién hace pagos a los políticos por su tiempo y sus votos. Sorprendentemente, pocos países exigen la publicación de información clara y útil sobre las finanzas de los partidos públicos, empresas y financiación externa. 
Incluso en los casos en los que sí hay leyes, su cumplimiento está rezagado con respecto a la legislación por años o incluso décadas. El próximo año, OGP y sus socios, el Barómetro Global de Datos y Transparencia Internacional, buscan complementar los datos de transparencia financiera con datos de cabildeo de todo el mundo de manera que podamos evaluar la magnitud de la brecha de cumplimiento. 
En el caso de Estados Unidos y Toyota, las leyes existen y se aplican relativamente. Sin embargo, algunas empresas actúan de forma inconsistente con los valores de una sociedad democrática. Esto desmiente la brecha más importante asociada al cabildeo, la brecha entre la ley y el comportamiento ético. Cerrar esta brecha requiere más que políticas. Para ello, será necesario fortalecer a una serie de actores y promover diversas acciones innovadoras. 
¿Una creciente confluencia de los grupos de interés en la ética?
En parte, este movimiento ya está avanzando. Algunos accionistas, reguladores y administradores de fondos están tomando medidas para asegurar que las empresas que cotizan en bolsa no socialicen los riesgos privados. 
En el espacio regulatorio, desde hace años se ha trabajado en la publicación de riesgos sobre corrupción y sobornos extranjeros, con presencia en las políticas de cambio climático. Los accionistas de BP, ExxonMobil y Occidental Petroleum están exigiendo que publiquen información sobre riesgos climáticos. Hoy, la Unión Europea está tomando medidas para reducir las acciones de greenwashing de las empresas. 
En Estados Unidos, algunos accionistas han impulsado la transparencia de cabildeo corporativo como prioridad para los próximos cinco años. Cada vez más accionistas están enviando propuestas a las empresas, solicitando informes de cabildeo, incluyendo los pagos de cabildeo a nivel federal y estatal y los pagos a las asociaciones comerciales con fines de cabildeo. El laboratorio de ideas Preventable Surprises ha reiterado la importancia de esto: "La captura política corporativa es un elemento central de la protección ambiental, social y de gobernanza". 
Los administradores de fondos, que son por mucho los actores más persuasivos para impulsar a las empresas hacia la rendición de cuentas en asuntos políticos, están analizando las actividades políticas de las empresas y exigiendo mayor transparencia. 
Pero este trabajo aún no se ha traducido en un marco regulatorio que exija la publicación de información sobre ética, transparencia de cabildeo y otras formas de influencias corporativas más sutiles como regalos, viajes de "estudio" o las contrataciones constantes en las empresas. 
Esto implicaría más que solamente la transparencia de los gastos y las visitas a los funcionarios. Será necesario impulsar otros componentes, por ejemplo: 
Sistemas de manejo de ética:

Reporte sobre ética y controles en las empresas. 
Organismos de establecimiento de estándares:

Estandarización de la transparencia, incluyendo contribuciones no financieras y participación. 
Auditoría:

Auditorías independientes de transparencia política. 
Supervisión regulatoria:

Verificación y capacidad de aplicación de reporte y falsificación de reportes. 
Estándares de los servicios potenciales:

Estándares de la práctica profesional de los cabilderos, empresas de comunicación y profesionales en relaciones públicas para asegurar un alto estándar de ética de acuerdo con las sociedades democráticas. 
Implementando las reformas 
OGP y The Good Lobby ofrecen recomendaciones para empezar a atender algunos de estos problemas tan complejos. 
A través de OGP, reformadores dentro y fuera de los gobiernos desarrollan planes de acción bianuales para atender temas como la ética y la transparencia. (En este enlace puedes consultar si tu país, ciudad o provincia es miembro de OGP y si está trabajando en estos temas). Los miembros de OGP se han empezado a preocupar por los temas que aseguran la integridad política y en promover el derecho a participar en las decisiones que afectan a las personas. Un ejemplo podría ser un plan de acción de OGP que apoye las reformas que describimos arriba con impulsores dentro y fuera del gobierno. Aunque se ha realizado trabajo valioso para hacer que la información básica sobre cabildeo y finanzas estén disponibles en línea, aún hay mucho trabajo por hacer. Las empresas con regímenes más avanzados de transparencia pueden  incorporar a los inversionistas, agencias independientes, organizaciones profesionales y reguladores. 
The Good Lobby, organización sin fines de lucro comprometida con dar acceso equitativo al poder a través de un cabildeo más sustentable y a través de fortalecer la transparencia de cabildeo de la sociedad civil, apoya el desarrollo de "marcos de cabildeo adecuados" que aplican tanto a organizaciones sin fines de lucro como a empresas. The Good Lobby les ayuda a incorporar el ejercicio de la influencia política en su gobernanza, asegurando la sostenibilidad de su impacto. 
El cabildeo, incluyendo la incidencia y otras formas de influencia en el diseño de políticas públicas, es y sigue siendo una forma legítima de participación pública. Está plasmada y garantizada por muchas constituciones y con razón. La transparencia de las finanzas políticas (y la supervisión pública) es un pilar necesario para asegurar que las decisiones se tomen de forma justa, abierta y equitativa. Pero como otras formas de cabildeo, cuando las finanzas políticas empiezan a debilitar los valores democráticos, puede tener las consecuencias contrarias. 
Related Content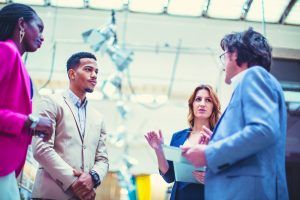 Challenges and Solutions
Common Challenges in Lobbying Transparency: Lessons from Europe
Learn how OGP members are using their action plans to advance concrete lobbying reforms.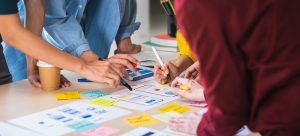 Cracking Co-Creation: The Why, the How and the What
As we mark 10 years since OGP's founding, making sure 2021 action plans are born out of an inclusive co-creation process and reflect societal needs is as crucial as ever.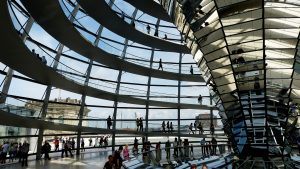 Challenges and Solutions
How Legislative Footprints and Lobby Registers Can Rebuild Trust
As global distrust in democracies grows, we believe intransparent legislative structures are a big factor. When lobbyists influence laws, it can create feelings of injustice and distrust within a society.…