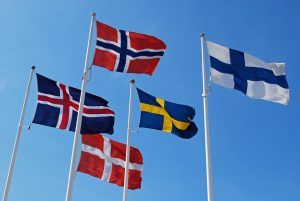 This is the first piece in a series of blogs authored by OGP's Independent Reporting Mechanism (IRM), taking a deeper look at open government reforms at a subregional level. 

The four Nordic nations of Denmark, Norway, Sweden, and Finland joined the Open Government Partnership (OGP) with a high baseline of openness and transparency. These countries top the rankings on good governance, showing strong institutions, rule of law, and high levels of public trust. For example, they are among the top seven countries in the Corruption Perceptions Index 2018, pointing to the strong control of corruption in the public sector. Which begs the question, how can these countries in the Nordic region still benefit from a global open government platform like OGP, which focuses on domestic reforms? 
As relatively rich countries, the Nordic nations are some of the major donors to developing countries struggling with endemic corruption. They are also home to international companies actively involved in global trade, carrying risks of corruption that expand beyond national borders. 
A recent media investigation dubbed as the Fishrot Files revealed that the Norwegian state-owned bank account was used by shell companies to launder proceeds of illegal fishing activities off the coasts of West Africa. In another example, Denmark has been caught up in the largest money laundering scandal in Europe, following whistleblower revelations against Danske Bank. Similarly, Swedish and Finnish companies have been involved in corruption scandals in countries like Uzbekistan, Slovenia and Croatia. 
These cases point to the necessity of domestic reforms, effective enforcement of anti-bribery rules and measures to clamp down on money laundering. In open government terms, this means clear rules for country by country reporting on aid and revenues paid, adequate whistleblower protection, and transparency of ultimate beneficial ownership of companies. 
OGP action plans of Nordic countries have touched upon some of these policy areas but to a little extent. Few notable commitments have focused on transparency of foreign aid to eliminate opportunities for corruption in development assistance. In that regard, Denmark, Sweden, and Norway have all made strides to improve management of foreign aid. The Swedish International Development Agency (Sida) particularly has set a high standard by publishing comprehensive project based information on its development aid. According to the latest assessment by OGP's Independent Reporting Mechanism, reporting to the agency on potential corruption cases has improved significantly.
In another development, Norway has strengthened rules for country by country reporting on revenues paid by its multinational companies. As of 2017, all Norwegian multinational enterprises with an annual income above 6.5 billion Norwegian Krones (US$730 million) are obliged to file country by country reports on revenues paid, expanding the coverage beyond the extractive sector.
Norway was also one of the first to commit to opening up information on ultimate beneficial owners of its companies, another frontier where this region has gained traction. As part of its third action plan, the Norwegian government tabled the bill to make beneficial ownership information accessible free of charge. The current Norwegian action plan takes up the IRM recommendation to make the register publicly accessible. 
And yet there is more the Nordic countries can do to up their anti-corruption and open government game. While all four countries have recently established beneficial ownership registers, Denmark is the only country in the region (and one of the few globally) that allows public access to it. The other countries need to follow suit and open up their registers for public scrutiny. As it has been done in the case of foreign aid, Nordic countries could champion best practice standards for disclosure of data on beneficial ownership. 
In light of the recent bank scandals, whistleblower protection needs to be taken seriously. Legal protections for those that blow the whistle are relatively new in the region, with Sweden being the first Scandinavian country to pass the standalone whistleblower protection act in 2016 and then Finland in 2018. While Norway has protections in place for both public and private sector employees, need for further improvements has been identified by the government commissioned report. As for Denmark, the recent IRM report has recommended to put in place the robust whistleblower protection legislation to encourage reporting on wrongdoings at all levels, including in the private sector.
OGP action plans, which are thoroughly monitored by the Independent Reporting Mechanism, could also flesh out and plan to deliver on the commitments made at the 18th International Anti-Corruption Conference (IACC) in Copenhagen in 2018. These high level pledges echo many IRM recommendations and include actions that can take anti-corruption collaboration to a different level. 
Moving forward, Nordic countries can use the OGP platform to develop and put in place strong anti-corruption policies and do so in close collaboration with civil society and open government advocates. Such commitments could reinforce their leadership on the fight against corruption and can help pave the way for the next generation of open government reforms in the Nordic region.
*Photo credit: Blue Square Thing
Los cuatro países nórdicos, Dinamarca, Noruega, Suecia y Finlandia, se incorporaron a Open Government Partnership (OGP) con una línea base de apertura y transparencia muy alta. Estos países ocupan los primeros lugares en las clasificaciones de buena gobernanza, instituciones sólidas, estado de derecho y confianza del público en el gobierno. Por ejemplo, se encuentran entre los siete primeros países en el Índice de Percepción de la Corrupción 2018, lo cual indica que existe un buen control de la corrupción en el sector público. Esto nos lleva a preguntarnos ¿Qué beneficios podría traer para estos países una plataforma global de gobierno abierto como OGP que se enfoca en impulsar reformas a nivel nacional?
Al ser países relativamente ricos, las naciones nórdicas se cuentan entre los donantes más importantes para los países que están en proceso de luchar contra la corrupción. Además, son el centro de algunas empresas internacionales que comercializan sus productos a nivel global, lo que conlleva riesgos de corrupción entre fronteras.
Una investigación que se publicó recientemente en los medios conocida como los archivos Fishrot reveló que una banco estatal noruego había sido utilizado por empresas fantasma para lavar los ingresos de actividades de pesca ilegal en la costa occidental de África. Otro ejemplo es el caso de Dinamarca, en donde se registró el escándalo de lavado de dinero más grande de Europa, con denuncias en contra del Danske Bank. Asimismo, empresas suecas y finlandesas han estado involucradas en escándalos de corrupción en países como Uzbekistán, Eslovenia y Croacia.
Estos casos apuntan a la necesidad de impulsar reformas, promover una aplicación efectiva de las normas anti soborno e implementar medidas contra el lavado de dinero. En términos de gobierno abierto, esto implica establecer normas claras sobre los ingresos y la asistencia internacional, protección para quienes presenten denuncias y transparencia en los beneficiarios reales de las empresas.
Los planes de acción de OGP de los países nórdicos han incluido estas áreas de política pero no de manera profunda. Se han creado pocos compromisos sobre transparencia en la asistencia internacional para eliminar la corrupción en la asistencia para el desarrollo. En ese sentido, Dinamarca, Suecia y Noruega han tomado medidas para mejorar el manejo de la asistencia internacional. La Agencia Sueca para el Desarrollo Internacional estableció un estándar alto al publicar información por cada proyecto. Según la evaluación más reciente del Mecanismo de Revisión Independiente de OGP, los informes sobre posibles casos de corrupción han mejorado de forma significativa.
Por otro lado, Noruega ha fortalecido las regulaciones sobre los ingresos de sus empresas multinacionales. A partir de 2017, todas las empresas noruegas multinacionales cuyos ingresos exceden los 6.5 mil millones de coronas (US$730 millones) están obligadas a presentar informes sobre sus ingresos en cada país, ampliando la cobertura más allá del sector extractivo.
Además, Noruega fue uno de los primeros países en comprometerse a abrir la información sobre los beneficiarios reales de sus empresas, otra área en donde esta región ha ganado terreno. Como parte de su tercer plan de acción, el gobierno de Noruega no aprobó la ley que exigiría que la información sobre beneficiarios reales  se publicara sin costo. El plan de acción actual adoptó la recomendación del IRM de asegurar que este registro sea de libre acceso.
Sin embargo, los países nórdicos aún tienen mucho por hacer en cuanto a la anticorrupción y el gobierno abierto. Aunque los cuatro países recientemente crearon registros de beneficiarios reales, Dinamarca es el único país de la región (y uno de los pocos a nivel mundial) en donde este registro es de acceso público. Los demás países tienen que seguir sus pasos y abrir sus registros para el escrutinio público. Como en el caso de la asistencia internacional, los países nórdicos podrían ser líderes en los estándares de publicación de datos sobre beneficiarios reales.
A la luz de los recientes escándalos, es necesario tomar medidas para proteger a quienes presenten denuncias. Las leyes que protegen a los denunciantes son relativamente nuevas para la región. Suecia fue el primer país escandinavo en aprobar la ley de protección a denunciantes en 2016 y Finlandia lo siguió en 2018. Aunque Noruega cuenta con leyes que protegen a los empleados de los sectores público y privado, un informe comisionado por el gobierno identificó algunas mejoras que pueden implementarse. En Dinamarca, un informe del IRM recomendó la creación de leyes de protección a denunciantes para promover denuncias en todos los niveles, incluso en el sector privado.
Los planes de acción, monitoreados a profundidad por el Mecanismo de Revisión Independiente, podrían complementar y apoyar los compromisos establecidos durante la Cumbre Internacional Anticorrupción de Copenhague en 2018. Estos compromisos de alto nivel se alinean con muchas de las recomendaciones del IRM e incluye acciones que pueden impulsar la colaboración contra la corrupción.
En el futuro, los países nórdicos pueden aprovechar la plataforma de OGP para desarrollar e implementar políticas anticorrupción en colaboración con la sociedad civil y con los líderes del gobierno abierto. Dichos compromisos podrían reforzar su liderazgo en la lucha contra la corrupción y preparar el camino para la siguiente generación de reformas de gobierno abierto en la región nórdica.