As We Face New Challenges, Open Gov Champions Step Up
In early 2020, OGP started looking for new candidates to fill three seats in the OGP Civil Society Steering Committee. The list of candidates this year was particularly strong and we are grateful to the impressive civil society leadership OGP can rely on. Following a thorough selection process, we are pleased to announce that Lysa John (Secretary General, CIVICUS), Stephanie Muchai (East Africa Lead on Open Contracting, Hivos), and Blair Glencorse (Founder and Executive Director, Accountability Lab), are joining the OGP Steering Committee starting October 1, 2020. They will serve on the Steering Committee for three years. 
To support the Civil Society Steering Committee members, Anabel Cruz (Director, Instituto de Comunicación y Desarrollo, Uruguay) and Olúseun Onígbińdé (Director, BudgIT, Nigeria) were appointed as additional members with a term of one year. Their particular regional and thematic expertise will add great value to the work of the Steering Committee and provide extra bandwidth and perspectives from civil society. 
These five civil society leaders join the Steering Committee at a critical time, as countries around the world continue to struggle with COVID-19's detrimental public health and economic impacts. From working with governments and civil society to ensure they adapt open gov approaches to their COVID-19 response and recovery mechanisms to offering support to those taking their co-creation process online, OGP's mission is as relevant today as it was before the pandemic. Transparency, accountability and participation are the founding principles of OGP – so during the selection we listened and engaged with the community the Civil Society Steering Committee serves. 
More than 100 people from the OGP civil society community joined the candidates in webinars to discuss regional challenges in areas such as civic space, gender and inclusion, and leveraging open government at the local level.  
We heard concerns that participatory democracy hasn't been embraced fully in some countries and some are even criminalizing dissent and posing significant threats to media freedoms. As we continue to make sure measures that have been taken to restrict freedoms to curb contagion are proportionate, scrutinized, and time-bound, the need for enhanced collaboration between civil society and governments is a key priority.  
A strong civil society is a prerequisite for enhanced collaboration, but candidates noted that all too often we are witnessing devolving engagement as a result of limited resources and capacity to engage other groups. With the help of our Steering Committee, OGP will focus on providing support to civil society as we anticipate the pandemic to affect funding, priorities and available resources across the sector. 
Gender was the fastest growing policy area in 2019 in OGP. As of today, OGP members have made 127 commitments that include gender and inclusion perspectives, from interventions to reduce gender-based violence to initiatives to increase women-owned businesses' access to public procurement bids. But there is still much to be done. The candidates noted that we need to continue to harness the collective voices of youth, women, people with disabilities and other represented groups. This means reaching out to individuals in those groups and going beyond elite and in-city actors. They also proposed thinking outside the box and working with for example artists networks and the private sector. 
OGP recognizes that citizens interact most closely with government at the local level, which is why the Steering Committee Co-Chairs made scaling OGP Local a priority for this year. The incoming Steering Committee members underscored the importance of engaging organizations and government institutions subnationally and providing avenues for communities to enhance their open gov efforts and for everyday citizens to be more involved in open government processes.
As OGP reaches its ten-year anniversary and continues to support its members both in government and civil society in these unprecedented times, the need for proactive, diverse, and effective leadership is even more important. We believe the selected candidates bring a wealth of experience that will, alongside the other members of the OGP Steering Committee, make the Partnership stronger and will help guide OGP on the right path as it tackles the challenges ahead. 
For more information about the selection process please refer to this page.
A principios de 2020, OGP empezó a buscar candidatos para ocupar tres plazas del Comité Directivo de la Sociedad Civil de OGP. Este año, la lista de candidatos fue especialmente fuerte y estamos muy agradecidos por el excelente liderazgo para OGP. Tras un proceso de selección muy cuidadoso, nos complace anunciar que Lysa John (Secretaria general de CIVICUS), Stephanie Muchai (Líder de contratación abierta de Hivos) y Blair Glencorse (Fundador y director ejecutivo de Accountability Lab) se incorporarán al Comité Directivo de OGP el 1 de octubre de 2020 y formarán parte de él por los siguientes tres años.
Con el fin de apoyar a los miembros del Comité Directivo de la Sociedad Civil, Anabel Cruz (Directora del Instituto de Comunicación y Desarrollo de Uruguay) y Olúseun Onígbińdé (Director de BudgIT, Nigeria) fueron designados como miembros adicionales por un periodo de un año. Su experiencia temática y geográfica será de gran valor para el Comité Directivo y aportará una perspectiva adicional desde la sociedad civil. 
Estos cinco líderes de la sociedad civil se incorporan al Comité Directivo en un momento crítico en que los países de todo el mundo siguen luchando con los impactos a la salud y a la economía que ha ocasionado el COVID-19. Desde trabajar con los gobiernos y la sociedad civil para asegurar que incorporen metodologías de gobierno abierto a sus respuestas y mecanismos de recuperación al COVID-19, hasta ofrecer apoyo a los miembros que están organizando procesos virtuales de cocreación, la misión de OGP es tan relevante como lo era antes de la pandemia. La transparencia, rendición de cuentas y participación son los principios fundamentales de OGP, por lo que durante el proceso de selección escuchamos a la comunidad por la que trabaja el Comité Directivo de la Sociedad Civil. 
Más de 100 personas de la comunidad de la sociedad civil de OGP participaron en webinars con los candidatos para discutir retos regionales en áreas como el espacio cívico, género e inclusión y cómo llevar el gobierno abierto a nivel local. 
Escuchamos la preocupación de que la democracia participativa no se ha adoptado completamente en algunos países y que incluso algunos han criminalizado la disidencia y amenazado la libertad de prensa. Seguiremos trabajando para asegurar que las medidas tomadas para restringir las libertades con el fin de detener los contagios sean proporcionales, vigiladas y que tengan una fecha límite; en ese proceso, la necesidad de colaboración entre la sociedad civil y los gobiernos es una prioridad clave.
Una sociedad civil robusta es un requisito para la colaboración, pero los candidatos mencionaron que la participación se ha limitado como resultado de la falta de recursos y capacidad para vincular a otros grupos. Con el apoyo del Comité Directivo, OGP se enfocará en ofrecer apoyo a la sociedad civil, pues creemos que la pandemia afectará los fondos, prioridades y recursos del sector.
En 2019, género fue el área de política con mayor crecimiento en OGP. Hoy, los miembros de OGP han establecido 127 compromisos que incluyen la perspectiva de género e inclusión, desde intervenciones para reducir la violencia de género hasta esfuerzos para incrementar el acceso de las empresas de mujeres a licitaciones por recursos públicos. Pero aún hay mucho por hacer. Los candidatos notaron que necesitamos seguir escuchando las voces colectivas de los jóvenes, mujeres, personas con discapacidades y otros grupos. Esto implica contactar a personas y grupos más allá de las élites. Además, propusieron ser creativos y trabajar, por ejemplo, con redes de artistas y con el sector privado.
OGP reconoce que la ciudadanía interactúa con el gobierno de forma más cercana a nivel local, por lo que los copresidentes del Comité Directivo definieron el escalamiento del programa OGP Local como una prioridad este año. Los miembros entrantes del Comité Directivo resaltaron la importancia de trabajar con organizaciones e instituciones de gobierno a nivel subnacional, de ofrecer medios a las comunidades para fortalecer sus esfuerzos de gobierno abierto y de procurar que la ciudadanía se involucre más en los procesos de gobierno abierto.
OGP está cerca de cumplir 10 años desde su fundación. Seguimos apoyando a sus miembros de gobierno y la sociedad civil en estos tiempos sin precedentes y, en ese contexto, un liderazgo proactivo, diverso y efectivo es más importante que nunca. Creemos que la experiencia de los candidatos seleccionados, junto con los otros miembros del Comité Directivo de OGP, fortalecerá a la alianza y ayudará a guiar a OGP por el buen camino y a enfrentar los retos que se presentarán en el futuro.
Para mayor información sobre el proceso de selección, consulta esta página.
Related Content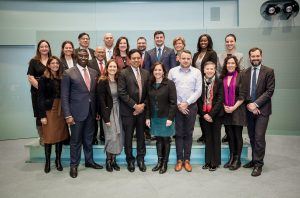 Steering Committee
The Open Government Partnership Steering Committee is comprised of government and civil society representatives that together guide the ongoing development and direction of OGP, maintaining the highest standards for the…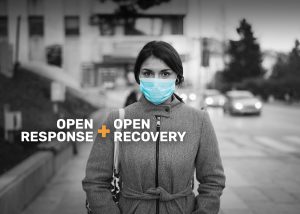 Open Response + Open Recovery
Our community's fundamental values of accountability, transparency, inclusivity, and responsiveness are vital as we move through COVID-19 response to recovery. Find resources, events and examples from OGP and partners.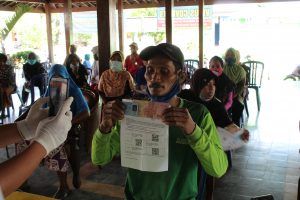 Challenges and Solutions
Making Trillion Dollar Stimulus and Safety Nets Work for All: The Essential Steps We Can Take Now
OGP CEO Sanjay Pradhan calls on governments, citizens, civil society, businesses and others to join together to shape COVID-19 stimulus and safety nets and follow the money to save millions…