Faces of Open Government: David Wuyep and Aysha Karafi
As the Open Government PartnershipThe Open Government Partnership (OGP) is a multi-stakeholder initiative focused on improving government transparency, ensuring opportunities for citizen participation in public matters, and strengthen... More (OGP) steps up its game to focus on reformers themselves in its next decade, the Open Government Leadership Collaborative has been a space for the reformers to hone their leadership capabilities and engage in peer exchanges and learning. This month, we sat down with two members of the Collaborative to learn more about their experiences and new year resolutions and how the cohort has helped them in advancing open governance.  David Wuyep is the Chief Technical Advisor to the Plateau State Governor on Development Strategy and Aysha Karafi is the President of the Tunisian Association for Local Governance.
It's 2023! What is one thing you hope to accomplish this year?
DAVID:
There are a number of things I hope to accomplish this year, but top on the list is to get the Plateau State legislature to pass the Performance Management Office (PMO) Bill into law. The PMO Bill is the legal framework for the institutionalization of the State Monitoring and Evaluation Policy, which is one of the deliverables from the State's OGP commitmentOGP commitments are promises for reform co-created by governments and civil society and submitted as part of an action plan. Commitments typically include a description of the problem, concrete action... bordering on the Citizens Engagement and TransparencyAccording to OGP's Articles of Governance, transparency occurs when "government-held information (including on activities and decisions) is open, comprehensive, timely, freely available to the pub... More Policy Areas. The State M&E Policy allows citizens to monitor the progress of projects sited in their communities and make comments via the state website. In addition to the site, an app is under development to allow for direct communication with the Performance Management Office, which serves as the M&E hub of the state. For effective citizen participationAccording to OGP's Articles of Governance, citizen participation occurs when "governments seek to mobilize citizens to engage in public debate, provide input, and make contributions that lead to m... More, project information is displayed via the published budget on the state website in addition to the procurement information on the Open ContractingA transparent procurement process, known as open contracting, increases competition, improves public service delivery, and ensures governments better value for their money. Technical specifications: C... Platform available at here.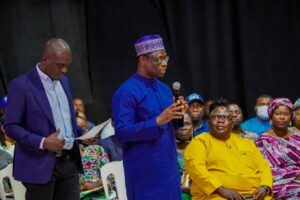 AYSHA:
This year, I hope I will have enough courage and perseverance to accomplish a mission and fulfill a dream. The mission is to train 1,000 young men and women in the principles of OGP, implement an OGP curriculum in five universities, and mentor five municipalities to join OGP Local in 2024.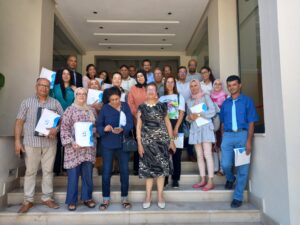 What tools do you think are vital for open gov reformers to have?
DAVID:
I consider resilience, innovation, and partnership mobilization skills as vital for the success of open government reformers. I think it is the discontent or vexation with the status quo that sows the seed of reform, which in turn requires a strong commitment, which may involve sacrifices and pains, to the pursuit of the solutions to ensure results delivery.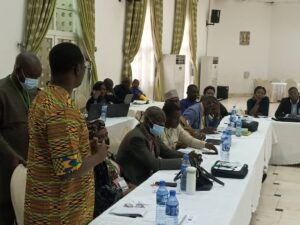 What do you find most challenging about working as a leader in open government?
AYSHA:
The most difficult thing for me, given my time and money constraints, is convincing certain ministries, such as the Ministry of JusticeTo address barriers that prevent citizens from having their justice needs met, OGP participating governments are working to expand transparency, accountability, and inclusion into all systems of justi..., Health, or EducationAccountability within the public education system is key to improving outcomes and attainment, and accountability is nearly impossible without transparent policies and opportunities for participation ..., to make transformative OGP commitments and carry them out in an action planAction plans are at the core of a government's participation in OGP. They are the product of a co-creation process in which government and civil society jointly develop commitments to open governmen....
How has the cohort helped shape and/or develop your approach to leadership and initiating open government reforms?
DAVID: 
It is early days yet, but one thing that has left an impression on me is that the existence of the OGLC Groups and the monthly check-in sessions are serving as some accountability frameworks that are helping me maintain momentum towards the achievement of set targets in implementing projects, programmes, and initiatives. Interactions in the cohort are at five levels, some of which included physical meetings that took place during the inaugural sessions in October of last year. Virtual group meetings to discuss group projects, engagements among members for peer-learning, monthly cohort meetings to check up on project implementation status and trainings, and "office hours" where members can engage with the OGLC secretariat on project conversations and any other OGP issues allowed for useful exchanges with the rest of the cohort.
What advice would you give to young open government reformers looking to develop their leadership skills and connect with the community?
AYSHA:
I advise reformers to be well-informed and knowledgeable about how OGP works nationally, locally, and internationally. Always be aware of the implementation of the commitments made in an OGP action plan by playing a monitoring role. Never give up, do the necessary advocacy and commit to the promotion of OGP among citizens.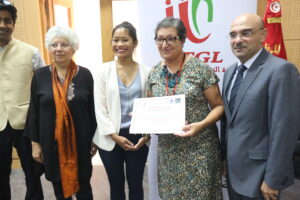 En la próxima década, la Alianza para el Gobierno Abierto (OGP por sus siglas en inglés) se enfocará mucho más en las personas reformadoras y, en ese contexto, el Colaborativo de Liderazgo de Gobierno Abierto representa un espacio para fortalecer capacidades de liderazgo y promover intercambios de experiencias y aprendizaje para las y los reformadores. Este mes, platicamos con dos miembros del colaborativo sobre sus experiencias y propósitos de año nuevo sobre cómo la cohorte les ha ayudado a impulsar la gobernanza abierta David Wuyep es el director técnico del gobernador del estado de Plateu sobre estrategias de desarrollo y Aysha Karafi es presidenta de la Asociación de Túnez para la gobernanza local. 
¡Ya es 2023! ¿Qué esperas lograr este año?
DAVID:
Este año, espero lograr varias cosas, pero lo más importante es lograr que el poder legislativo del estado de Plateau apruebe el proyecto de ley de la oficina de desempeño. Este proyecto de ley es el marco legal para la institucionalización de la Política Estatal de Monitoreo y Evaluación, uno de los entregables del compromiso de OGP que estableció el estado sobre las áreas de participación ciudadana y transparencia. La Política Estatal de Monitoreo y Evaluación permite a la ciudadanía monitorear el avance de los proyectos de sus comunidades y retroalimentarlos a través del sitio web del estado. Además del sitio web, se está desarrollando una aplicación que permitirá la comunicación directa con la Oficina de Desempeño, en la cual se alojan los esfuerzos de monitoreo y evaluación del estado. Para lograr la participación ciudadana efectiva, el sitio web publica información sobre los proyectos; además, la plataforma de contratación abierta, disponible en este enlace, publica información sobre adquisiciones.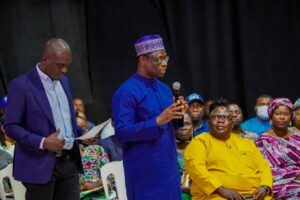 AYSHA:
Este año, espero tener la valentía y perseverancia para lograr una misión y cumplir con un sueño: capacitar a 1000 jóvenes hombres y mujeres en los principios de OGP, implementar un programa sobre OGP en cinco universidades y asesorar a cinco municipios para que se incorporen a OGP Local en 2024.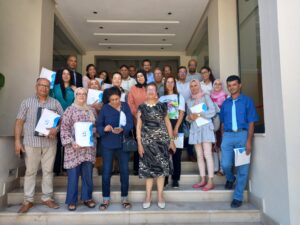 En tu trabajo como líder de gobierno abierto, ¿Qué consideras que es lo más retador?
AYSHA:
Para mí, considerando mis limitaciones de tiempo y dinero, lo más difícil es convencer a ciertos ministerios, como los de justicia, salud o educación, a que establezcan compromisos transformadores y los incorporen en un plan de acción. 
¿Qué herramientas crees que son fundamentales para las personas reformadoras de gobierno abierto?
DAVID:
Creo que la capacidad de resiliencia, innovación y movilización de alianzas son fundamentales para el éxito de las y los reformadores de gobierno abierto. Creo que el descontento con el statu quo siembra semillas de reformas, las cuales requieren de un compromiso sólido que implica sacrificios para lograr el cumplimiento de resultados.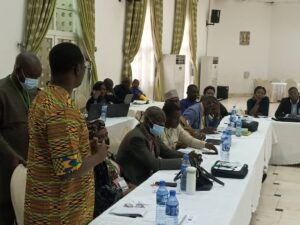 ¿Cómo ha ayudado la cohorte a determinar o desarrollar tu estilo de liderazgo e impulso a las reformas de gobierno abierto?
DAVID: 
Aun está en sus inicios, pero algo que ha dejado una buena impresión en mí es la existencia de los grupos de OGLC y las sesiones mensuales, pues son un marco de rendición de cuentas que me están ayudando a mantener la inercia hacia el logro de las metas establecidas para la implementación de proyectos, programas e iniciativas. Las interacciones de la cohorte se dan en cinco niveles, de las cuales algunas han sido reuniones presenciales que se llevaron a cabo durante las sesiones inaugurales de octubre del año pasado. Las reuniones virtuales para discutir los proyectos del grupo, la conexión entre los miembros, las reuniones mensuales de la cohorte para discutir el estado de implementación de los proyectos, las capacitaciones y los momentos en los que los miembros pueden contactar al secretariado del OGLC sobre su proyecto o cualquier otro tema relacionado con OGP ha permitido intercambios útiles con el resto de la cohorte. 
¿Qué consejo le darías a las y los reformadores jóvenes enfocados en el gobierno abierto que están buscando fortalecer sus habilidades de liderazgo y vincularse con la comunidad? 
AYSHA:
Les aconsejo que se informen sobre cómo funciona OGP a nivel nacional, local e internacional. Siempre manténganse al tanto de la implementación de los compromisos establecidos en los planes de acción y adopten un papel de monitoreo. Nunca se den por vencidos, realicen la incidencia necesaria y comprométanse con promover a OGP entre la ciudadanía.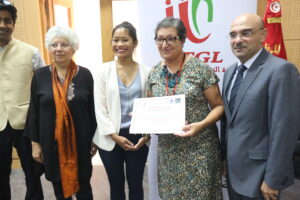 Alors que le Partenariat pour un gouvernement ouvert passe à un niveau supérieur pour se concentrer sur les réformateur.rice.s eux.elles-mêmes au cours de la prochaine décennie, le Collectif pour le leadership du gouvernement ouvert leur a permis de perfectionner leurs capacités de leadership et de s'engager dans des échanges et des apprentissages entre pairs. Ce mois-ci, nous avons rencontré deux membres du Collectif pour en savoir plus sur leurs expériences, leurs résolutions du Nouvel An et sur la manière dont la cohorte les a aidés à faire progresser la gouvernance ouverte. David Wuyep est le conseiller technique principal du gouverneur de l'État du Plateau sur la stratégie de développement et Aicha Karafi est présidente de l'Association tunisienne de gouvernance locale.
Nous sommes en 2023 ! Quelle est la chose que vous espérez accomplir cette année ?
DAVID:
J'espère accomplir un certain nombre de choses cette année. En tête de liste est d'amener l'organe législatif de l'État du Plateau à adopter le projet de loi du Bureau de gestion de projet (BGP). Le projet de loi du BGP est le cadre juridique pour l'institutionnalisation de la politique de suivi et d'évaluation de l'État, qui est l'un des livrables de l'engagement du PGO de l'État en bordure des domaines politiques d'engagement des citoyen.enne.s et de transparence. La politique de S&E de l'État permet aux citoyen.enne.s de suivre l'avancement des projets implantés dans leurs communautés et de formuler des commentaires via le site Web de l'État. En plus du site, une application est en cours de développement pour permettre une communication directe avec le Bureau de gestion de projet, qui sert de centre de suivi et d'évaluation de l'État. Pour une participation citoyenne efficace, les informations de projet sont affichées via le budget publié sur le site de l'État en plus des informations en matière de commande publique sur la plateforme de commande publique ouverte disponible ici.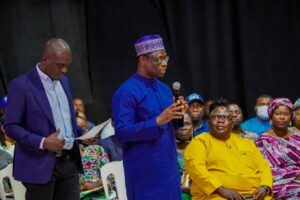 AYSHA:
Cette année j'espère que j'aurai suffisamment de courage et de persévérance pour accomplir une mission et réaliser un rêve. La mission c'est de former 1000 jeunes aux principes du PGO, implémenter un curriculum PGO dans cinq universités et encadrer cinq communes pour qu'elles adhèrent au PGO local en 2024.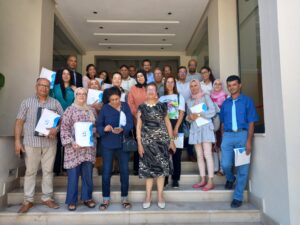 Qu'est-ce que vous trouvez le plus difficile dans le fait de travailler en tant que leader dans un gouvernement ouvert ?
AYSHA:
Le plus difficile pour moi, compte tenu de mes capacités en temps et moyens financiers, c'est de convaincre certains ministères, comme celui de la justice, de la santé ou de l'éducation par exemple, à prendre des engagements PGO transformatifs et les réaliser dans un plan d'action.
Selon vous, quels outils sont essentiels pour les réformateurs du gouvernement ouvert ?
DAVID:
Je considère que les compétences en matière de résilience, d'innovation et de mobilisation de partenariats sont essentielles au succès des réformateur.rice.s du gouvernement ouvert. Je pense que c'est le mécontentement ou la vexation face au statu quo qui répand une semence de réforme, qui à son tour nécessite un engagement fort, susceptible d'impliquer sacrifices et douleurs, à la recherche de solutions pour garantir l'obtention de résultats.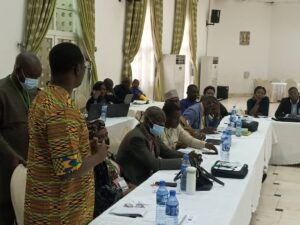 Comment la cohorte a-t-elle contribué à façonner et/ou à développer votre approche du leadership et d'initier des réformes de gouvernement ouvert ?
DAVID: 
Il est encore tôt, mais une chose m'ayant marquée est que l'existence des groupes CLGO et les sessions de vérification mensuelles servent de cadres de responsabilité qui m'aident à maintenir un élan vers la réalisation des objectifs fixés dans la mise en œuvre des projets, des programmes et des initiatives. Les interactions au sein de la cohorte se situent à cinq niveaux, dont certains comprenaient des réunions physiques qui ont eu lieu lors des sessions inaugurales en octobre de l'année dernière. Des réunions de groupe virtuelles pour discuter des projets de groupe, des engagements entre les membres pour un apprentissage par les pairs, des réunions de cohorte mensuelles pour vérifier l'état de mise en œuvre du projet et les formations, et les « heures de bureau » où les membres peuvent s'engager avec le secrétariat du CLGO sur les conversations du projet et tout autre problème du PGO ont permis des échanges utiles avec le reste de la cohorte.
Quels conseils donneriez-vous aux jeunes réformateurs du gouvernement ouvert qui cherchent à développer leurs compétences en leadership et à se connecter avec la communauté ?
AYSHA:
Il faut bien s'informer et bien connaître le fonctionnement du PGO à l'échelle nationale, locale et internationale. Suivre toujours l'implémentation des engagements pris dans le plan d'action en jouant son rôle de surveillance. Ne jamais baisser les bras, faire le plaidoyer nécessaire et s'engager pour la promotion du PGO auprès des citoyen-ne-s.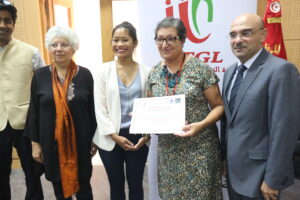 Related Content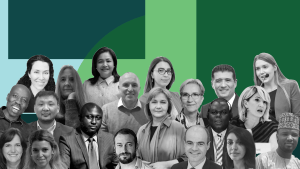 Challenges and Solutions
Announcing the Open Government Leadership Collaborative
The Open Government Leadership Collaborative (OGLC) pilot program sought to enhance the leadership capacity of reformers within the context of their work. As the program expands...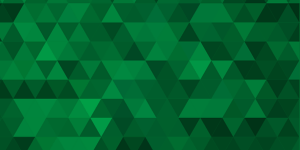 Plateau, Nigeria
Plateau, Nigeria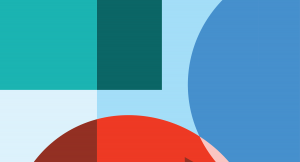 Carthage, Tunisia
Carthage, Tunisia