Closer to the People: OGP Local Results
This blog is part of a series of thematic blogs produced by the Independent Reporting Mechanism (IRM) during Open Gov Week. Find other blogs in the series here.
Over the last decade, members of the Open Government Partnership (OGP) have implemented ambitious open government reforms across levels of government – from the national to county to municipal level. Local level reforms took on a new focus when 20 local jurisdictions joined the Partnership in 2016 and 2018. This past year, OGP Local grew significantly with 56 new members.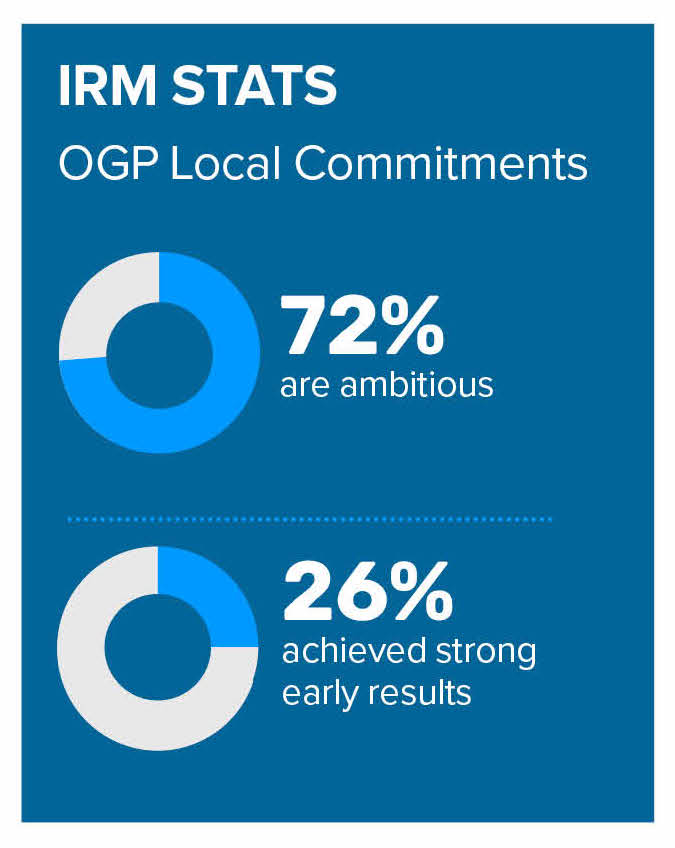 The Independent Reporting Mechanism (IRM)The Independent Reporting Mechanism (IRM) is OGP's accountability arm and the main means of tracking progress in participating countries. The IRM provides independent, evidence-based, and objective ... has assessed 152 commitments made by the 20 pioneer OGP Local members over the last five years. Overall, IRM analysis has found that local commitments are, on average, significantly more likely to be ambitious and achieve strong early resultsEarly results refer to concrete changes in government practice related to transparency, citizen participation, and/or public accountability as a result of a commitment's implementation. OGP's Inde... than commitments made by national governments. Initiatives where local governments leverage their proximity to citizens to create participatory channels have shown particularly good early results. Below is a snapshot of commitments that have increased citizens' ability to participate and hold their local government to account.
Participatory policymaking
Many local governments in OGP have created online and offline spaces for citizens to propose and vote on policies and programs. Some governments have established channels to gather public feedback on specific projects while others have created platforms to collect fresh ideas from the public.
In 2018, Buenos Aires, Argentina committed to informing and consulting the public on the city's plans to significantly expand its bike infrastructure. The government held consultations with neighborhoods and civil society organizations and conducted surveys to collect citizen input. Conversations with neighborhood associations led to the relocation of public bike stations, for example. The city's improved cycling lanes and public bike option proved timely with the onset of the COVID-19 pandemic.
The Basque Country, Spain created an innovation lab ("I-lab") to foster innovative civic participation. Through the I-lab, a partnership of organizations piloted four initiatives that fostered the participation of migrants and enhanced participatory budgeting. These pilot projects informed a best practices guide and set of principles to inform future civic participation efforts in Basque Country.
Also in 2018, La Libertad, Peru expanded its "Decide La Libertad" portal to enable citizens to suggest, discuss, and vote on legislative proposals at the regional level. Implementation particularly focused on equal participation of women and rural citizens through a complementary commitment to close the digital divide.
Participatory Budgeting
Many OGP members have used successive action plans to build transparent and participatory budget processes so that budgets better reflect citizen priorities.
Batumi Municipality successfully implemented participatory budgeting through Georgia's 2018-2020 action plan

Action plans are at the core of a government's participation in OGP. They are the product of a co-creation process in which government and civil society jointly develop commitments to open governmen...

. In 2019, citizens logged on to a dedicated website to suggest and vote on citizen proposals, resulting in three projects being funded by the municipality. In 2020, eight citizen-driven projects were selected through popular vote, including organic waste composting and painting apartment yards to make them more child-friendly.
Citizens in Elgeyo Marakwet, Kenya already play a significant role in the county's budget formulation process. In its first action plan, Elgeyo Marakwet partnered with civil society to release simplified budget information and templates and establish sector working groups to facilitate participation. In the county's most recent OGP action plan, Elgeyo Marakwet committed to publishing appropriation-in-aid data and creating a policy to ensure donors adhere to the county's public disclosure requirements.
Local infrastructure monitoring
A number of OGP members have partnered with civil society and the public to ensure that public resources allocated for vital local infrastructure projects are used efficiently. Local governments' proximity to citizens has made participatory infrastructure monitoring more feasible.
Communities in

Afghanistan

now have greater influence over road construction in their area as a result of Afghanistan's 2017-2019 action plan. The Ministry of Transportation

worked

with civil society, communities, and local officials to collaboratively establish a citizens engagement framework. This framework enables citizens to participate in the planning and implementation of road projects.
In 2018,

Sekondi Takoradi

, Ghana began to

open up

public infrastructure projects to greater civic input and oversight. The Metropolitan Assembly committed to publishing contract and project information while citizen monitoring groups visit project sites to compare disclosed data with developments on the ground. As a result of this commitment, Sekondi Takoradi

joined

the Infrastructure Transparency Initiative (CoST), established a CoST multi-stakeholder group, and published its first

Assurance Report

on stakeholder engagement and information disclosure across five infrastructure projects in 2020.
Recommendations
Across the globe, 56 new members of OGP Local are co-creating their first open government action plans. But there's no need to start from scratch. Open government champions can draw lessons from pioneer members' experience as they embark on their OGP journey and consider:
Aligning commitment

OGP commitments are promises for reform co-created by governments and civil society and submitted as part of an action plan. Commitments typically include a description of the problem, concrete action...

timelines with the local administration's election cycles and budget to limit possible disruption.
Partnering closely with civil society from the very beginning to build public participation

Giving citizens opportunities to provide input into government decision-making leads to more effective governance, improved public service delivery, and more equitable outcomes. Technical specificatio...

and engagement channels. This can help ensure continuity of initiatives beyond election cycles.

Leveraging intimate knowledge and proximity to citizens to focus participatory initiatives on local priority policy areas and include the right actors in the discussion

Ensuring there is a continuity plan, ownership and strong support from local administration officials and civil society for when donor funds are no longer available.

Breaking down reforms that require more than two years to implement into feasible commitments that build towards longlasting open government reforms.

Taking into account the level of cross-government coordination and amount of time required to implement each commitment.

Establishing an OGP Local monitoring mechanism to assess action plan implementation using IRM guidance to achieve a comprehensive and contextualized approach

Documenting success stories to build public, civil society, and international support for the local open government agenda.
Local jurisdictions are closer to citizens than national governments and as result, local members are uniquely positioned to improve public services and citizens' interactions with government. Local governments are also often more nimble, presenting the opportunity to experiment with open government reforms in partnership with civil society.
We look forward to seeing even more ambitious and transformative commitments in future OGP Local action plans. 
En los últimos 10 años, los miembros de la Alianza para el Gobierno Abierto (OGP por sus siglas en inglés) han implementado reformas ambiciosas de gobierno abierto a diferentes niveles de gobierno, desde el nivel nacional hasta el local. Las reformas locales tomaron un nuevo enfoque cuando 20 jurisdicciones locales se incorporaron a la alianza en 2016 y en 2018. El año pasado, OGP Local tuvo un crecimiento significativo con la incorporación de 56 nuevos miembros. 
El Mecanismo de Revisión Independiente (IRM por sus siglas en inglés) ha evaluado 152 compromisos que los miembros pioneros de OGP Local han establecido en los últimos cinco años. En general, el análisis del IRM encontró que los compromisos locales, en promedio, son significativamente más ambiciosos y con resultados tempranos sólidos que los compromisos establecidos por los gobiernos nacionales. Las iniciativas en las que los gobiernos locales aprovechan su cercanía a los ciudadanos para crear canales de participación que han mostrado buenos resultados tempranos. A continuación presentamos un resumen de los compromisos que han ayudado a mejorar las oportunidades de la ciudadanía para participar y exigir a sus gobiernos locales que rindan cuentas.
Decisiones participativas
Muchos gobiernos locales de OGP han creado espacios digitales y presenciales a través de los cuales la ciudadanía tiene la oportunidad de proponer políticas y programas o votar por ellos. Algunos gobiernos han establecido canales para obtener retroalimentación del público sobre proyectos específicos, mientras que otros han creado plataformas para obtener ideas nuevas del público.
En 2018,

Buenos Aires

, Argentina se

comprometió

a informar y consultar al público sobre los planes de expansión de la infraestructura para ciclistas. El gobierno organizó consultas en las colonias y con organizaciones de la sociedad civil y aplicó encuestas para obtener insumos de la ciudadanía. Por ejemplo, las conversaciones con asociaciones de vecinos resultaron en la reubicación de estaciones de bicicletas públicas. En el contexto de la pandemia del COVID-19, las rutas para ciclistas y bicicletas privadas fueron muy

oportunas

.

El

País Vasco

, España creó un laboratorio de innovación

("

I-lab

")

para promover la participación ciudadana de forma innovadora. A través del I-lab, una alianza de organizaciones piloteó cuatro iniciativas que promovieron la participación de migrantes y fortaleció la participación en el diseño de presupuestos. Estos proyectos piloto fueron utilizados para diseñar una guía de buenas prácticas y principios para futuros esfuerzos de participación cívica en el País Vasco.

En 2018,

La Libertad

, Perú

amplió

su portal "

Decide La Libertad

" para permitir a la ciudadanía sugerir, discutir y votar por propuestas legislativas a nivel regional. La implementación se enfocó en la participación de las mujeres y grupos rurales a través de un

compromiso

de cerrar la brecha digital.
Presupuestos participativos
Muchos miembros de OGP han utilizado sus planes de acción para crear procesos de diseño de presupuestos transparentes y participativos con el fin de asegurar que éstos reflejen las prioridades de la ciudadanía.
El

Municipio Batumi

implementó

con éxito un programa de diseño participativo de presupuestos a través del plan de acción de Georgia 2018-2020. En 2019, el gobierno creó un sitio web a través del cual la ciudadanía tenía la oportunidad de sugerir propuestas y votar por ellas. Así, se diseñaron tres proyectos para ser financiados por el municipio. En 2020, ocho proyectos impulsados por la ciudadanía fueron seleccionados a través del voto popular, incluyendo un sistema de compostas y pintar jardines para hacerlos más atractivos a los niños.

La ciudadanía de

Elgeyo Marakwet

, Kenia desempeña un papel importante en la formulación de presupuestos. En su primer plan de acción, Elgeyo Marakwet

trabajó

con la sociedad civil para publicar información

simplificada

sobre presupuestos y plantillas para crear grupos de trabajo sectoriales y así facilitar la participación. En el plan de acción más reciente, Elgeyo Marakwet se

comprometió

a publicar datos de apropiación de la asistencia y crear una política para asegurar que los donantes se adhieran a los requisitos de transparencia del país.
Monitoreo de la infraestructura local
Diversos miembros de OGP han trabajado con la sociedad civil y con el público para asegurar que los recursos públicos asignados a los proyectos de infraestructura sean utilizados eficientemente. La cercanía de los gobierno locales a la ciudadanía ha contribuido a que el monitoreo participativo de la infraestructura sea más factible.
Las comunidades de

Afganistán

lograron una mayor influencia en la construcción de caminos gracias al plan de acción de Afganistán de 2017-2019. El Ministerio de Transporte

trabajó

con la sociedad civil, comunidades y funcionarios para establecer un marco de participación ciudadana que les permite participar en la planeación e implementación de proyectos de caminos.

En 2018,

Sekondi Takoradi

, Ghana empezó a

abrir

los proyectos de infraestructura a una mayor supervisión ciudadana. La Asamblea Metropolitana se comprometió a publicar información sobre los proyectos y sobre los contratos y los grupos de monitoreo ciudadano visitaron los proyectos para comparar los datos publicados con los hechos en el campo. Como resultado de este compromiso, Sekondi Takoradi se

incorporó

a la Iniciativa de Transparencia en la Infraestructura (CoST por sus siglas en inglés), establecieron un grupo multisectorial para dar seguimiento a esta iniciativa y publicaron su primer

informe

sobre participación de actores y publicación de información sobre cinco proyectos de infraestructura en 2020.
 Recomendaciones 
En todo el mundo, los 56 miembros de OGP Local están cocreando su primer plan de acción de gobierno abierto y no deben empezar desde cero. Los líderes del proceso de gobierno abierto podrán tomar las lecciones aprendidas gracias a la experiencia de los pioneros y considerar:
Alinear los tiempos de los compromisos con los ciclos políticos de las administraciones locales y limitar las interrupciones.

Trabajar cercanamente con la sociedad civil desde el principio para construir canales de participación ciudadana. Lo anterior puede ayudar a asegurar la continuidad de las iniciativas más allá de los ciclos electorales.

Aprovechar la cercanía con la ciudadanía para enfocar las iniciativas en las áreas de política prioritarias e incluir a los actores adecuados en la discusión.

Crear un plan de continuidad, apropiación y apoyo de funcionarios locales y de la sociedad civil para cuando los fondos no se encuentren disponibles.

Dividir las reformas que requieran de más de dos años para implementarse en compromisos factibles que lleven a reformas de gobierno abierto duraderas.

Tomar en cuenta el nivel de coordinación intergubernamental y el tiempo necesario para implementar cada compromiso.

Establecer mecanismos de monitoreo de OGP Local para evaluar la implementación del plan de acción utilizando las pautas del IRM para lograr un enfoque integral y contextualizado.

Documentar historias para obtener apoyo del público, la sociedad civil y actores internacionales a favor la agenda local de gobierno abierto.
Las jurisdicciones locales son más cercanas a los ciudadanos que los gobiernos nacionales y por esa razón los miembros locales tienen una oportunidad única de mejorar los servicios públicos y la interacción de la ciudadanía con los gobiernos. Además, los gobiernos locales tienden a ser más ágiles, por lo que tienen la oportunidad de experimentar reformas de gobierno abierto en colaboración con la sociedad civil. 
Esperamos recibir compromisos aun más ambiciosos y transformadores en los próximos planes de acción de OGP Local.
Related Content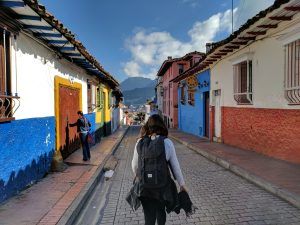 OGP Local
Through OGP Local, participants can learn how to use open government values such as transparency, accountability, responsiveness, and inclusion to better meet the needs of the citizens they serve.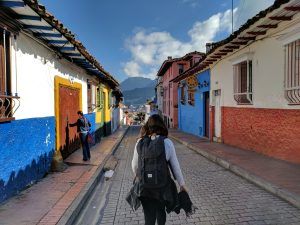 56 Local Jurisdictions Join Global Partnership to Promote Open Government
OGP welcomes 56 new local jurisdictions composed of 64 local governments and civil society organizations to join OGP Local at a critical time for open government.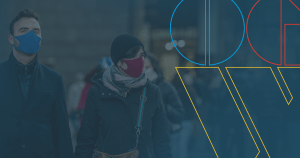 Open Gov Week 2021
From May 17-21, join open government champions from around the world to share ideas, discuss solutions, and commit to new levels of citizen participation in government to respond to and…