GLOW: Open Parliaments Prove Their Strength In An Unprecedented Year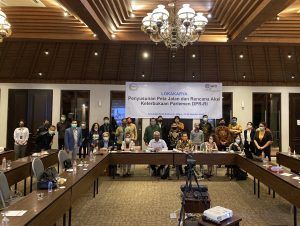 From the COVID-19 pandemic to the heightening climate crisis to an increase in authoritarian overreach, 2020 has sorely tested the strength of democracies globally. Even while the world continues to reel from the effects of these multiple threats, at least one lesson of 2020 is already apparent: the parliaments most effective in upholding democratic norms and meeting citizen needs are the ones that have maintained a firm commitment to the principles of transparency, openness and accountability. 
Recognizing the need for continued learning on open parliamentary engagement, the Open Parliament e-Network (comprised of Directorio Legislativo, National Democratic Institute, OSCE/ODIHR, ParlAmericas, Westminster Foundation for Democracy and the Latin American Legislative Transparency Network) recently held its fifth annual Global Legislative Openness Week (GLOW) as a forum for raising awareness, exchanging experiences, highlighting innovation and initiating joint projects.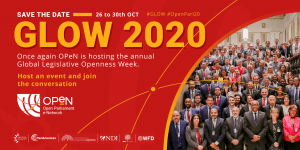 In years past, GLOW has provided an opportunity for civil society organizations (CSOs) and parliaments around the world to showcase open parliament events and commitments on a virtual platform. This year, as the world itself has adjusted to a virtual reality, GLOW was well positioned to engage online with its community all around the world. More than 20 events were held throughout the week, gathering more than 2,500 participants including parliamentarians, parliamentary staff and CSOs. The week included activities hosted by parliaments in Brazil, Colombia, Costa Rica, Chile, Indonesia, North Macedonia and Paraguay; and CSOs in Armenia, Mexico and Ukraine that provided an introduction to open parliament concepts, contributed to the development and implementation of legislative Open Government Partnership (OGP) commitments and discussed digital strategies to ensure the continuity of these efforts during the pandemic, among other objectives. GLOW also coincided with the approval of a new Citizen Participation Regulation by the Congress of Chile, an innovative initiative stemming from a legislative commitment in Chile's OGP action plan to increase citizen participation in the legislative process.
A key takeaway of GLOW 2020 was featured in the week's final session: "Working towards an Open State" (available in english and spanish),which brought together more than 80 representatives from parliaments, civil society and academia to explore opportunities for parliaments to further contribute to the implementation and oversight of national commitments within the OGP framework. Reinforcing the critical role of parliamentary openness in crisis situations, the webinar also identified the need for strengthened collaboration between the executive and the legislative and judicial branches of governments. The discussion was moderated by Paul Maassen, Chief of Country Support at OGP, and led by Irina Pruidze, former Member of Parliament of Georgia; Paran Umar Tarawallie, clerk of the Parliament of Sierra Leone; Cara F. Zwibel, Canadian Civil Liberties Association; and Maria Liz Sosa Studotti, staff of the Senate of Paraguay.
The COVID-19 pandemic has shown that when the ties between branches of government are weak, democratic principles fall through the cracks. An "Open State approach" considers open government challenges and opportunities holistically across all branches and levels of government, and is an inspiring next step for the open parliament movement. However, it also requires stronger mechanisms for collaboration, participation and communication among the executive, judiciary and legislature. These mechanisms can take the form of national agreements of participation in the national open government multi-stakeholder forum, the inclusion of commitments on open parliament and open justice in action plans, and other approaches. This is more deeply explored in OPeN's resource on Parliaments and Open Government. Such efforts would, without any doubt, strengthen democracy at these times of unprecedented challenges.  
Open government processes are strengthened by a holistic approach. As OGP gears up to celebrate its tenth anniversary, OPeN encourages OGP member countries to consider how they can involve all branches in their work. And as we all move into 2021, OPeN partners are also eager to build on this momentum by re-imaging the OGP Legislative Engagement Policy to reflect the progress the open parliament community has made during the previous decade. Follow @openparl on Twitter to stay up to date on new developments and to let us know how you are working to create an open state. 
Con la pandemia del COVID-19, la crisis climática y el alza en el autoritarismo, 2020 ha puesto a prueba la fortaleza de las democracias de todo el mundo. En medio de los efectos de estas amenazas, hay por lo menos una lección del 2020 que ya es evidente: los parlamentos que han logrado respetar las normas democráticas y satisfacer las necesidades de los ciudadanos de forma más efectiva son aquellos que han mantenido su compromiso con los principios de transparencia, apertura y rendición de cuentas.  
Reconociendo la necesidad de seguir aprendiendo sobre vinculación con parlamentos, la Red Global de Parlamento Abierto – Open Parliament e-Network – (compuesta por Directorio Legislativo, el Instituto Nacional Demócrata, la Oficina de Instituciones Democráticas y de Derechos Humanos de la OSCE, ParlAmericas, la Fundación Westminster para la Democracia y la Red Latinoamericana de Transparencia Legislativa) recientemente organizaron su quinto foro anual, la Semana Global de la Apertura Legislativa (GLOW por sus siglas en inglés) con el fin de sensibilizar, intercambiar experiencias y dar a conocer iniciativas innovadoras y proyectos conjuntos.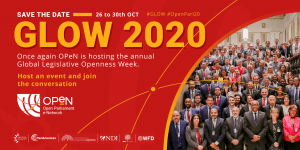 En años pasados, GLOW ha permitido a organizaciones de la sociedad civil (OSC) y parlamentos de todo el mundo dar a conocer sus eventos y compromisos en una plataforma virtual. Este año, el mundo se ajustó a una realidad virtual. GLOW está bien posicionada para conectarse de forma virtual con la comunidad de todo el mundo. A lo largo de la semana se organizaron más de 20 eventos en los que participaron 2 500 personas, incluyendo miembros de parlamentos y sus equipos y representantes de OSC. La semana incluyó eventos organizados por parlamentos de Brasil, Colombia, Costa Rica, Chile Indonesia, Macedonia del Norte y Paraguay, así como OSC de Armenia, México y Ucrania, en donde se presentó una introducción al concepto de parlamentos abiertos, se contribuyó al desarrollo y la implementación de compromisos legislativos en el marco de Open Government Partnership (OGP) y se discutieron estrategias digitales para asegurar la continuidad de los esfuerzos durante la pandemia, entre otros objetivos. Además, GLOW coincidió con la aprobación del nuevo Reglamento de Participación Ciudadana en el Congreso Nacional de Chile, una iniciativa innovadora que se desprende de un compromiso legislativo del plan de acción de Chile y que busca aumentar la participación ciudadana en el proceso legislativo.
Una de las conclusiones principales de GLOW 2020 se presentó en la sesión final: "Trabajando hacia un Estado abierto" (disponible en inglés y en español), en donde participaron más de 80 representantes de parlamentos, la sociedad civil y la academia para explorar cómo seguir contribuyendo a la implementación y supervisión de compromisos nacionales en el marco de OGP. Reforzando el papel esencial que tiene la apertura parlamentaria en las situaciones de crisis, el webinar identificó la necesidad de promover una mayor colaboración entre los poderes ejecutivo, legislativo y judicial. La discusión fue moderada por Paul Maassen, director de apoyo a los países en OGP y liderada por Irina Prudize, ex miembro del parlamento de Georgia; Paran Umar Tarawallie secretario del parlamento de Sierra Leona; Cara F. Zwibel de la Asociación de Libertades Cívicas de Canadá y Maria Liz Sosa Studotti del senado de Paraguay.
La pandemia del COVID-19 ha demostrado que cuando no existe un vínculo sólido entre los poderes de gobierno, los principios democráticos se pierden. Una propuesta de Estado abierto toma en consideración los retos y oportunidades de gobierno abierto de forma holística entre todos los poderes y niveles de gobierno y es un paso inspirador para el movimiento del parlamento abierto. Sin embargo, requiere de mecanismos sólidos de colaboración, participación y comunicación entre el poder ejecutivo, legislativo. Estos mecanismos pueden ser acuerdos nacionales de participación en el foro multisectorial de gobierno abierto, la incorporación de compromisos sobre parlamentos abiertos y justicia abierta en los planes de acción y otros. El informe de OPeN sobre parlamentos y gobierno abierto analiza este tema en más detalle. Sin duda, estos esfuerzos fortalecerían la democracia en tiempos de retos sin precedentes.
Los procesos de gobierno abierto se fortalecen cuando incorporan un enfoque holístico. OGP se acerca a su décimo aniversario y, en ese contexto, OPeN invita a los miembros de OGP a pensar cómo pueden involucrar a todos los poderes del gobierno en su trabajo. En la víspera del 2021, los socios de OPeN están entusiasmados por aprovechar esta inercia y rediseñar la política de vinculación legislativa de OGP de manera que refleje los avances que la comunidad de parlamento abierto ha logrado en una década. Sigue a @openparl en Twitter para mantenerte actualizado y cuéntanos cómo estás trabajando hacia un estado abierto.