The 4 Cs to More Ethical, Transparent, and Accountable Public Administrations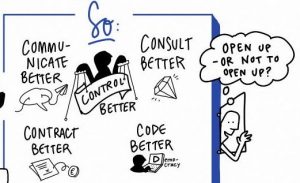 The 2020 Edelman Trust Barometer reveals that despite a strong global economy and near full employment, citizens don't trust their governments. This result, seen across other studies, is a clear wake-up call for institutions to embrace a new way of effectively building trust. By opening their doors to public input and oversight, we know that governments are more likely to be effective and credible. A mere technical fix will not be enough, it is rather about changing the culture of government, the DNA of decision making. But, with declining trust in institutions, liberal democracy at threat, and rising populism, we need these challenges to be faced head-on. We often talk about the role of politicians in fixing the trust deficit, but what can bureaucracies do?
A few months back, I had the opportunity to speak at the European Public Administration Network (EUPAN) Directors General Meeting in Helsinki, Finland, about opportunities for stronger engagement between public administrations, civil society and citizens directly. The Director Generals present stressed a shared responsibility to make their administrations stronger – more ethical, transparent and accountable. They emphasized that the basis for trust is citizens' satisfaction with the delivery and quality of public services. 
As an action-driven platform, OGP encourages its 78 national members and growing number of local members to link global conversations with domestic dialogue and action. Public administrations should be listening to citizens, making use of their knowledge and responding to their feedback by showing the concrete results of their engagement. Here are four ways – or rather the four Cs –  public administrations can build trust, partnerships, and accountability:
Quality public services are critical to the lives of citizens and ensuring their provision is an essential function of governments. Experience and evidence have however shown that this is not the government's role alone, but that citizens and civil society also have an important part to play in improving and delivering public services and achieving social outcomes. Governments need to open up to public input and oversight, and they need to do it in a meaningful way, well designed, with real willingness to listen and change, on topics citizens care about. 
Consultation is an art.  It takes time to get this right – it won't all click into place overnight.  But it could not be more important than today. Only real evidence, real dialogue, and real action that will make a difference in people's lives can combat the rise of populism and distrust.
The featured illustration was created by Linda Saukko Rauta.
El Barómetro de Confianza Edelman de 2020 reveló que, a pesar de que la economía global y los niveles de empleo son buenos, la ciudadanía aún no confía en sus gobiernos. Este hallazgo, que también ha surgido en otros estudios, es un llamado a las instituciones a trabajar en nuevas formas de fortalecer la confianza. Sabemos que, cuando los gobiernos le abren las puertas a las aportaciones y la retroalimentación del público, tienden a ser más efectivos y confiables. Para ello, será necesario cambiar la cultura del gobierno, el ADN de la toma de decisiones. Con la confianza en el gobierno debilitada, amenazas a la democracia y el alza del populismo, necesitamos enfrentar estos retos directamente. Con frecuencia hablamos del papel que tienen los políticos para resolver el problema del déficit de confianza, pero ¿Qué pueden hacer las burocracias?
Hace algunos meses, tuve la oportunidad de hacer una presentación en la reunión de directores de Red Europea de Administración Pública (EUPAN por sus siglas en inglés) que se llevó a cabo en Helsinki, Finlandia sobre las oportunidades que existen para una mayor colaboración entre los administradores públicos, la sociedad civil y la ciudadanía. Los directores que participaron en la reunión enfatizaron que tienen una responsabilidad compartida de fortalecer sus administraciones y hacerlas más éticas y transparentes y lograr que rindan cuentas. Enfatizaron que la base de la confianza es el nivel de satisfacción que tiene la ciudadanía con la provisión y la calidad de los servicios públicos.
Como plataforma que busca promover las acciones, OGP invita a sus 78 miembros nacionales y gobiernos locales a vincular las conversaciones globales con acciones locales. Las administraciones públicas deben escuchar a su ciudadanía, utilizar su conocimiento y responder a su retroalimentación, mostrando los resultados concretos de su participación. A continuación presentamos cuatro formas en que las administraciones pueden construir confianza, establecer alianzas y lograr la rendición de cuentas:
Los servicios públicos de calidad son fundamentales para la vida de los ciudadanos y asegurar su oferta es una función elemental de los gobiernos. Sin embargo, la experiencia demuestra que no solamente es responsabilidad del gobierno, sino que la ciudadanía y la sociedad civil también tienen un papel en la provisión de los servicios públicos y en el logro de metas sociales. Los gobiernos deben estar abiertos a las aportaciones y la retroalimentación del público. Dicha apertura debe ser significativa, estar bien diseñada y tener la disponibilidad de escuchar y aplicar los cambios necesarios sobre los temas que importan a la ciudadanía. 
La consulta es un arte. Toma tiempo hacerlo bien, por lo que no todo se resolverá en un día. Pero hoy es más importante que nunca. Solamente con evidencias verdaderas, diálogos verdaderos y acciones verdaderas lograremos hacer una diferencia en la vida de las personas y combatir el populismo y la desconfianza.
La ilustración presentada fue creada por Linda Saukko Rauta.