Implementing SDG16+ Through the Open Government Partnership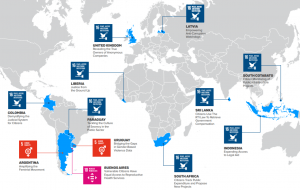 The challenge of building peaceful, just and inclusive societies is at the heart of the Sustainable Development Goals (SDGs). These global goals, agreed at the United Nations by all countries in 2015, are designed to provide a roadmap for a better world by 2030. The Open Government Partnership (OGP) can be a vital partner to achieve these goals.
Four years since the SDGs were agreed, there is widespread concern that implementation is so badly off-track for most targets that a dramatic shift in action will be needed to make significant progress by 2030. It is vital that 2019 is a year where people are inspired to take more ambitious action and commit to making the 2020s a decade of delivery. Open government can be a strategic tool to help with implementation across the 17 SDGs.
STORIES OF PROGRESS
COMMITMENTS TO WATCH