Seeking Synergy: OGP & EITI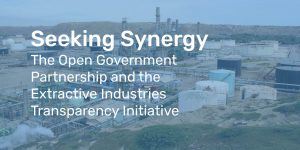 The extractives sector is one of the sectors most prone to corruption, and also one of the most important issues tackled by Open Government Partnership (OGP) members in their biennial action plans. These commitments are not only common – they are also important. OGP's accountability mechanism, the (IRM), has assessed that more than one in four extractives commitments have the potential to transform business as usual, double the rate of OGP commitments in most other sectors.  
The Extractives Industry Transparency Initiative (EITI) and OGP are both international multistakeholder initiatives where members take action to improve governance. EITI is a standard-setting and validation process focused exclusively on oil, gas, mining, and other extractive industries. OGP has fewer standards and a broader focus. These differing approaches can be mutually supportive.
OGP's first paper focused exclusively on extractives explores how countries that are members of both the EITI and OGP can leverage both initiatives to make meaningful reforms in extractives governance. Specifically, the research reveals that countries are already using OGP to accelerate or go beyond EITI requirements in several areas, namely contracting transparency, environmental disclosures and beneficial ownership transparency. Meanwhile other areas such as gender and civic space remain largely unaddressed between countries.
Note: This paper relies on data and findings published on or before 1 August 2019.  
The paper is available for download in English, French and Spanish.