Transparency and Accountability at the Frontlines of Justice: Access to Civil or Criminal Legal Aid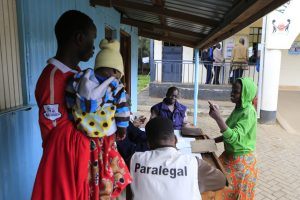 OVERVIEW
Access to justice is more than just access to lawyers or courts. It is a component of the rule of law, which at its core allows that individuals and communities with legal needs know where to go for help, can obtain the help they need, and can move through a system that offers procedural, substantive, and expeditious justice. While a person might resolve their legal needs without a clear understanding of the law and legal institutions, it is far better to empower individuals and communities to participate actively in resolving their legal problems, including instances of collective injustices or structural inequalities.
Legal aid is a critical component to ensuring access to justice. Indeed, it is a human right in the criminal context and a component of the fundamental right to a fair trial as recognized in the International Covenant on Civil and Political Rights. Whether in the criminal or civil justice system, legal aid for individuals with limited means or who are in vulnerable situations is critical to achieving fair and just outcomes. Legal aid can ensure that justice systems are accountable and safeguard the rights of individuals.
RECOMMENDATIONS FOR GOVERNMENTS
Legal aid authority: Create an independent legal aid authority that can establish, fund, staff, regulate, and evaluate the legal aid scheme. Consider a multi-stakeholder approach to join legal professionals with community representatives.
Legal aid expansion: Expand access to civil and criminal legal aid to improve people's ability to pursue necessary legal action, thus increasing accountability in the justice system. This may include expanding the provision of legal aid to respond to those legal problems for which demand surpasses the existing legal assistance that is available. This might entail increased funding or  problems that might not have adequate funding or expanding partnerships with CSOs to respond to the need.
Programs for underserved communities: Increase funding to existing legal aid services and establish new offices and services to reach isolated or underserved communities. Make budgets (and outcomes) transparent down to the program level.
Cooperation to address legal needs: Protect and deepen civil society partnerships, especially with civil legal aid providers. Launch working groups of government and civil society members to identify legal reforms to improve legal assistance and the courts.
Targeted partnerships: Strengthen and institutionalize partnerships between CSOs and law enforcement, when appropriate, to better serve underserved communities and populations like victims of gender-based violence.
Legal aid funding: Expand and diversify financing for legal assistance at national and subnational levels. This might include public sector partnerships to shore up justice interventions securing basic needs like housing, employment, and access to public services.
Pro bono services: Revise regulations in the legal field to support private sector lawyers' provision of services to low-income and vulnerable individuals for free (i.e., pro bono) where legal aid is not provided as a right.
Law clinics: Revise legal profession regulations to enable law students under the supervision of licensed attorneys to provide legal services to low-income and underserved individuals through law school clinics or with civil society organizations.
Training of legal professionals: Fund and launch training programs for legal aid lawyers, paralegals, and pro bono volunteers to improve their legal skills and knowledge in legal areas impacting low-income and underserved individuals.
RELEVANT ACTIONS
Indonesia Improves the Availability and Quality of Legal Aid
The Indonesian Legal Aid Foundation (ILAF) has been providing legal aid in Jakarta since the 1970s. Their services increased dramatically in the 1980s with assisting clients who were not only poor, but also marginalized and oppressed. The ILAF's services include litigation, education and empowerment of community members, research, and policy advocacy. In recent years, ILAF has received support from the Open Society Foundations to enhance its provision of legal aid. In 2018, Indonesia committed to creating regulations that guarantee funding for legal aid organizations, allowing them to expand their reach to more remote and impoverished communities while simultaneously strengthening the awareness and legal capacity of individuals who are poor and marginalized.
Diversifying Funding for Legal Aid in the U.S.
On the eve of adopting the 2030 Agenda for Sustainable Development in September 2015, the United States formally launched a federal interagency effort to integrate civil legal aid into executive branch-led efforts that promote access to health and housing, education and employment, family stability, and public safety. The White House Legal Aid Interagency Roundtable (LAIR) brings over 20 federal agencies together to identify ways in which civil legal aid can advance federal priorities through four primary strategies: leveraging federal resources to strengthen civil legal aid, facilitating strategic collaboration between civil legal aid and law enforcement, developing policy recommendations that improve access to justice, and advancing evidence-based research, data collection, and analysis of access to justice interventions. This activity, which enhances government transparency and civil society participation, was included as an OGP commitment in the U.S. Third National Action Plan. Importantly, LAIR agencies have worked across different presidential administrations to connect civil legal aid to each administration's priorities.
INTERNATIONAL NORMS AND GUIDANCE
United Nations Principles and Guidelines on Access to Legal Aid in Criminal Justice Systems
In December 2012, the United Nations General Assembly adopted 14 principles and 18 guidelines to guide countries on the components of strong legal aid programs in the criminal justice context. While the Principles and Guidelines recognize that, "states employ different models for the provision of legal aid," they can be effective tools in strengthening and growing existing criminal legal aid systems throughout the world. Since their adoption, the UN Commission on Crime Prevention and Criminal Justice has encouraged governments to strengthen the provision of criminal legal aid. The 14 principles include:
The right to legal aid provided by the state for victims, witnesses, and persons suspected of or charged with a criminal offence;
The importance of administering a legal aid scheme that is free from discrimination, prompt, and effective;
The obligation to inform the criminally accused of their right to legal aid and provide remedies and safeguards in the provision of legal aid; and
The requirement for the legal aid function be independent, protected, competent, and accountable.
The 18 guidelines provide more detail on these principles such as how legal aid should be provided and how countries can establish, fund, staff, and regulate legal aid schemes, including partnering with non-state legal aid providers.
OGP COMMITMENTS IN THIS AREA
RESOURCES AND PARTNERS
Resources
Organizations
Featured Photo Credit: Aubrey Wade/Namati