10 Lessons from 10 Years of OGP
This week the Open Government Partnership (OGP) officially turns 10 years old. It was at the United Nations in September of 2011 that a founding group of heads of state, ministers and civil society leaders came together after months of hard work behind the scenes. President Obama's opening remarks set out the aims for OGP member countries and civil society
"
We pledge to be more transparent at every level — because more information on government activity should be open, timely, and freely available to the people. We pledge to engage more of our citizens in decision-making — because it makes government more effective and responsive. We pledge to implement the highest standards of integrity — because those in power must serve the people, not themselves. And we pledge to increase access to technology — because in this digital century, access to information is a right that is universal.
Former U.S. President Barack Obama
Ten years later OGP has grown to 78 national members, 76 local members, and thousands of civil society organizations. More importantly, the global open government community has co-created over 4,500 concrete reforms in the first ten years, with many of those reforms having real impact in citizens' lives. Research has shown that the OGP model can be a powerful accelerator for reformers, when it is grounded in genuine government-civil society co-creation, high level political commitmentOGP commitments are promises for reform co-created by governments and civil society and submitted as part of an action plan. Commitments typically include a description of the problem, concrete action..., independent accountability and international peer learning.
Over the coming four months, in the run up to the OGP Global Summit on December 15-17th, hosted by our current co-chairsThe leadership of the Steering Committee is made up of four co-chairs who provide strategic guidance and support to advance OGP's overarching priorities. Co-Chairs serve two-year terms beginning on ... the Republic of Korea and Maria Baron, we'll be inviting members of the OGP global community to share what they've learned. As someone who has been privileged to have had a front-row seat in the evolution of OGP from start-up to real impact, these are my reflections on how OGP's experience can inform some of the most critical policy debates facing the world today:
1. Effective multilateralism is possible, with creativity 
The demise of effective multilateralism has been a major concern, particularly during the "America and China First" era of the past five years. It remains painfully difficult to secure meaningful United Nations action, with agreements such as this year's UN special session communique on anti-corruption watered down to the lowest common denominator. OGP offers a different approach, with smaller groups of countries and local governments forming leadership coalitions and pushing for softer agreements based on policy and data standards, and mutual learning. I've seen this first hand in the advance of public registries of beneficial ownershipDisclosing beneficial owners — those who ultimately control or profit from a business — is essential for combating corruption, stemming illicit financial flows, and fighting tax evasion. Technical... More, to combat the abuse of anonymous companies for money laundering, which was first announced as U.K. policy at the 2013 OGP London Summit after a major advocacy campaign, and has since spread to dozens of countries. The OGP approach is much lighter on communiques, but much heavier on action. It won't work for all issues, and binding multilateral agreements have their place, but OGP has offered a window into a different type of cooperation that can result in real impact. 
2. The distinction between domestic and foreign policy is eroding
On democracy and open government issues, credibility is everything. Some of the strongest performers in OGP are countries who don't regularly sit at the top table of other international fora. And yet, they are looked up to within the Partnership for their domestic leadership and willingness to share their learning with others. OGP Local members are also showcasing  a different model of how to bring government closer to citizens. Conversely, some of the traditional champions of democracy internationally have experienced significant backsliding in recent years. This includes the United States where I lived less than a mile from the January 6th 2021 insurrection that was inspired by the refusal of some political leaders to accept the will of the people. Political and diplomatic outreach and advocacy is hugely important, and high level summits can be action-forcing moments to move reforms forward, but without leading by example, it runs hollow.  
3. Good ideas come from everywhere
One of the founding OGP principles was that no one institution, government or organization has a monopoly on good ideas or innovation. The spirit being that all of us have something to share, and something to learn. The practice of the last ten years has strongly reinforced this belief, with for example some of the most radical citizen engagement platforms for improving public services coming from places as diverse as Nigeria, Spain and South Korea. I have seen how OGP is one of the few multilateral initiatives that breaks the power dynamics between the global north and south, where for example Canada and Senegal, or the U.K. and Nigeria, can have a dialogue about reforms without it being taken for granted that learning is only a one way street.
4. Shifting the power works
For many years, a group of international development practitioners have been pushing a localization agenda – essentially shifting power and resources within the aid and development sphere from big bilateral and multilateral players to the local actors who best understand their context, and how to change it. OGP has, in practice, been a major experiment in shifting power that gives some important pointers to how implementing a localization agenda might look. OGP has thrived when coalitions of civil society have been able to advocate for specific reforms, play their part in implementing them, and help to ensure accountability for action. In Nigeria, I saw how an "Open Alliance" of hundreds of civil society leaders came together in a powerful joint advocacy campaign for the government to join OGP, and then to commit to specific governance reforms. Those reforms themselves have in many cases served to further shift power by opening up closed decision-making, and encouraging everyday democracy beyond the ballot box. From our experience this applies to all countries and local regions, regardless of income level, with funding for civil society a universal challenge. Localization is alive and well in OGP, but resources are needed to maximize its potential.  
5. The power of unusual coalitions
One of the only hard rules on joining OGP is that governments must set up a space to meet regularly with civil society. This is designed to encourage co-creation of specific reforms, and to build trust between ministers, officials and activists. I remember being in Tunisia soon after the fall of Ben Ali, and the OGP forum was one of the first places that civil society, who had been part of the Arab Spring, met with civil servants to discuss reforms to try and build democracy in the country. Another recent example is the unusual coalitions of private sectorGovernments are working to open private sector practices as well — including through beneficial ownership transparency, open contracting, and regulating environmental standards. Technical specificat... More leaders, government reformers and civil society who have come together to advance open contractingA transparent procurement process, known as open contracting, increases competition, improves public service delivery, and ensures governments better value for their money. Technical specifications: C... as a means to reform public procurementTransparency in the procurement process can help combat corruption and waste that plagues a significant portion of public procurement budgets globally. Technical specifications: Commitments enhancing ... in many OGP countries. When these unusual coalitions come together they can be extremely powerful tools for change. Few places allow a blurring of lines between government and civil society in a positive way that taps into each other's expertise and gets things done. OGP, at its best, offers that opportunity to change the culture of government.  
6. The potential for openness to tackle systemic inequalities
In the early years of OGP there were many circular discussions along the lines of "openness for what?" This tended to be between two artificially drawn poles of those who believed openness was an important principle in rights-based terms, and those that believed openness was a means to achieve better outcomes in sectors like health, educationAccountability within the public education system is key to improving outcomes and attainment, and accountability is nearly impossible without transparent policies and opportunities for participation ... and infrastructure. This has always been a false choice. Openness can and should be both. I am hugely excited by recent progress in showing this to be the case in tackling systematic inequalities in our societies, such as racism, genderOGP participating governments are bringing gender perspectives to popular policy areas, ensuring diversity in participatory processes, and specifically targeting gender gaps in policies to address gov... inequality, income inequality and class inequality. For example, transparencyAccording to OGP's Articles of Governance, transparency occurs when "government-held information (including on activities and decisions) is open, comprehensive, timely, freely available to the pub... More over gender pay gaps is accelerating towards what I hope will be a new governance norm in both the public and private sectors. There is also great potential to increase police transparency and accountability to reduce racial biases, by making arrest data more open and increasing democratic oversight.
7. Everything is now digital, but digital also needs to be open 
If you scan through a typical OGP action planAction plans are at the core of a government's participation in OGP. They are the product of a co-creation process in which government and civil society jointly develop commitments to open governmen... it will be clear that almost all reforms have a digital element, whether using digital participation tools to engage in co-creation, using technology to solicit citizen feedback on public services, or applying open governance principles to onlines spaces or public sector use of technology such as algorithmic decision-making. It no longer makes sense to treat digital as a separate sector or theme. Digital is now deeply embedded within the entire fabric of our democracies and in public services we all rely on. It is clear that open governance principles are needed throughout to ensure digital technologies can be safeguarded against misuse that harms democratic engagement and civic space. OGP is also becoming a key platform to forge coalitions of those promoting digital rights and governance principles, and policy action.
8. The authoritarian playbook is alive and kicking
After fifteen consecutive years of declining civic space and democratic backsliding in many countries, the open government community also needs support to tackle what has become known as the "authoritarian playbook". Loosely defined, this includes clamping down on independent media, restricting funding and space for civil society, using state funds for political ends, eroding judicial independence, disinformation campaigns, arbitrary detention, and inflaming racial and religious differences. In a particularly egregious case a close friend in the open government community from civil society had his passport confiscated for several years, after publishing information the government did not want to see in public. Another classic example has been the proliferation of very similar NGO laws across many countries that are pitched as promoting accountability for civil society, but in actual fact make it incredibly difficult to operate in an independent manner. Open government has many of the tools to tackle this playbook, such as opening up procurement systems so the public can see who is winning state contracts, which makes it harder for corrupt politicians to use procurement as pay back for big business support as the Odebrecht scandal so vividly demonstrated in Latin America. When populist leaders with authoritarian instincts have come to power in OGP countries, I have also seen remarkable efforts to use open government to quietly mitigate the worst effects and keep a reform agenda alive under the radar. But this is an uphill battle and requires much stronger international cooperation and coalition building, epitomised by the type of incredible work that investigative reporters collaborated on around the Paradise and Panama Papers that exposed many authoritarian leaders' money laundering. 
9. Accountability matters
OGP is overwhelmingly about positive incentives and inspiring a so-called "race to the top" between members, but it is also not a free ride. From the outset OGP's Independent Reporting Mechanism (IRM) has publicly monitored and assessed every commitment made through the Partnership, which provides an incredible database for learning and accountability purposes. However, we ourselves have had to adapt and evolve our rules to respond to the trend of closing civic space. It is now harder to join OGP if you meet the technical criteria, but have had civic space issues. There is also a response policy in place, which led to Viktor Orban withdrawing Hungary from OGP and the suspension of Azerbaijan. The same policy was used to try and forge a policy response to illegal surveillance of civil society in Mexico. Accountability is vital, and while OGP still has challenges of unfulfilled commitments and democratic backsliding within our membership, we have been able to draw a line beyond which being a full participating member is not possible. 
10. A healthy dose of humility and patience is always needed
I always remember Obama administration officials talking in OGP fora about the U.S.'s own challenges with access to justiceAccessible justice systems – both formal and informal – ensure that individuals and communities with legal needs know where to go for help, obtain the help they need, and move through a system tha... More in the aftermath of the fatal shooting of Michael Brown in Ferguson in 2014, while also encouraging other countries to tackle their own justiceTo address barriers that prevent citizens from having their justice needs met, OGP participating governments are working to expand transparency, accountability, and inclusion into all systems of justi... issues. That type of humility feels even more essential today and is a key value for OGP. From my experience, less hubris, and more patience working together across boundaries and countries in a way that recognizes each other's strengths and weaknesses, is how we can strengthen our movement for democracy and open government. 
The fragments of a democratic renewal are in place, but the work to bring them together remains. In many ways OGP represents the bright spots for democracy. Thousands of committed reformers in and outside of government working together to try and change the status quo, often against formidable odds. They are showing what an alternative vision for democracy might look like – more participatory, more diverse, less top-down and genuinely seeking to rebuild trust between citizens and government institutions. When citizens don't feel heard, even if they don't always agree with the decision, it erodes faith in democracy in a pernicious way. But so far the successes have been mainly isolated and certainly no country has been able to bring together all the elements of democratic reform to truly show what a different path might look like. To me, this is the challenge for OGP as we enter our second decade: to make the fragments of success add up to more than the sum of their parts, and show a vision for a new version of democracy that is more resilient to authoritarian threats, and more responsive to its citizens.
Esta semana, la Alianza para el Gobierno Abierto (OGP por sus siglas en inglés) cumple 10 años. En septiembre de 2011, en el marco de la Organización de las Naciones unidas, un grupo de jefes de Estado, ministros y líderes de la sociedad civil se reunieron tras meses de mucho trabajo tras bambalinas. El discurso inaugural del presidente Obama planteó los objetivos para los miembros de OGP y para la sociedad civil.
"
Prometemos ser más transparentes en todos los niveles, porque más información sobre las actividades de gobierno abierta debe ser abierta, puntual y disponible a todo el público. Prometemos involucrar más a la ciudadanía en la toma de decisiones, porque así lograremos un gobierno más efectivo y responsivo. Prometemos aplicar los más altos estándares de integridad porque quienes están en el poder deben servir a la gente, no a sí mismos. Y prometemos mejorar el acceso a la tecnología, porque en este siglo digital, el acceso a la información debe ser un derecho universal.
El expresidente de los Estados Unidos, Barack Obama
Diez años después, OGP ha crecido hasta contar con 78 miembros nacionales, 76 miembros locales y miles de organizaciones de la sociedad civil. Lo que es más importante, la comunidad global de gobierno abierto ha cocreado más de 4.500 concretas reformas en sus primeros diez años y muchas de esas reformas han tenido un impacto real en la vida de la ciudadanía. Las investigaciones demuestran que el modelo de OGP puede detonar reformas poderosas cuando el proceso está fundamentado en una verdadera cocreación entre el gobierno y la sociedad civil, compromiso político de alto nivel, rendición de cuentas y aprendizaje a nivel internacional.
En los próximos cuatro meses, en preparación a la Cumbre Global de OGP que se llevará a cabo del 15 al 17 de diciembre, organizada por nuestros actuales copresidentes la República de Corea y Maria Baron, invitaremos a los miembros de la comunidad a compartir lo que han aprendido. Yo he tenido el privilegio de ver de primera mano la evolución de OGP desde su inicio hasta sus impactos. En ese sentido, comparto mis reflexiones sobre cómo la experiencia de OGP puede aportar a los debates de política más importantes del mundo actual.
1. Con creatividad, el multilateralismo efectivo es posible
La desaparición del multilateralismo efectivo es una gran preocupación, especialmente durante los últimos cinco años en la era "Estados Unidos y China primero". Sigue siendo muy difícil asegurar la acción de las Naciones Unidas, por ejemplo el caso del comunicado de la sesión especial de la ONU sobre anticorrupción que fue debilitado hacia el menor común denominador. OGP ofrece un modelo diferente, con grupos más pequeños de países y gobiernos locales que forman coaliciones e impulsan acuerdos menos rígidos basados en estándares de política y de datos y en aprendizaje mutuo. Yo he visto de primera mano el avance de los registros públicos de beneficiarios reales para combatir el lavado de dinero, lo cual se anunció por primera vez como política del Reino Unido durante la Cumbre de OGP de Londres en 2013 gracias al esfuerzo de una importante campaña. Desde entonces, el tema ha permeado a decenas de países. El modelo de OGP pone mucho menos énfasis en comunicados, pero mucho más en la acción. No va resolver todos los problemas y los acuerdos multilaterales vinculantes aún son importantes, pero OGP ofrece una ventana a un tipo de cooperación diferente que puede resultar en un impacto real.
2. La distinción entre la política interna y la internacional se está borrando  
En temas de democracia y gobierno abierto, la credibilidad lo es todo. Algunos de los miembros de OGP que han demostrado mejor desempeño son países que normalmente no destacan en otros foros internacionales. Sin embargo, son admirados al interior de la alianza por su liderazgo interno y por su disponibilidad a compartir sus aprendizajes con otros. Los miembros de OGP Local están mostrando un modelo diferente de cómo acercar el gobierno a la ciudadanía. Por otro lado, algunos de los campeones de la democracia internacional han tenido recaídas importantes en los últimos años. En Estados Unidos, por ejemplo, a menos de una milla de donde yo vivía, el 6 de enero del 2021 se registró una insurrección en respuesta a líderes políticos se rehusaban a aceptar la voluntad de la gente. La participación y fomento político y diplomático es muy importante y las cumbres de alto nivel pueden ser momentos clave que ayuden a impulsarlos. Sin embargo, si no se predica con el ejemplo, este apoyo será vacío.
3.  Las buenas ideas pueden surgir de cualquier lugar
Uno de los principios fundacionales de OGP es que ninguna institución, gobierno u organización tiene el monopolio de las ideas buenas o innovadoras. La idea es que todos tenemos algo que compartir y algo que aprender. La práctica de los últimos diez años ha reforzado esta creencia, por ejemplo, algunas de las plataformas más radicales de participación ciudadana para mejorar los servicios públicos han surgido desde países tan diversos como Nigeria, España y Corea del Sur. He notado que OGP es una de las pocas iniciativas multilaterales que rompen con la dinámica del poder entre los países del norte y del sur. Por ejemplo, Canadá y Senegal o el Reino Unido y Nigeria pueden dialogar sobre reformas sin pensar automáticamente que el aprendizaje se dará en un solo sentido.
4. Trasladar el poder funciona
Durante muchos años, un grupo de expertos en desarrollo internacional han promovido la agenda de la localización, es decir, trasladar el poder y los recursos en el marco de la esfera de la asistencia y el desarrollo de los actores bilaterales y multilaterales hacia los actores que conocen mejor su contexto. En la práctica, OGP ha sido un gran experimento en trasladar el poder, identificando algunos elementos que podrían servir para implementar la agenda de la localización. OGP ha funcionado mejor cuando coaliciones de la sociedad civil han defendido ciertas reformas, participado en su implementación y ayudado a asegurar la rendición de cuentas. Por ejemplo, en Nigeria, la "Alianza Abierta" de cientos de líderes de la sociedad se reunieron en una campaña, exigiendo al gobierno su incorporación a OGP y comprometerse a impulsar reformas de gobernanza. Estas reformas en muchos casos han servido para trasladar el poder, gracias a la apertura en la toma de decisiones,  y para impulsar la democracia más allá de las urnas electorales. Desde nuestra experiencia, esto aplica en todos los países y regiones, independientemente del nivel de recursos, pues el financiamiento a la sociedad civil es un reto universal. La localización es un tema vivo en OGP pero es necesario asignar más recursos para maximizar su potencial.
5. El poder de las coaliciones inusuales
Uno de los requisitos más importantes para incorporarse a OGP es que los gobiernos deben establecer un espacio para reunirse regularmente con la sociedad civil. Este requisito está diseñado para promover la cocreación de reformas y para fortalecer la confianza entre ministros, oficiales y activistas. Recuerdo que estaba en Túnez poco tiempo después de la caída de Ben Ali y el foro de OGP fue uno de los primeros espacios en que la sociedad civil, que había sido parte de la Primavera Árabe, se reunió con servidores públicos para discutir reformas para intentar reestablecer la democracia en el país. Otro ejemplo reciente son las coaliciones inusuales de líderes del sector privado, reformadores de gobierno y la sociedad civil que han trabajado juntos para impulsar la contratación abierta como medio para reformar las adquisiciones abiertas en muchos países de OGP. Cuando se forman estas coaliciones, pueden ser herramientas extremadamente poderosas. Pocos espacios permiten desdibujar las líneas entre el gobierno y la sociedad civil de manera que puedan aprovechar el conocimiento y experiencia de ambas partes y lograr cambios. En el escenario ideal, OGP ofrece una oportunidad para cambiar la cultura del gobierno.
6. El potencial de la apertura para combatir las desigualdades sistémicas
A principios de OGP, había muchas discusiones alrededor de la pregunta "¿apertura para qué?" Esta discusión se presentaba entre dos polos artificiales entre quienes creían que la apertura era un principio importante en términos de derechos y los que creían que la apertura era un medio para lograr mejores resultados en términos de salud, educación e infraestructura. Ésta es una dicotomía falsa. La apertura puede y debe ser ambas cosas. Me da mucho gusto ver los avances en el combate a las desigualdades sistémicas de nuestras sociedades como el racismo, la inequidad de género, ingresos y clases. Por ejemplo, la transparencia en las brechas salariales de género se está acelerando hacia, espero, una nueva norma de gobernanza para el sector público y privado. Además, hay un gran potencial por ampliar la transparencia y rendición de cuentas de la policía para reducir el racismo, abriendo los datos sobre detenciones y fortaleciendo la supervisión ciudadana.
7. Hoy, todo es digital pero lo digital también debe ser abierto
Si revisas los planes de acción de OGP, te darás cuenta que la mayoría de las reformas tienen un elemento digital, por ejemplo el uso de herramientas digitales para promover la cocreación o para solicitar retroalimentación de la ciudadana, aplicar los principios de la gobernanza abierta en espacios públicos, el uso algoritmos por el sector público para la toma de decisiones. Ya no tiene sentido atender lo digital como un tema o sector por separado. Hoy, lo digital está íntimamente integrado con el tejido de la democracia y con los servicios públicos de los que dependemos. Claramente, los principios de la gobernanza abierta son necesarios para asegurar que las tecnologías digitales se protejan contra los malos usos que podrían dañar la participación democrática y el espacio cívico. OGP se ha tornado una plataforma clave para crear coaliciones entre los promotores de los derechos digitales, los principios de la gobernanza y la acción de política.
8. El autoritarismo está vivo y fuerte
Tras quince años consecutivos de debilitamiento del espacio cívico y la democracia en muchos países, la comunidad de gobierno abierto requiere de apoyo para combatir el autoritarismo. Esto incluye la restricción a los medios y a la sociedad civil, el uso de fondos públicos para fines políticos, el debilitamiento de la independencia judicial, las campañas de desinformación, detenciones arbitrarias y las crecientes diferencias raciales y religiosas. Un ejemplo atroz es el caso de mi amigo de la comunidad de gobierno abierto de la sociedad civil, a quien le confiscaron su pasaporte por varios años por publicar información que el gobierno no quería que saliera a la luz. Otro ejemplo clásico es la proliferación de leyes en muchos países que se han promovido como requisitos para mejorar la rendición de cuentas de la sociedad civil pero que en la realidad hacen dificultan la operación de las ONG. El gobierno abierto tiene muchas herramientas para combatir esta tendencia, como la apertura de los sistemas de adquisiciones para asegurar que el público pueda tener acceso a los contratos otorgados, lo que le dificulta a los corruptos usar las adquisiciones como pago al apoyo político, como el escándalo de Odebrecht de Latinoamérica. Cuando los líderes populistas con instintos autoritarios han tomado el poder en países de OGP, he visto grandes esfuerzos por utilizar el gobierno abierto para mitigar los impactos y mantener la agenda viva por debajo del radar. Pero ésta es una ardua batalla que requiere de la cooperación internacional y creación de coaliciones. Gran ejemplo de ello es el trabajo de los periodistas que colaboraron en los Paradise y Panama Papers que expusieron el lavado de dinero de muchos líderes autoritarios.
9. La rendición de cuentas es importante
En gran parte, OGP se ha enfocado en incentivos positivos y en promover buenas prácticas entre los miembros, pero no es un paseo gratuito. Desde sus inicios, el Mecanismo de Revisión Independiente (IRM por sus siglas en inglés) de OGP ha monitoreado y evaluado todos los compromisos de la Alianza, con lo que se ha formado una base de datos increíble para fines de aprendizaje y rendición de cuentas. Sin embargo, tuvimos que adaptar y modificar nuestras reglas para responder a la tendencia de cierre del espacio cívico. Hoy, es más difícil incorporarte a OGP si cumples con los criterios técnicos pero tienes problemas con el espacio cívico. Además, tenemos una política de respuesta que llevó a Viktor Orban a retirar a Hungría de OGP y a la suspensión de Azerbaiyán. Esta misma política se utilizó para intentar formar una política de respuesta a la supervisión ilegal de la sociedad civil en México. La rendición de cuentas es fundamental y aunque OGP aún presenta retos de compromisos no cumplidos y una decaída de la democracia en nuestros miembros, hemos logrado establecer una línea para definir la posibilidad de participar en la alianza.
10. La humildad y paciencia siempre son necesarias
Recuerdo a funcionarios de la administración de Obama que hablaban en foros de OGP sobre los retos de Estados Unidos con el acceso a la justicia tras la muerte de Michael Brown en Ferguson en 2014 mientras que invitaban a otros países a atender sus propios retos. Este tipo de humildad es aún más importante hoy y es un valor fundamental para OGP. Desde mi experiencia, con menos soberbia y más paciencia para trabajar juntos entre países, reconociendo las debilidades y fortalezas de unos y otros es como podemos fortalecer el movimiento a favor de la democracia y el gobierno abierto.
Tenemos las piezas para la renovación de la democracia, pero aun tenemos que trabajar juntos para reunirlas. De muchas maneras, OGP representa los puntos altos de la democracia. Miles de reformadores comprometidos de dentro y fuera del gobierno están trabajando juntos para intentar cambiar el statu quo, aun bajo circunstancias complicadas. Están demostrando un modelo de democracia alternativa: mayor participación, mayor diversidad, menor verticalidad y una verdadera búsqueda de la confianza entre la ciudadanía y las instituciones. Cuando la ciudadanía no se siente escuchada, aunque no siempre estén de acuerdo con las decisiones, se debilita la fe en la democracia. Pero hasta ahora, los logros han sido aislados y ciertamente ningún país ha logrado reunir todos los elementos de la reforma democrática para verdaderamente demostrar un nuevo camino. Para mí, este es el reto que enfrenta OGP en su segunda década: tomar los elementos de éxito y lograr que sean más que la suma de sus partes y crear una nueva visión para la democracia más resiliente a las amenazas autoritarias y más responsiva a la ciudadanía.
Cette semaine, le Partenariat pour un gouvernement ouvert fête officiellement ses 10 ans. C'est aux Nations Unies, en septembre 2011, qu'un groupe fondateur de chefs d'État, de ministres et de dirigeants de la société civile s'est réuni après des mois de travail acharné en coulisses. Le discours d'ouverture du président Obama a exposé les objectifs des pays membres du PGO et de la société civile.
« Nous nous engageons à être plus transparents à tous les niveaux, car davantage d'informations sur les activités du gouvernement devraient être ouvertes, opportunes et librement accessibles à la population. Nous nous engageons à impliquer davantage nos citoyens dans la prise de décision, car cela rend le gouvernement plus efficace et réactif. Nous nous engageons à appliquer les normes d'intégrité les plus élevées, car ceux qui sont au pouvoir doivent servir le peuple et non leurs propres intérêts. Et nous nous engageons à accroître l'accès à la technologie, car en ce siècle numérique, l'accès à l'information est un droit universel. »
Dix ans plus tard, le PGO est passé à 78 membres nationaux, 76 membres locaux et des milliers d'organisations de la société civile. Plus important encore, la communauté mondiale du gouvernement ouvert a co-créé plus de 4 500 réformes concrètes au cours des dix premières années, un grand nombre de ces réformes ayant un impact réel sur la vie des citoyens. La recherche a montré que le modèle du PGO peut constituer un puissant accélérateur pour les réformateurs lorsqu'il est fondé sur une véritable co-création entre le gouvernement et la société civile, un engagement politique de haut niveau, une responsabilité indépendante et un apprentissage international par les pairs.
Au cours des quatre prochains mois, à l'approche du Sommet mondial du PGO ayant lieu du 15 au 17 décembre et organisé par nos coprésidents actuels, la République de Corée et Maria Baron, nous invitons les membres de la communauté mondiale du PGO à partager ce qu'ils ont appris. En tant que personne ayant eu le privilège d'avoir été aux premières loges de l'évolution du PGO, de la phase de démarrage à son impact réel, voici mes réflexions sur la façon dont l'expérience du PGO peut éclairer certains des débats politiques les plus critiques auxquels le monde est confronté aujourd'hui :
1. Un multilatéralisme efficace est possible, avec de la créativité
La disparition d'un multilatéralisme efficace a été une préoccupation majeure, en particulier lors de la période « l'Amérique et la Chine avant tout » des cinq dernières années. Il demeure péniblement difficile d'obtenir une action significative de la part des Nations Unies, avec des accords tels que le communiqué de la session extraordinaire des Nations Unies de cette année sur la lutte contre la corruption, réduit au plus petit dénominateur commun. Le PGO propose une approche différente, avec de plus petits groupes de pays et de gouvernements locaux formant des coalitions de dirigeants et faisant pression pour des accords plus souples basés sur des normes de politique et de données, et un apprentissage mutuel. Je l'ai moi-même constaté dans l'avancée des registres publics de propriété bénéficiaire, dans le but de lutter contre l'abus d'entreprises anonymes s'affairant au blanchiment d'argent, ce qui a été annoncé pour la première fois comme politique britannique lors du Sommet du PGO de 2013 à Londres après une grande campagne de revendication, pour ensuite se propager dans des dizaines de pays. L'approche du PGO est beaucoup plus légère en matière de communiqués, mais beaucoup plus lourde au niveau de l'action. Cela ne fonctionnera pas pour tous les problèmes, et les accords multilatéraux contraignants ont leur place, mais le PGO a ouvert une fenêtre sur un type de coopération différent qui peut avoir un réel impact.
2. La distinction entre politique intérieure et politique étrangère se dégrade
Sur les questions de démocratie et de gouvernement ouvert, la crédibilité est primordiale. Certains des pays les plus performants du PGO sont des pays qui ne siègent pas régulièrement à la tête d'autres forums internationaux. Et pourtant, ils sont appréciés au sein du Partenariat pour leur leadership national et leur volonté de partager leur apprentissage avec les autres. Les membres du PGO local présentent également un modèle différent sur la façon de rapprocher le gouvernement des citoyens. Inversement, certains des défenseurs traditionnels de la démocratie à l'échelle internationale ont connu un recul important ces dernières années. Cela inclut les États-Unis, où j'ai vécu à moins d'un mille de l'insurrection du 6 janvier 2021, qui a été inspirée par le refus de certains dirigeants politiques d'accepter la volonté du peuple. La sensibilisation et la revendication politiques et diplomatiques sont extrêmement importantes, et les sommets de haut niveau peuvent représenter des moments forts pour faire avancer les réformes. Mais sans donner l'exemple, cela sonne faux.
3. Les bonnes idées proviennent de partout
L'un des principes fondateurs du PGO est qu'aucune institution, aucun gouvernement ou aucune organisation ne détient le monopole des bonnes idées ou de l'innovation, l'esprit étant que nous avons tous quelque chose à partager et quelque chose à apprendre. La pratique des dix dernières années a fortement renforcé cette conviction, avec par exemple certaines des plate-formes d'engagement citoyen les plus radicales pour améliorer les services publics provenant d'endroits aussi divers que le Nigeria, l'Espagne et la Corée du Sud. J'ai vu comment le PGO est l'une des rares initiatives multilatérales qui brise la dynamique de pouvoir entre le nord et le sud, où par exemple le Canada et le Sénégal, ou le Royaume-Uni et le Nigeria, peuvent avoir un dialogue sur les réformes sans qu'il soit tenu pour acquis que l'apprentissage n'est qu'une rue à sens unique.
4. Le changement de pouvoir fonctionne
Pendant de nombreuses années, un groupe de praticiens du développement international a fait la promotion d'un programme de localisation – essentiellement en déplaçant le pouvoir et les ressources au sein de la sphère de l'aide et du développement des grands acteurs bilatéraux et multilatéraux aux acteurs locaux qui comprennent mieux le contexte et comment le changer. Dans la pratique, le PGO a été un essai majeur de transfert de pouvoir qui donne des indications importantes sur la façon dont la mise en œuvre d'un programme de localisation pourrait ressembler. Le PGO a prospéré lorsque des coalitions de la société civile ont été en mesure de plaider en faveur de réformes spécifiques, de jouer un rôle dans leur mise en œuvre et d'aider à garantir la reddition de comptes envers les mesures prises. Au Nigeria, j'ai vu comment une « Alliance ouverte » de centaines de dirigeants de la société civile s'est réunie dans une puissante campagne de revendication conjointe pour que le gouvernement se joigne au PGO, puis s'engage dans des réformes de gouvernance spécifiques. Dans de nombreux cas, ces réformes elles-mêmes ont servi à déplacer davantage le pouvoir en ouvrant une prise de décision fermée et en encourageant une démocratie quotidienne au-delà des urnes. D'après notre expérience, cela s'applique à tous les pays et régions locales, quel que soit le niveau de revenu, le financement de la société civile étant un défi universel. La localisation est bien vivante au sein du PGO, mais des ressources sont nécessaires pour maximiser son potentiel.
5. Le pouvoir des coalitions inhabituelles
L'une des seules règles strictes pour rejoindre le PGO est que les gouvernements doivent mettre en place un espace pour se réunir régulièrement avec la société civile. Ceci est conçu pour encourager la co-création de réformes spécifiques et pour renforcer la confiance entre les ministres, les fonctionnaires et les militants. Je me souviens avoir été en Tunisie peu après la chute de Ben Ali, et le forum du PGO a été l'un des premiers endroits où la société civile, qui avait fait partie du Printemps arabe, a rencontré des fonctionnaires pour discuter de réformes dans le but de bâtir une démocratie au sein du pays. Un autre exemple récent est celui des coalitions inhabituelles de dirigeants du secteur privé, de réformateurs gouvernementaux et de la société civile qui se sont réunis pour faire avancer le processus ouvert d'octroi de contrats comme moyen de réformer les marchés publics dans de nombreux pays du PGO. Lorsque ces coalitions se réunissent, elles peuvent constituer des outils de changement extrêmement puissants. Peu d'endroits permettent de brouiller les frontières entre le gouvernement et la société civile d'une manière positive et qui puise dans l'expertise de chacun, faisant ainsi avancer les choses. Le PGO, à son meilleur, offre cette possibilité de modifier la culture du gouvernement.
6. Le potentiel d'ouverture pour lutter contre les inégalités systémiques
Lors des premières années du PGO, de nombreuses discussions circulaires ont été tenues sur le thème « une ouverture pour quoi ? ». Cela avait tendance à se situer entre deux pôles artificiellement dressés : ceux qui pensaient que l'ouverture était un principe important en termes de droits, et ceux qui pensaient que l'ouverture était un moyen d'obtenir de meilleurs résultats dans des secteurs tels que la santé, l'éducation et les infrastructures. Cela a toujours été un faux choix. L'ouverture peut et doit être les deux. Je suis extrêmement enthousiasmé par les récents progrès qui montrent que ceci est le cas dans la lutte contre les inégalités systématiques au sein de nos sociétés, telles que le racisme, les inégalités de genre, les inégalités de revenu et les inégalités de classe. Par exemple, la transparence sur les écarts de rémunération entre les genres s'accélère vers ce qui, je l'espère, sera une nouvelle norme de gouvernance dans les secteurs public et privé. Il existe également un grand potentiel pour accroître la transparence et la responsabilité de la police afin de réduire les préjugés raciaux, en rendant les données d'arrestation plus ouvertes et en augmentant le contrôle démocratique.
7. Tout est désormais numérique, mais le numérique doit aussi être ouvert
Si vous parcourez un plan d'action typique du PGO, il sera clair que presque toutes les réformes disposent d'un élément numérique, qu'il s'agisse d'utiliser des outils de participation numériques pour s'engager dans la co-création, d'utiliser la technologie pour solliciter les commentaires des citoyens en matière de services publics, ou d'appliquer des principes de gouvernance ouverte aux espaces en ligne ou à l'utilisation par le secteur public de technologies telles que la prise de décision algorithmique. Il n'est plus logique de traiter le numérique en tant que secteur ou thème distinct. Le numérique est désormais profondément ancré dans la structure complète de nos démocraties et dans les services publics sur lesquels nous comptons tous. Il est clair que des principes de gouvernance ouverte sont nécessaires partout pour garantir que les technologies numériques peuvent être protégées contre les abus qui nuisent à l'engagement démocratique et à l'espace civique. Le PGO devient également une plate-forme clé pour forger des coalitions de ceux qui promeuvent les droits numériques et les principes de gouvernance, sans compter l'action politique.
8. Le modèle autoritaire est bien vivant
Après quinze années consécutives de déclin de l'espace civique et de recul démocratique dans de nombreux pays, la communauté du gouvernement ouvert a également besoin de soutien pour s'attaquer à ce que l'on appelle désormais le « modèle autoritaire ». Au sens large, cela inclut la répression des médias indépendants, la restriction du financement et de l'espace pour la société civile, l'utilisation des fonds publics à des fins politiques, l'érosion de l'indépendance judiciaire, les campagnes de désinformation, la détention arbitraire et l'exacerbation des différences raciales et religieuses. Dans un cas particulièrement flagrant, un ami proche de la communauté du gouvernement ouvert provenant de la société civile s'est vu confisquer son passeport pendant plusieurs années, après avoir publié des informations que le gouvernement ne voulait pas voir en public. Un autre exemple classique a été la prolifération de lois très similaires sur les ONG dans de nombreux pays, qui sont présentées comme promouvant la responsabilité de la société civile, mais qui en réalité rendent un fonctionnement de manière indépendante incroyablement difficile. Le gouvernement ouvert dispose de nombreux outils pour s'attaquer à ce modèle, comme l'ouverture des systèmes d'approvisionnement afin que le public puisse voir qui remporte les contrats de l'État, ce qui rend les choses plus difficiles pour les politiciens corrompus de se tourner vers les marchés publics pour rembourser le soutien des grandes entreprises, comme l'a démontré le scandale Odebrecht de manière si frappante en Amérique latine. Lorsque des dirigeants populistes aux instincts autoritaires sont arrivés au pouvoir dans les pays du PGO, j'ai également vu des efforts considérables d'utilisation d'un gouvernement ouvert pour atténuer doucement les pires effets et garder un programme de réforme en vie discrètement. Mais ceci est une bataille difficile à mener qui nécessite une coopération internationale et une formation de coalition beaucoup plus fortes, illustrées par le type de travail incroyable sur lequel les journalistes d'investigation ont collaboré en matière de Paradise et Panama Papers, dénonçant le blanchiment d'argent de nombreux dirigeants autoritaires.
9. La responsabilité est importante
Le PGO porte principalement sur les incitations positives et l'inspiration d'une soi-disant « course au sommet » entre les membres, mais il ne s'agit pas non plus d'une voie libre. Dès le départ, le Mécanisme d'évaluation indépendant (MEI) du PGO a surveillé et évalué publiquement chaque engagement pris dans le cadre du Partenariat, qui fournit une base de données incroyable à des fins d'apprentissage et de responsabilisation. Cependant, nous avons nous-mêmes dû adapter et faire évoluer nos règles pour répondre à la tendance de fermeture de l'espace civique. Il est désormais plus difficile de se joindre au PGO si vous répondez aux critères techniques, mais avez éprouvé des problèmes en matière d'espace civique. Il existe également une politique de réponse en place, qui a conduit Viktor Orban à retirer la Hongrie du PGO et a mené à la suspension de l'Azerbaïdjan. La même politique a été utilisée pour tenter de forger une réponse politique à la surveillance illégale de la société civile au Mexique. La responsabilité est vitale, et bien que le PGO doit encore relever des défis d'engagements non tenus et de recul démocratique au sein de nos membres, nous avons été en mesure de tracer une ligne au-delà de laquelle être membre participant à part entière est impossible.
10. Une bonne dose d'humilité et de patience est toujours nécessaire
Je me souviens des responsables de l'administration Obama, lors des forums du PGO, qui discutaient des propres défis des États-Unis en matière d'accès à la justice à la suite de la fusillade mortelle de Michael Brown à Ferguson en 2014, tout en encourageant d'autres pays à s'attaquer à leurs propres problèmes de justice. Ce type d'humilité semble encore plus essentiel aujourd'hui et constitue une valeur clé pour le PGO. D'après mon expérience, moins d'orgueil démesuré et plus de patience en travaillant ensemble au-delà des frontières et des pays, en reconnaissant les forces et les faiblesses de chacun, représente la manière dont nous pouvons renforcer notre mouvement pour la démocratie et pour un gouvernement ouvert.
Les fragments d'un renouveau démocratique sont en place, mais le travail de rapprochement demeure. À bien des égards, le PGO représente l'une des étoiles de la démocratie. Des milliers de réformateurs engagés à l'intérieur et à l'extérieur du gouvernement travaillent de concert pour essayer de changer le statu quo, souvent contre vents et marées. Ils montrent à quoi pourrait ressembler une vision alternative de la démocratie – plus participative, plus diversifiée, moins descendante et cherchant
véritablement à rétablir la confiance entre les citoyens et les institutions gouvernementales. Lorsque les citoyens ne se sentent pas entendus, même s'ils ne sont pas toujours d'accord avec la décision, cela érode de manière pernicieuse la foi en la démocratie. Mais jusqu'à présent, les succès ont été principalement isolés et aucun pays n'a certainement été en mesure de rassembler tous les éléments d'une réforme démocratique pour réellement montrer à quoi pourrait ressembler une voie différente. Pour moi, ceci est le défi du PGO alors que s'amorce notre deuxième décennie : faire en sorte que la somme des fragments de succès soient supérieurs à la somme de leurs parties, et montrer une vision pour une nouvelle version de la démocratie qui soit plus résistante aux menaces autoritaires et davantage à l'écoute des citoyens.
Related Content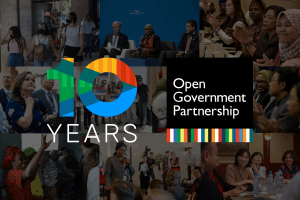 10 Years of OGP
Ten years ago reformers inside and outside government launched OGP – a simple yet distinct way to join forces to create transparent, participatory, inclusive, and accountable solutions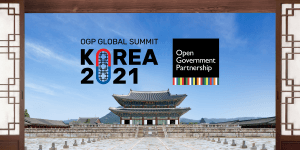 2021 OGP Global Summit: Seoul, Republic of Korea
Thanks for joining us at the 2021 OGP Global Summit. Find recordings, announcements, new publications, and more.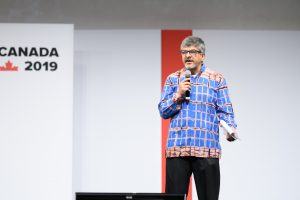 Challenges and Solutions
Faces of Open Government: Rakesh Rajani
As OGP celebrates its 10th anniversary, we sat down with Rakesh Rajani, an open gov advocate who has been involved with OGP since its inception.