10 Things You Might Have Missed at the 2021 OGP Global Summit
Last month, the Republic of Korea hosted the 7th Open Government PartnershipThe Open Government Partnership (OGP) is a multi-stakeholder initiative focused on improving government transparency, ensuring opportunities for citizen participation in public matters, and strengthen... More Global Summit around the themes of civic space, anti-corruption, and inclusive digital innovation. The Summit was an opportunity to reflect on the progress of OGP in its first decade and to present a vision for the future, including reinforcing the importance of open government in recovering from the pandemic, countering the 15-year-trend of rising authoritarianism, and strengthening and renewing democracy.
Previous Summits hosted by Canada, Georgia, France, Mexico, United Kingdom, and Brazil provided opportunities for representatives of civil society, government, and others to meet and exchange experiences, best practices, and progress on open government initiatives and implementation. While we were not able to gather in person due to the ongoing pandemic, we drew on lessons of the last two years to design a variety of sessions for virtual participation. The agenda featured 280 speakers across 40 plenaries and main sessions, partners hosted more than 50 sessions during the week, and ​​thousands of OGP community members participated globally.
Below are some highlights, resources, and initiatives to watch coming out of the Summit.
Thanks to all of you who hosted Partner Sessions, spoke during plenaries, participated in dialogues and more to make the Summit rich and engaging and energize and inspire the community going forward. We'd also love to hear about your Summit experience and how we can improve OGP events in the future through our Global Summit Survey.
El mes pasado, la República de Corea fue la sede de la séptima cumbre global de la Alianza para el Gobierno Abierto, enfocándose en el espacio cívico, la anticorrupción y la innovación digital incluyente. La cumbre fue una oportunidad para reflexionar sobre los avances que OGP ha logrado en su primera década y para presentar una visión para el futuro, incluyendo un refuerzo a la importancia del gobierno abierto para la recuperación de la pandemia, contrarrestando la tendencia de 15 años del alza del autoritarismo y fortaleciendo y renovando la democracia.
Las cumbres anteriores con sede en Canadá, Georgia, Francia, México, el Reino Unido y Brasil ofrecieron oportunidades para que representantes de la sociedad civil, el gobierno y otros actores se reunieran e intercambiaran experiencias, buenas prácticas y avances en sus iniciativas de gobierno abierto. Aunque en esta ocasión no fue posible reunirse en persona debido a la pandemia, a partir de las lecciones que hemos aprendido en los últimos dos años, diseñamos una variedad de sesiones virtuales En la cumbre participaron 280 ponentes en 40 plenarias; los socios organizaron más de 50 sesiones y miles de miembros de la comunidad global de OGP asistieron a los eventos.
A continuación describimos algunos mensajes, recursos e iniciativas que surgieron de la cumbre.
Liderazgo político de alto nivel – En la cumbre participaron 14 jefes de Estado y gobierno (la mayor participación registrada hasta el momento). Puedes escuchar los discursos de los líderes de la República de Corea, Canadá, Ecuador, Estonia, Francia, Georgia, Indonesia, Kenia, Marruecos, Nigeria, Ucrania y Estados Unidos. Además, organizamos conversaciones entre los primeros ministros de Moldavia y la República Eslovaca y líderes de la sociedad civil sobre sus visiones para el futuro del gobierno abierto en sus países – elemento de diálogo que caracteriza a las cumbres de OGP.
Premios de gobierno abierto – Anunciamos a los ganadores de los premios de impacto de OGP y los premios de innovación local y mostramos su trabajo en la cumbre. Puedes consultar cómo estos reformadores de gobierno abierto están mejorando la transparencia, rendición de cuentas, naturaleza participativa y el impacto del trabajo de gobierno abierto aquí.
Evidencia que OGP funciona – Reflexionamos sobre la primera década de OGP y planeamos la siguiente, publicando dos informes. Los signos vitales de OGP – una revisión de diez años de datos evalúa datos de cerca de 200 planes de acción para entender en qué está funcionando el proceso de planes de acción, en dónde requiere mejoras y qué implica lo anterior para la estrategia de OGP en el futuro. Diez años de OGP: Hacia una renovación democrática presenta datos, reformas e historias que muestran que OGP está funcionando.
Diálogos temáticos – Estas sesiones incorporaron diversos formatos y ponentes, desde la administradora de USAID Samantha Power hasta la periodista de investigación Khadija Ismayilova y otros ministros, donantes, representantes del sector privado y líderes de la sociedad civil. Estas sesiones fueron diseñadas para movilizar apoyo político de alto nivel, destacar reformas de los países – incluyendo los planes de acción – y celebrar a los reformadores que están trabajando en los temas de la cumbre. A continuación puedes ver estas sesiones:
 Creación de la red de aprendizaje sobre espacio cívico – Esta red será el primer espacio en su tipo para promover el aprendizaje entre sectores para implementar políticas concretas para proteger y fortalecer el espacio cívico. Para conocer más haz clic aquí.
Actividades de OGP Local –

Líderes de Bogotá, la Regencia Breves y Cataluña participaron en la plenaria de líderes locales, mostrando sus esfuerzos de gobierno abierto a nivel local para combatir los retos que presenta la pandemia.
OGP y United Cities and Local Governments firmaron un memorándum de entendimiento para formalizar la alianza y fortalecer la colaboración para promover la gobernanza abierta y dar voz a los actores locales en las agendas globales.
Anunciamos la expansión de OGP Local con hasta 50 nuevos miembros en 2022 y lanzamos la convocatoria de expresiones de interés.

Participación de los jóvenes en el gobierno abierto – Un grupo de representantes de jóvenes participaron en una serie de eventos y en la cumbre de jóvenes para discutir el futuro del gobierno abierto y  el impulso a la solidaridad internacional y plantear recomendaciones para mejorar la representación de los jóvenes en los procesos de gobierno abierto.
Diálogos abiertos con la comunidad – En 12 diálogos comunitarios (espacios más íntimos), invitamos a la comunidad a participar y discutir temas de gobierno abierto con sus pares.
Lanzamiento de HistoriasAbiertas – Lanzamos HistoriasAbiertas (OpenStories), un espacio en donde la comunidad puede compartir y encontrar historias de avances e inspiración sobre nuestro trabajo conjunto por lograr que los gobiernos trabajen por sus ciudadanos.
Eventos pre cumbre – En preparación a la cumbre, además, organizamos una serie de eventos y oportunidades de colaboración.

OGP y sus socios organizaron una serie de eventos temáticos para impulsar las agendas alrededor de la justicia, anticorrupción, género e inclusión.
La Academia de OGP 2021: Argumentos a favor del gobierno abierto. En el evento participaron académicos y expertos y se presentaron nuevos hallazgos de investigación, se documentaron los impactos del gobierno abierto y se identificaron oportunidades de colaboración hacia el futuro.
La semana del IRM se enfocó en los informes más recientes del Mecanismo de Revisión Independiente (IRM por sus siglas en inglés) e incluyó lanzamientos, discusiones de países y la publicación de datos comparativos, blogs y más.
Gracias a todas y todos los socios que organizaron sesiones, fueron ponentes en las plenarias, participaron en los diálogos y más para lograr que la cumbre fuera un evento rico e interesante y que inspirara a la comunidad. En esta encuesta, nos gustaría saber cómo fue tu experiencia en la cumbre y cómo podemos mejorar los eventos de OGP.
Related Content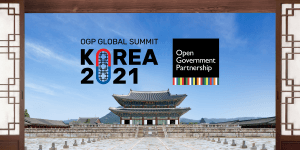 2021 OGP Global Summit: Seoul, Republic of Korea
Thanks for joining us at the 2021 OGP Global Summit. Find recordings, announcements, new publications, and more.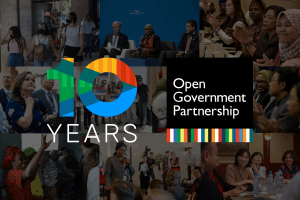 10 Years of OGP
Ten years ago reformers inside and outside government launched OGP – a simple yet distinct way to join forces to create transparent, participatory, inclusive, and accountable solutions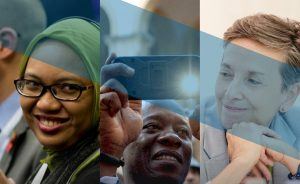 OGP at Ten: Toward Democratic Renewal
When eight governments and nine civil society leaders launched OGP in 2011, no one expected it to reach its current size and scope. Over the last ten years, however, OGP…