Effective, Efficient, and Equitable: How Open Government Can Deliver on Vaccines
COVID-19 vaccines are an essential tool in the race to save lives and rebuild economies during the pandemic. As more vaccines become available, ensuring their distribution is an urgent, global challenge. At the time of writing, several types of COVID-19 vaccines are in circulation, with more than 200 in development. Yet this unprecedented scale presents a series of challenges that are becoming increasingly clear:
Corruption risks:

Health procurement – particularly during emergencies – is

prone to corruption risks

, including conflicts of interest, nepotism, favoritism, and diversion of emergency funds. We are already seeing cases of

"vaccine capture"

, where the powerful and well-connected have been able to cut the line to receive a jab.
Effectiveness and efficiency:

Although a well-planned distribution and supply chain is critical, the WHO has

found

that many countries are not prepared for the roll-out. We see

reports

of health facilities throwing out unused and spoiled vaccines, and vaccine wastage rates are

rarely reported

. 
Equity:

Vaccines are disproportionately going to well-off populations. Globally, more than 50% of all vaccines have been

reserved

by high-income countries representing 13% of the world's population (see map below). And COVAX, a global initiative aimed at equitable access to COVID-19 vaccines,

remains underfunded

. At the domestic level,

early numbers

show that racial minorities and marginalized groups are getting vaccinated at lower rates – even though they suffer a higher burden of disease.
COVID-19 Vaccine Doses Administered in OGP Countries
The Open Government Approach
Open government can help to achieve the effective, efficient, and equitable delivery of vaccines. Applying the pillars of transparency, civic participation, and public accountability throughout the life cycle of vaccines can mitigate corruption risks, achieve value for money, build public trust, and ensure that vaccines are reaching the people who need them most.
Open Review and Approval
Involving non-governmental expert scientists in the initial authorization process and being open about the safety and effectiveness of particular vaccines is critical for addressing vaccine hesitancy, particularly given the accelerated timelines of current approval processes. Research shows that government transparency around vaccine safety, combined with frequent communication throughout the regulatory process, increases trust in vaccines.
Open Contracting
Open procurement processes – from tender to execution – ensure value for money, reduce corruption, and boost public trust. They are particularly important given early evidence of unfair pricing practices. Investigations show that pharmaceutical companies are requesting sovereign assets as collateral for legal costs, are being exempted from financial liability through public funds, and are often charging lower-income governments more than high-income ones.
Open Distribution
Publishing timely information and partnering with citizens are essential to an open roll-out. Our analysis of vaccination data shows that several countries are not regularly disclosing basic data on recipients, highlighting the scarcity of details that can help ensure both a more equitable distribution and data privacy. In the United States, for example, state-level data on the number of vaccinations by race has spurred new vaccine equity policies. On the engagement side, involving civil society in the planning and implementation of roll-outs can help tackle misinformation, address vaccine hesitancy, and empower marginalized groups to understand how to obtain vaccinations.
Monitoring and Oversight
Establishing multiple, public-facing channels for monitoring – such as formal oversight bodies, corruption hotlines, and grassroots social accountability initiatives – can help to detect waste, fraud, and abuse. Governments should commit to 1) enabling space for civil society to play a monitoring function and 2) quickly addressing any deficiencies identified. This includes setting up grievance mechanisms that allow citizens to achieve redress if they are unfairly denied vaccines. 
Moving From Ideas to Action
The Open Government Partnership (OGP) provides a platform for government and civil society reformers to weave open government approaches into their vaccination policies. Although OGP members have not yet made commitments specifically about COVID-19 vaccines, other existing health-related commitments could be expanded to cover them, such as:
Argentina expanded

health contracting disclosures

to include agreements signed with laboratories, open data on individual purchases, and a list of most-procured medications.

Liberia

committed

to disclose supply chain management decisions and updates, including on emergency procurements during the pandemic. 

Colombia

committed

to establish citizen audits for government expenditures on COVID-19 emergency measures.
With more than 100 OGP members co-creating action plans this year, reformers can take advantage of this opportunity to make concrete commitments that apply an open government approach to vaccines. Doing so will be critical to ensure an effective, efficient, and equitable vaccine distribution, and by extension, to save lives and livelihoods.
Featured Image Credit: MarsBars via iStock
Las vacunas contra el COVID-19 son una herramienta esencial en la carrera por salvar vidas y reconstruir la economía durante la pandemia. Cada vez hay más vacunas disponibles, por lo que asegurar su distribución adecuada es un reto global urgente. Al momento de redactar este artículo, varias vacunas contra el COVID-19 se encuentran en circulación y más de 200 en desarrollo. Sin embargo, esta escala sin precedentes representa una serie de retos que son cada vez más claros: 
Riesgos de corrupciones

: Las adquisiciones del sector salud, especialmente en tiempos de emergencia – están sujetas a

riesgos de corrupción

, incluyendo conflictos de interés, nepotismo, favoritismo y mal uso de fondos. Ya hemos visto casos de "

captura de vacunas

" en los que las personas con poder y conexiones pueden son vacunados sin esperar su turno.
Efectividad y eficiencia:

La planeación adecuada alrededor de la distribución y la cadena de suministro de la vacuna es fundamental. La OMS

encontró

que muchos países no están preparados para el despliegue. Se han publicado

informes

sobre instalaciones de salud que descartan vacunas descompuestas y la tasa de desperdicio de vacunas

rara vez se reporta

.
Equidad:

Las vacunas se han dirigido de forma desproporcionada a poblaciones acomodadas. A nivel global, más del 50% de las vacunas han sido

reservadas

por los países de altos ingresos que representan el 13% de la población mundial (ver mapa). COVAX, la iniciativa global que busca dar acceso equitativo a las vacunas contra el COVID-19

no cuenta con fondos

suficientes. A nivel nacional, los

primeros resultados

demuestran que los grupos minoritarios y marginados se han vacunado a tasas más bajas, aunque sufren más la carga de la enfermedad.
Dosis de vacuna COVID-19 administradas en países de OGP
Estrategias de gobierno abierto
El gobierno abierto puede ayudar a lograr una distribución efectiva, eficiente y equitativa de las vacunas. Los pilares de la transparencia, participación ciudadana y rendición de cuentas aplicados a lo largo del ciclo de vida pueden ayudar a mitigar los riesgos de corrupción, lograr un mejor uso de los recursos, fortalecer la confianza ciudadana y finalmente lograr que las personas que más las necesitan reciban las vacunas.
Revisión y aprobación abierta
Involucrar a expertos no gubernamentales en el proceso inicial de autorización y la apertura alrededor de la seguridad y efectividad de las vacunas es fundamental para atender la renuencia a la vacuna, especialmente en el contexto de los tiempos acelerados de los procesos de aprobación. Las investigaciones han demostrado que la transparencia alrededor de la seguridad de la vacuna y la comunicación a lo largo del proceso regulatorio incrementan la confianza en ellas.
Contratación abierta
Los procesos de adquisiciones abiertas, desde las licitaciones hasta la ejecución, aseguran un mejor uso de los recursos, reducen la corrupción y fortalecen la confianza del público. Estos elementos son especialmente importantes pues ya hay algunas evidencias de precios injustos. Hay estudios que demuestran que las empresas farmacéuticas están solicitando activos soberanos como garantías por los costos legales, son sujetas a exenciones de responsabilidad financiera de los fondos públicos y están cobrando precios más altos a los países de menores ingresos que a los de mayores ingresos.
Distribución abierta
La publicación de información y colaboración con la ciudadanía es fundamental para el despliegue abierto. Nuestro análisis muestra que los datos de vacunación indican que algunos países no están publicando datos básicos sobre los beneficiarios, demostrando que no se han dado a conocer los detalles que pueden asegurar una mejor distribución y privacidad de datos. En Estados Unidos, por ejemplo, los datos a nivel estatal sobre el número de vacunas por raza ha resultado en una serie de políticas de equidad. Involucrar a la sociedad civil en la planeación e implementación de los despliegues puede ayudar a reducir la desinformación y la resistencia a la vacuna, además de empoderar a los grupos marginados con conocimiento sobre cómo obtener una vacuna.
Monitoreo y supervisión
Establecer diversos canales públicos para el monitoreo, por ejemplo organismos formales de supervisión, líneas telefónicas para reportar casos de corrupción e iniciativas sociales de rendición de cuentas, puede ayudar a identificar fraudes, desperdicios y abusos. Los gobiernos deben comprometerse a 1) abrir un espacio a la sociedad civil para que cumpla una función de monitoreo y 2) atender eficientemente las deficiencias identificadas. Esto incluye la creación de mecanismos de quejas para permitir a la ciudadanía presentar denuncias si se les niega la vacuna injustamente.
De la idea hacia la acción
La Alianza para el Gobierno Abierto (OGP por sus siglas en inglés) representa una plataforma que los gobiernos y reformadores de la sociedad civil pueden aprovechar para incluir estrategias de gobierno abierto en sus políticas de vacunación. OGP ha diseñado e implementado reformas similares que pueden fortalecerse y adaptarse para atender el despliegue de las vacunas contra el COVID-19, por ejemplo:
Argentina expandió sus

políticas de publicación

de información en temas de salud y ahora incluye los acuerdos firmados con los laboratorios, datos abiertos sobre las adquisiciones y una lista de la mayoría de los medicamentos adquiridos.

Liberia se

comprometió

a publicar información y sus decisiones sobre el manejo de la cadena de suministro, incluyendo información sobre las adquisiciones durante la pandemia.

Colombia se

comprometió

a establecer auditorías ciudadanas para los gastos asociados a medidas de emergencia frente al COVID-19.
Más de 100 miembros de OGP se encuentran cocreando planes este año, lo que representa una oportunidad que los reformadores pueden aprovechar para establecer compromisos concretos para aplicar los principios del gobierno abierto a la distribución de las vacunas. Lo anterior será fundamental para asegurar una distribución efectiva, eficiente y equitativa de la vacuna y, por extensión, salvar vidas y medios de vida.
Related Content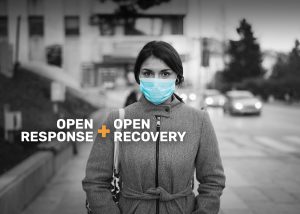 Open Response + Open Recovery
Our community's fundamental values of accountability, transparency, inclusivity, and responsiveness are vital as we move through COVID-19 response to recovery. Find resources, events and examples from OGP and partners.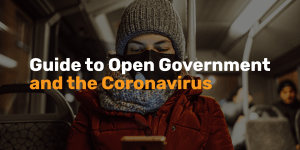 A Guide to Open Government and the Coronavirus
This is a moment of peak uncertainty for governments, civil society and citizens. Facing a unique challenge from the coronavirus, new policies and approaches are being tested in real-time. Many…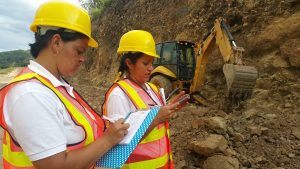 Open Contracting and Public Procurement in OGP
Open contracting and transparency in public procurement have proven to save money and broaden competition. It is becoming a global norm in OGP, with over 70 members committing to reforms…