Snow-Washing and Home-Stashing, Beneficial Ownership Transparency in Canada
The Canadian province of British Columbia faces a housing crisis. Skyrocketing housing costs and few vacancies have resulted in persistent homelessness and a growing number of people at risk of becoming homeless.
The problem is unmistakably visible, but its causes are less so. One of these hidden causes? Money laundering.
Illegally obtained money, laundered through real estate, drives up housing costs. A commission of experts found that in 2019 alone, billions of dollars laundered through the city of Vancouver raised housing prices by as much as 7.5 percent. And this isn't an isolated case: experts estimate that $43–$113 billion CAD is laundered throughout Canada each year.
Money laundering in Canada is so pervasive that there's even a term for it: snow-washing.
Snow-washing is enabled by anonymous companies. These companies are often used to launder money because they allow bad actors to keep their identities hidden from authorities. Transparency International Canada found that nearly half of the most valuable real estate in Vancouver was owned by anonymous companies. And many of these homes sit empty, used "as a 'bank' rather than a home".
Yet policy solutions exist. Beneficial ownership transparency—the disclosure of who ultimately owns, controls, or benefits from legal vehicles like companies—makes it harder for criminals to move illicit funds anonymously.
The Open Government Partnership (OGP) can help to advance these reforms. For example, the 2019 OGP Summit in Canada enabled Canadian civil society to convene, engage with, and mobilize high-level political leaders. The OGP Summit in Canada also saw the launch of the Beneficial Ownership Leadership Group, a group of countries committed to making beneficial ownership information more accessible across borders.
Ultimately, at the 2021 Summit for Democracy, after years of tireless advocacy by civil society, the Canadian government publicly committed to develop a beneficial ownership registry by 2025. In doing so, Canada joined a growing number of countries from around the world committed to pursuing beneficial ownership transparencyDisclosing beneficial owners — those who ultimately control or profit from a business — is essential for combating corruption, stemming illicit financial flows, and fighting tax evasion. Technical... More reforms in their OGP action plans and beyond—from Armenia to Nigeria, Slovakia, and the UK.
Then in 2022, the political equation changed: Russia invaded Ukraine.
Suddenly, the secrecy in real estate ownership became an urgent political issue. The Canadian government froze the assets of Russian oligarchs and corrupt officials, but these sanctions could be bypassed by moving funds through secret channels like anonymous companies. For the sanctions to work, the government needed to know who actually owned these companies.
As a result, the government of Canada fast-tracked the beneficial ownership registry—and leveraged OGP to do so. In Canada's 2022–2024 OGP action plan, the government committed to implementing "a public and searchable beneficial ownership registry by the end of 2023".
The government moved quickly. In March 2023, it introduced legislation to implement a publicly accessible, searchable, and freely available registry, including mechanisms for data verification and validation, and using the Beneficial Ownership Data Standard. In June 2023, the House of Commons unanimously adopted the legislationCreating and passing legislation is one of the most effective ways of ensuring open government reforms have long-lasting effects on government practices. Technical specifications: Act of creating or r..., sending it to the Senate for consideration.
The potential impact of the legislation is clear. The End Snow-Washing Coalition called it "a massive blow to money launderers". Publish What You Pay Canada applauded its potential to "deter billions of dollars of illicit funds from entering Canada" each year. According to Transparency International Canada, "The Canadian secrecy that money laundering enablers around the world have been marketing as 'snow-washing' to their clients is coming to an end."
Canada is making important progress, but the issue extends far beyond Canadian borders. Real estate remains a major vehicle for money laundering worldwide. In France, a recent investigation by Transparency International found that more than two-thirds of corporate-owned French real estate is anonymously owned. In the UK, Russians accused of corruption or with links to the Kremlin have recently invested more than a billion pounds in UK property.
Put simply, more countries need to take action—and OGP can help. As in Canada, the OGP platform and action planAction plans are at the core of a government's participation in OGP. They are the product of a co-creation process in which government and civil society jointly develop commitments to open governmen... model can accelerate and sustain ambitious beneficial ownership transparencyAccording to OGP's Articles of Governance, transparency occurs when "government-held information (including on activities and decisions) is open, comprehensive, timely, freely available to the pub... More reforms. With participation at its heart, OGP can also strengthen partnerships with civil society and within government, such as across Canadian provinces. And whether it's the housing crisis in Canada or the war in Ukraine, these reforms can make a difference.
Last updated 24 October 2023
Related Content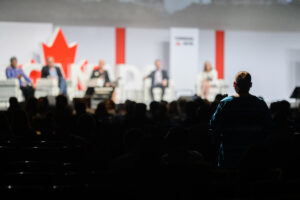 Challenges and Solutions
Canada's Open Government Strategy
Canada is currently drafting our first, whole-of-government Open Government Strategy. This follows the launch of the new global Open Government Partnership Strategy, which Canada helped develop as a Steering Committee…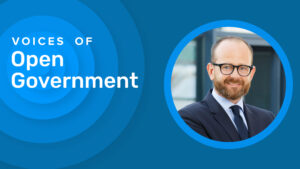 A Lawyer's Journey to Unmask Anonymous Companies
In this episode, Andrej Leontiev walks us through his experience as an anti-corruption lawyer and the movement for beneficial ownership transparency reform in Slovakia and globally.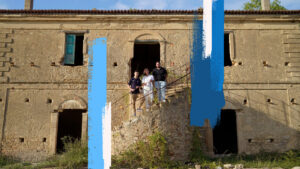 Anti-Corruption: Company Beneficial Ownership