Tackling corruption: familiar questions, emerging challenges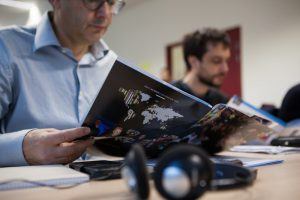 Corruption has always been a force to contend with. The work done by anti-corruption champions and reformers has made significant progress over time and created new global norms. Yet much remains to be done. Every time a new laundromat scandal emerges, our choice to continue work is reaffirmed. Corruption is a challenge of global complexity that needs transnational collective action. And it's only getting more complex as new challenges emerge.
Democratic institutions and processes are increasingly playing out in the digital realm, and it's important that they are structured to work for and be accountable to all citizens, not just the few who control them. Digital transformation – for all its potential – poses clear risks for misuse. That's why the focus on new technologies at OECD's Anti-Corruption and Integrity Forum this year is so important.
More than 74 Open Government Partnership (OGP) members have already made anti-corruption commitments in their OGP action plans, focusing on issues such as beneficial ownership transparency, open contracting and extractives transparency. We're also noticing action plans evolve to match the emerging policy discussions on AI ethics, transparency of algorithms, data privacy and private sector data use.
With 50 OGP members (both national and local) developing new action plans this year – and OGP's 6th Global Summit taking place in Ottawa at the end of May under the leadership of the Government of Canada – we have clear opportunity to make progress. Here are three anti-corruption topics we urge government, civil society, private sector and other stakeholders to work on with us in 2019:
Advance ambition and implementation on beneficial ownership transparency. The Panama and Paradise papers have spurred governments into action, leveraging years of advocacy and expertise provided by civil society and business leaders.Currently, 18 OGP countries have made commitments related to beneficial ownership transparency (BOT), advancing progress on some of these international standards – in 2018 alone we saw OGP commitments from Armenia, Canada, Chile, Indonesia, Kenya, Macedonia, and Ukraine. We have seen a range of policy approaches – establishing registers of information related to company beneficial ownership, and publishing these registers in open data formats. But we see real challenges concerning data infrastructure, interoperability, legislative frameworks, and gaps in technical and financial expertise.
At this tipping point, there is an urgent need and opportunity for the international anti-corruption community to coordinate its support to governments in their implementation efforts. For that purpose, the UK government is establishing a coalition of early policy adopters to share expertise and strive for greater ambition. Leaders from civil society, governments, and international organisations will meet to discuss some of these issues – including a disclosure standard for beneficial ownership – on the margins of the OECD Forum at a breakfast roundtable co-hosted by OGP and OECD.
Build robust policy frameworks to safeguard against digital threats to democratic institutions and anti-corruption systems. Surveillance, disinformation, fake news, privacy invasion, hate speech, and targeted attacks have all had an undisputed adverse impact on democratic participation and decision-making. We are also witnessing the risks and complexities from applying AI systems to governance decisions such as welfare distribution, judicial processes and tax assessments. In OGP we're seeing a growing number of commitments on this topic, from countries including France, Netherlands, Uruguay, New Zealand and others, ranging from opening up algorithms to improving their data protection and privacy policies.
Reformers across government, civil society, and other sectors need to come together to share learnings about how to tackle these threats. We need to ensure that while building automated governance systems there is inclusive consultation with affected actors and experts. While digital services and decision-making can streamline and strengthen governance, it is important that these are built using principles and international law governing human rights, ethics, and transparency.
Protect inclusive dialogue and civic space to work on issues and impacts related to corruption.  Attacks on civil society and media, and shrinking space for dialogue, pose a significant threat to our collective anti-corruption efforts. We need to defend spaces for democratic accountability and advocacy, while at the same time expanding these spaces to include new and important voices. As a community we need to recognize which groups are impacted more adversely by corruption, and ensure that they have a seat at the table.
To this end, the  B20, C20, and W20 have urged countries to take concrete action to identify and address forms of corruption that specifically target women, and publish gender-disaggregated data on the impacts of corruption. Under the Government of Canada's leadership of OGP, we are mobilizing OGP members to make concerted efforts to better integrate voices of women as well as other groups who are often left out of policy discussions. We also encourage OGP members to strengthen the enabling environment for civil society in order to protect their space to credibly lead, monitor and advise anti-corruption reform efforts.
We look forward to meeting the anti-corruption community at the OECD next week to take forward some of these ideas, and again at the 6th OGP Global Summit in Ottawa to take stock of progress.
If you are interested to join the OGP-OECD roundtable session "Beneficial Ownership as an Emerging Global Norm: Building a Coalition of Early Adopters" at the OECD Anti-Corruption & Integrity Forum on 21 March, please contact helen.turek@opengovpartnership.org. View more details at
La corrupción siempre ha representado un reto. Gracias al trabajo de muchos líderes y reformadores que se han enfocado en la lucha contra la corrupción, hemos logrado avances significativos y establecido nuevas normas globales. Cada vez que surge un nuevo escándalo de lavado de dinero, confirmamos que tenemos que seguir trabajando en el tema. La corrupción es un reto de complejidad global que requiere de acciones colectivas y trasnacionales. Sabemos que los retos emergentes implican una mayor complejidad.
Las instituciones y procesos democráticos están ocurriendo, cada vez más, en el mundo digital y debemos asegurar que estén estructurados de manera que sean de utilidad y rindan cuentas a todos los ciudadanos y no solamente a los pocos que los controlan. La transformación digital – a pesar de su gran potencial – podría resultar en muchos usos indebidos. Por ello es tan importante el enfoque de este año del Foro de Anticorrupción e Integridad de la OCDE en las nuevas tecnologías.
Hasta la fecha, más de 74 miembros de la Alianza para el Gobierno Abierto (OGP por sus siglas en inglés) han establecido compromisos anticorrupción en sus planes de acción, enfocándose en temas como la transparencia en los beneficiarios reales, contratación abierta y transparencia en las industrias extractivas. Además, hemos observado que los planes de acción están evolucionando y reflejando los temas emergentes como la ética en la inteligencia artificial, transparencia en los algoritmos privacidad de datos y uso de datos por el sector privado.
Este año, 50 miembros de OGP (nacionales y locales) se encuentran elaborando planes de acción y a finales de mayo se llevará a cabo la sexta Cumbre Global de OGP en Ottawa, con el liderazgo del Gobierno de Canadá. Este contexto representa una gran oportunidad para lograr avances significativos. A continuación presentamos tres temas anticorrupción que esperamos que los gobiernos, la sociedad civil, el sector privado y otros actores trabajen con nosotros este 2019:
    Elevar los niveles de ambición y de implementación de los compromisos de transparencia en los beneficiarios reales. Los Panama papers y los Paradise papers han impulsado a los gobiernos a tomar medidas, aprovechando del trabajo y la experiencia de muchos años de la sociedad civil y el sector privado.
Actualmente, 18 países de OGP han establecido compromisos relacionados con la transparencia en los beneficiarios reales, logrando avances importantes en algunos de los estándares internacionales. Por ejemplo, solo en 2018, Armenia, Canadá, Chile, Indonesia, Kenia, Macedonia y Ucrania crearon compromisos sobre este tema. Existen muchos enfoques, desde establecer registros de información con relación a los beneficiarios reales de las empresas hasta publicar registros en formato de datos abiertos. Pero aún hay retos importantes en lo que concierne a infraestructura de datos, interoperabilidad, marcos legales y capacidades técnicas y financieras.
Estamos en un momento crítico, pues hay una necesidad urgente y una oportunidad clave para la comunidad internacional anticorrupción de coordinar y apoyar a los gobiernos en la implementación de sus esfuerzos. Con ese fin, el Gobierno del Reino Unido está creando una coalición de pioneros para compartir sus experiencias y elevar el nivel de ambición de los esfuerzos. Líderes de la sociedad civil, gobiernos y organizaciones internacionales se reunirán para discutir estos temas, incluyendo la creación de un estándar para la publicación de los beneficiarios reales, en un evento paralelo al foro de la OCDE coorganizado por OGP y la OCDE.
Establecer marcos de política robustos para proteger a las instituciones democráticas y sistemas anticorrupción de las amenazas digitales. Vigilancia, desinformación, noticias falsas, invasión de la privacidad, mensajes de odio y ataques dirigidos – todo lo anterior ha tenido impactos adversos en la participación democrática y la toma de decisiones. Estamos observando los riesgos y el nivel de complejidad que implica el uso de la inteligencia artificial en las decisiones de gobernanza, tales como los programas sociales, procesos judiciales y evaluaciones de impuestos. Los miembros de OGP están empezando a crear compromisos sobre este tema, como el caso de Francia, los Países Bajos, Uruguay y Nueva Zelanda.
Los reformadores del gobierno, la sociedad civil y otros sectores tienen que compartir sus lecciones aprendidas sobre cómo abordar estos retos. Debemos asegurar que, en el desarrollo de sistemas de gobernanza automatizados, llevemos a cabo procesos de consulta incluyentes con los actores afectados y con expertos en el tema. Aunque los servicios digitales pueden simplificar y fortalecer la gobernanza, es importante asegurar que estén diseñados de acuerdo con los principios y las leyes internacionales que regulan los derechos humanos, ética y transparencia.
Promover diálogos incluyentes y proteger el espacio cívico para abordar los impactos y retos de la corrupción. Los ataques a la sociedad civil y los medios y la reducción en espacio para el diálogo afectan nuestros esfuerzos colectivos en contra de la corrupción. Necesitamos defender nuestros espacios de rendición de cuentas y protección a la democracia, además de ampliarlos de manera que incluyan voces adicionales. Como comunidad, debemos aprender a reconocer qué grupos están siendo más afectados por la corrupción y procurar que participen en la toma de decisiones.
Para este fin, el B20, C20, y W20 han invitado a los países a tomar medidas para identificar y abordar la corrupción que afecta específicamente a las mujeres y a publicar datos desglosados por género sobre los impactos de la corrupción. Bajo el liderazgo del Gobierno de Canadá en OGP, estamos impulsando a los miembros de OGP a coordinar sus esfuerzos sobre la incorporación de las mujeres y otros grupos que muchas veces se quedan fuera de las discusiones de política. Además, invitamos a los miembros de OGP a fortalecer el ambiente en el que opera la sociedad civil, de manera que puedan liderar, monitorear y asesorar los esfuerzos de reformas anticorrupción.
Esperamos que la comunidad anticorrupción, que se reunirá la próxima semana en el evento de la OCDE, logre impulsar algunas de estas ideas y que la sexta Cumbre Global de OGP de Ottawa pueda hacer un balance de los avances logrados hasta la fecha.