Tackling COVID-19 through Open Government in the City of Buenos Aires
The COVID-19 pandemic has challenged every government's health systems and management capacity. The Government of Buenos Aires was able to deploy a coordinated response and an integrated strategy of prevention, detection, bypass, distancing and treatment to flatten the curve, care for citizens and strengthen the health system. This strategy was supported by rapid data and evidence to manage the pandemic that was made possible by the government's pre-existing open government, transparency and innovation work.  
In recent years, the City of Buenos Aires underwent a transformation and modernization process based on an open government approach and on the idea that openness, evidence, accountability and collaboration across sectors bring about stronger public policies, strengthen citizen trust and add value. This work enabled the development of open government initiatives that supported the COVID-19 crisis management by disclosing data and information to citizens.
The COVID-19 platform in data
In the context of the health emergency, and building on the data openness strategy mentioned above, the Government of Buenos Aires City (CGBA in Spanish) integrated multiple sources of information for more efficient and evidence-based decision-making. 
Through the COVID-19 in data platform, the government opened up 27 datasets disclosing its virus management strategy, which can be accessed by the public and private sectors, civil society organizations, universities and regular citizens.  
The platform includes visuals and charts that are updated daily, democratizing access to public information. It also includes a consultation source for the media and was one of the first in the region to incorporate indicators on health management, mobility and the public space, in addition to epidemiological data.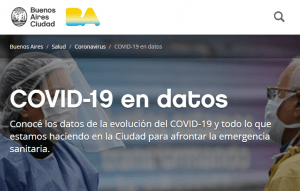 Coronavirus acquisition platform
To act swiftly and contain the health and social impacts of COVID-19, the GCBA established new acquisition and contracting procedures through a joint resolution.
This resolution has been in force since April 22 of 2020 and is supported by the creation of an open platform to monitor goods and services acquired under the new procedure. The platform, Coronavirus acquisitions:
Provides regulatory information about the acquisition processes related to the health emergency.

Provides information about critical supplies and creates an institutional space where suppliers, beyond the usual suspects, can offer their services.

Guarantees access to information with regards to acquisitions and contracting by the GCBA in line with international open acquisition standards.

Discloses information about the pandemic management by the City of Buenos Aires.
Open information about the COVID-19 pandemic in the City, from epidemiological data to strengthening the health system and public acquisitions, is essential for accountable actions before this unprecedented challenge.
Openness allowed building trust about the actions by disclosing data that supports the government's decision-making process. It represented an essential tool to account for the COVID-19 situation with data and information that supports the government's decisions with simple and interactive visualizations.
Over 70 local jurisdictions that are members of OGP Local have a unique opportunity to co-create commitments as part of their open government action plans in the context of the pandemic, supported by the principles of transparency, inclusion, participation and accountability.  
DOWNLOAD THE COMPLETE CASE STUDY
Photo credit: Government of the City of Buenos Aires
La emergencia del COVID-19 ha presentado para todos los gobiernos un enorme desafío para sus sistemas sanitarios y su capacidad de gestión. En el caso de la Ciudad de Buenos Aires, el Gobierno pudo dar una respuesta coordinada, siguiendo una estrategia integral de prevención, detección, derivación, distanciamiento y tratamiento para aplanar la curva de contagios, cuidar a los vecinos y fortalecer el sistema de salud. Esta estrategia estuvo acompañada de una rápida generación de datos y evidencia para la gestión de la pandemia, que fue posible gracias a un trabajo preexistente en materia de políticas de gobierno abierto, transparencia e innovación pública.
En los últimos años, la Ciudad de Buenos Aires pasó por un proceso de transformación y modernización en el cual incorporó la visión de gobierno abierto como parte de la gestión, con la fuerte convicción de que abrir la información, generar evidencia, rendir cuentas y trabajar colaborativamente con distintos actores genera mejores políticas públicas, aumenta la confianza ciudadana y permite la generación de valor agregado.  Este camino recorrido generó un marco favorable para el desarrollo de iniciativas de gobierno abierto que acompañen la gestión de la crisis del COVID-19 poniendo a disposición datos e información a la ciudadanía.
Plataforma COVID-19 en datos
En el marco de emergencia sanitaria y en línea con la estrategia de apertura de datos descrita, el Gobierno de la Ciudad de Buenos Aires (GCBA) integró diferentes fuentes de información para lograr una toma de decisión eficiente y basada en evidencia. A través de la plataforma COVID-19 en datos, el Gobierno de la Ciudad abrió 27 datasets que permiten conocer el trabajo que lleva adelante la gestión local frente al virus, y al que tienen acceso, uso y posibilidad de  reutilización tanto el sector público, los privados, las organizaciones de la sociedad civil, las universidades, como cualquier ciudadano. 
La plataforma combina visualizaciones y gráficos que se actualizan de manera diaria y democratizan el acceso a información pública. El sitio es fuente de consulta para los principales medios de comunicación argentinos y fue uno de los primeros sitios de la región que suma indicadores sobre la gestión sanitaria, la movilidad y el espacio público a los datos epidemiológicos.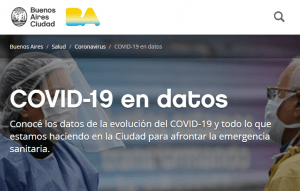 Plataforma Compras Coronavirus
A su vez, para actuar con la rapidez que el contexto demanda y garantizar la contención sanitaria y social ante el impacto del COVID-19, el GCBA estableció un nuevo procedimiento de compras y contrataciones a través de una resolución conjunta 
Esta resolución se puso en vigencia el día 22 de abril de 2020 y fue acompañada con la implementación de una plataforma abierta para monitorear los bienes y servicios adquiridos bajo este nuevo procedimiento: . Esta plataforma, llamada Compras Coronavirus:
Brinda información normativa sobre los procesos de compras en el marco de la emergencia sanitaria.

Brinda información sobre los insumos críticos que necesita adquirir la Ciudad y generar un espacio institucional a través del cual proveedores no habituales pueden ponerse en contacto para ofrecer sus insumos.

Garantiza el acceso a la información sobre compras y contrataciones del GCBA en el marco de la emergencia sanitaria, respetando los estándares internacionales de apertura de procesos de compra. 

Brinda información vinculada con la gestión de la pandemia en la Ciudad de Buenos Aires. 
La apertura de la información sobre la gestión de la pandemia del COVID-19 en la Ciudad, desde los datos epidemiológicos hasta el fortalecimiento del sistema sanitario, las acciones sociales y las compras públicas permite rendir cuentas sobre lo hecho para enfrentar un desafío sin precedentes. 
Por este motivo, abrir a los vecinos y vecinas esta información permitió generar confianza sobre las medidas tomadas al poner a disposición del público los datos con que el gobierno toma las decisiones. También significó una valiosa herramienta para explicar la situación de la Ciudad con datos e información sobre las políticas tomadas con visualizaciones simples e interactivas. Las más de 70 jurisdicciones locales parte de OGP Local tienen una oportunidad única de co-crear compromisos en sus planes de acción de gobierno abierto que hagan frente a los desafíos de la pandemia y que se sustenten en los principios de transparencia, inclusión, participación y rendición de cuentas.

DESCARGÁ EL CASO COMPLETO
Related Content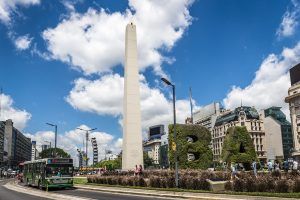 Buenos Aires, Argentina
Buenos Aires is currently implementing 3 commitments from their 2021-2023 action plan. This action plan features commitments related to open data, access to information and inclusion. This action plan features…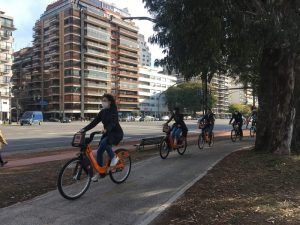 Challenges and Solutions
Open Information is Key in the Fight Against Climate Change
At the beginning of the year, cities around the world in the C40 network (a climate leadership group) agreed that recovering from the pandemic requires a new commitment from cities…

Challenges and Solutions
Open Response, Open Recovery
OGP CEO Sanjay Pradhan writes about how the COVID-19 pandemic has compelled governments and citizens alike to take unprecedented, mitigating actions. In their shared struggle, mutual trust between government and…