Who Owns our Companies: Why Privacy isn't Always in the Public Interest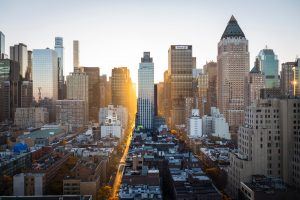 At the opening ceremony of the OGP Summit, Canadian Prime Minister Justin Trudeau highlighted some of the challenges involved in regulating social media giants like Facebook and Google.  Scandals from Cambridge Analytica and beyond have raised genuine concerns around privacy and data protection that are spilling over into the transparency movement. Here, a fine balance needs to be placed between respecting the privacy of individual citizens while supporting the open data movement in their efforts to create more transparent and accountable governments and businesses.
The Panama Papers leak undermined public trust in these institutions by revealing how anonymous companies have been used to hide corruption, finance terrorism, help the wealthiest avoid taxes, and launder money made through criminal activities like human trafficking and the drug trade.
The majority of companies are used for legitimate purposes but exposés like this and research  conducted by groups like the Stolen Asset Recovery Initiative clearly demonstrate that corporate structures can also be used to facilitate unethical behaviour.
How OGP Supports the Public Good
Fortunately, governments across the world are starting to take action. In 2016, the UK became the first G20 country to establish a publicly accessible central register, which shows who really owns and controls UK companies, sparking plans by several countries to follow suit. So far, 21 OGP members have made beneficial ownership-related commitments, and we can expect to see more following the launch of the Beneficial Ownership Leadership Group – a government coalition that will implement public, open data beneficial ownership – at this year's OGP Global Summit. The Leadership Group also provides a platform to share best practice and coordinate the efforts of implementing governments. It's an exciting move, which creates huge public benefit and can help both strengthen the social contract and market competitiveness.
As Robin Hodess, Director of Governance and Transparency at The B Team explains, "The corporate ownership data in public registers can be used to help ensure that companies are genuine rather than shells, with the aim of strengthening market integrity and increasing competitiveness."
By making company ownership data open, easily accessible, and publicly available, civil society, investigative journalists, law enforcement, and other players can scrutinise data and combine it with other datasets, increasing the likelihood of spotting criminal activity. If it's publicly available, company ownership data can also streamline due diligence processes for financial institutions. Over time, public availability will improve data accuracy by enabling greater oversight and scrutiny. As public company ownership information becomes a global norm, it will deter actors from using corporate structures for questionable purposes out of fear of public exposure.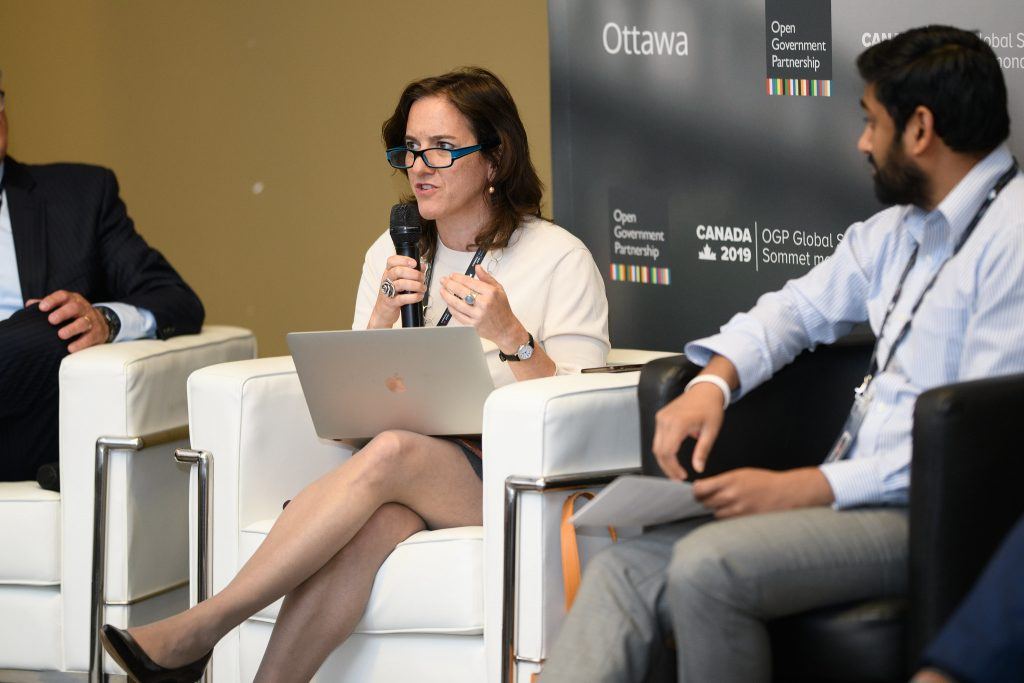 Robin Hodess (B Team) at the launch of the beneficial ownership coalition at the OGP Global Summit in Canada.
What about Privacy?
Despite the obvious public good in improving corporate transparency, some critics raise concerns that this infringes on the privacy rights of company owners. Anxiety about data protection is understandable in the wake of companies like Facebook exploiting personal data for commercial purposes.
The right to privacy is linked to autonomy and dignity, and it's important to respect it. OGP is supporting these efforts through recent commitments in Australia, Denmark and Portugal. For example, Australia is working towards "improving privacy and personal information protections in using and sharing data."
However, as OpenOwnership's Head of Policy, Zosia Sztykowski, explains, "Publishing information about who owns companies is fundamentally different. This is about changing the role that companies play in society. We often forget that the legal form that we call a company can't exist without the state, and agreements between states. Therefore, they have the right, and even the responsibility, to ensure they serve the social good. Open beneficial ownership data can help do just that. All while also providing desirable incentives for legitimate businesses, including reducing their risk of being exposed to bad actors and supporting the stability of economies globally."
Privacy is a critical right, yet it isn't absolute. When someone has a substantial ownership stake in a company, they gain a whole range of benefits, including protection from personal liability. Surely, in exchange for this privilege, governments can make sure that companies are used for their intended purposes?  In the name of prosperity and economic development, many countries have made it deliberately easy to open a company. This is all well and good, though unfortunately it's had the unintended consequence of turning the corporation into an easily accessible escape vehicle for money launders. Governments must balance personal freedoms with a responsibility to create a fairer society.
Is it lawful to publish open beneficial ownership data?
Recent research from Engine Room, OpenOwnership and The B Team found that, according to a human rights legal framework, it is reasonable, lawful and effective to publicly publish beneficial ownership data in open data formats.  In many countries, laws and legislation require the public disclosure of beneficial ownership information, exempting this information from data protection restrictions.
Where this isn't the case, provided the beneficial owner gives consent, publication of this information remains legal even when data protection laws are in place as it serves a legitimate aim.  When neither data protection laws nor legislation requiring the public disclosure of beneficial ownership information exist in a given jurisdiction, companies are free to disclose data about their beneficial owners, provided it doesn't violate other legal principles like breach of confidence.
Mitigating Risks
Perceived risks to publicly publishing information about who owns and controls companies include kidnapping, identity theft, blackmail or government interference.  Such concerns are amplified in particular contexts, such as living under authoritarian regimes or being famous. To date, there are no documented examples of harm arising when company ownership information has been open and freely available, nor is there evidence that greater transparency has increased incidences of kidnapping or blackmail.  Moreover, this risk is most serious when information has already been published online in other formats. Despite such risks being incredibly rare, we must take them seriously as their consequences could be grave and far-reaching.
So how can we mitigate these risks?  Firstly, we must carefully consider justified exemptions, tailored to country context.  Let's be clear here: being wealthy is not reason enough to be granted an exemption. Yet being a vulnerable person, such as having a religion or sexual orientation not recognised by their country, could be.  We need to ensure that a carefully designed and narrowly defined exemption process exists to allow those with legitimate security or privacy concerns to request that their details aren't published in the public domain.  Such applications could be verified and judged by an independent body. These exemptions are likely to be few and far between. Of the more than one million UK companies analysed by OpenOwnership and Global Witness, 270 entities claimed exemption, with the government only granting five requests.
To comply with data protection laws, while mitigating risks and respecting an individual's ultimate right to privacy, we need to ensure that the information we collect is proportional to our aims.  In other words, we must publish the minimal amount of information needed to identify the true owners of companies – excluding information like residential addresses, which could potentially threaten security.
Why does this matter for OGP?
The launch of the Beneficial Ownership Leadership Group at the Summit unites governments joining this coalition in the hope that public, open data beneficial ownership will become a global norm as the only way to combat the negative effects of anonymous company ownership. To the extent that privacy and data protection concerns continue to pose a barrier to realizing this norm, we can work through OGP to test new approaches and build knowledge and understanding on this important issue.
A Balancing Act
While we can't foresee all the potential uses of this data, some of which may be unintended, organisations like OpenOwnership will work with information commissions to stay on the cutting edge of data use and responding rapidly to any unintended issues that arise.
If there are still concerns in your jurisdiction about data protection and privacy as it relates to public beneficial ownership data, use the OGP action plan cycle to conduct an assessment of the risks and possible mitigations. OpenOwnership would be delighted to support you.
As Zosia Sztykowski explains, "Privacy concerns must be taken seriously, but when the publication of open beneficial ownership data is implemented correctly, the key risks can be mitigated and should not be a barrier to enabling the significant commercial and public benefits it can bring about. This is a necessary step in fostering the greater openness that we need to reduce crime and corruption, stabilise markets and foster trust between governments, companies and the citizens they serve."
A summary of the issues outlined in this article can be found below in the short report, entitled Privacy or Public Interest? Making the case for public information on company ownership, produced by OpenOwnership, The B Team and The Engine Room.  A more detailed report is available here.  You can also read more about how OGP and OpenOwnership are supporting global beneficial ownership transparency efforts here.
En la ceremonia de inauguración de la Cumbre de OGP, el primer ministro de Canadá Justin Trudeau mencionó algunos de los retos que existen alrededor de la regulación de los gigantes de las redes sociales como Facebook y Google. Los escándalos de Cambridge Analytica y otros han generado preocupación sobre la privacidad y protección de datos que se han extendido al movimiento de la transparencia. En ese contexto, es necesario lograr un equilibrio entre el respeto a la privacidad de los ciudadanos y el apoyo al movimiento de datos abiertos en sus esfuerzos por crear gobiernos y empresas más transparentes y que rinden cuentas.
La filtración de los Panama Papers debilitó la confianza del público en las instituciones, pues reveló que un grupo de empresas anónimas había sido utilizado como medios para la corrupción, el financiamiento del terrorismo, evasión de impuestos y lavado de dinero generado a través de actividades ilícitas como el tráfico de personas y de drogas.
La mayoría de las empresas existen para fines legítimos. Pero casos como este y las investigaciones que han llevado a cabo grupos como Stolen Asset Recovery Initiative demuestran claramente que éstas también pueden ser utilizadas para facilitar comportamientos poco éticos
El valor de OGP para el bien común
Afortunadamente, los gobiernos de todo el mundo están empezando a tomar acción. En 2016, el Reino Unido fue el primer país del G20 en establecer un registro central de acceso público que muestra quiénes son dueños y controlan las empresas del Reino Unido, lo que animó a varios países a seguir sus pasos. Hasta la fecha, 21 miembros de OGP han establecido compromisos de beneficiarios reales y, tras el lanzamiento del Grupo de Liderazgo de Beneficiarios Reales, coalición de gobiernos que implementarán registros de beneficiarios reales públicos, podemos esperar que se generen más compromisos sobre este tema. Además, el Grupo de Liderazgo es una plataforma que permite compartir buenas prácticas y coordinar los esfuerzos de los gobiernos. Es un paso emocionante que logrará beneficios para el público y que ayudará a fortalecer el pacto social y la competitividad del mercado.
Como lo planteó Robin Hodess, directora de gobernanza y transparencia en The B Team, "Los datos de propiedad de empresas en registros públicos pueden ayudar a asegurar que las empresas sean verdaderas y no fantasmas para fortalecer la integridad del mercado y aumentar la competitividad."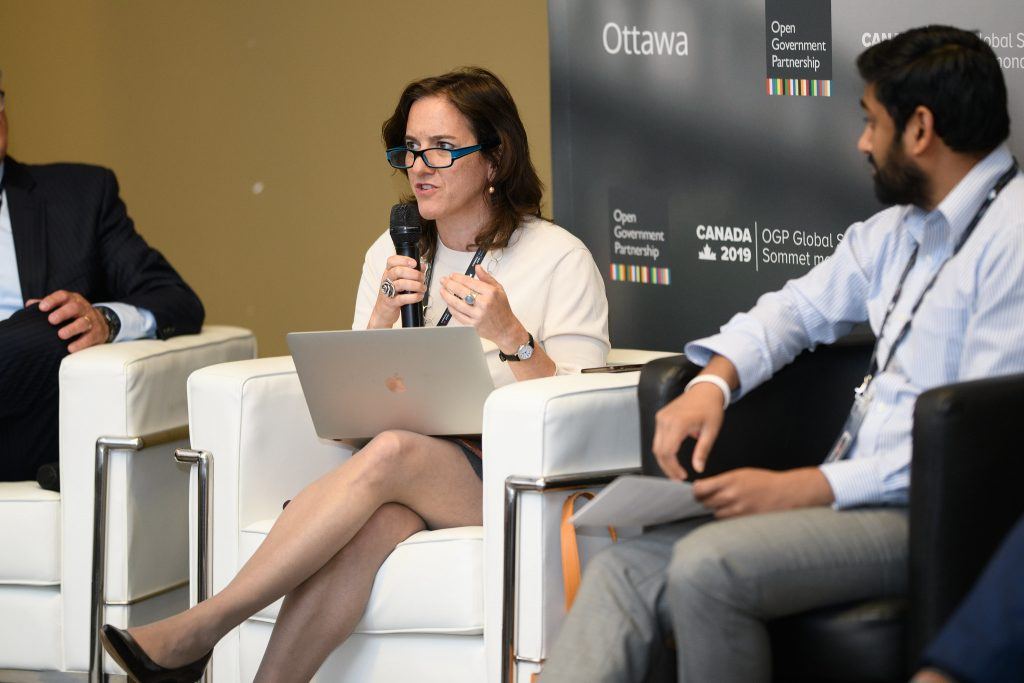 Robin Hodess (B Team) en el lanzamiento de la coalición de beneficiarios reales en la Cumbre Mundial de OGP en Canadá.
Con datos de beneficiarios de las empresas abiertos, accesibles y públicos, la sociedad civil, los periodistas y otros actores tienen una mayor probabilidad de identificar actividades ilegales. Si los datos de propiedad de las empresas son públicos, se pueden simplificar los procesos de verificación para las instituciones financieras. Con el tiempo mejorará la precisión de los datos, lo que generará mejor supervisión y escrutinio. La publicación de la información de las empresas está empezando a ser una norma a nivel global, lo que impedirá que se utilicen las empresas para fines dudosos por miedo a ser expuestos públicamente.
¿Y la privacidad?
A pesar de que los beneficios de la transparencia son obvios, algunos críticos han manifestado que esto puede violar la privacidad de los dueños de las empresas. Tras eventos de explotación de datos personales para fines comerciales como el caso de Facebook, es comprensible el interés por proteger los datos.
El derecho a la privacidad se vincula con la autonomía y la dignidad y es importante respetarlo. OGP está apoyando estos esfuerzos a través de compromisos recientes establecidos por Australia, Dinamarca y Portugal. Por ejemplo, Australia está trabajando en "mejorar la protección de la privacidad y la información personal en el uso y publicación de datos."
Sin embargo, como lo explica la directora de política de OpenOwnership Zosia Sztykowski, "publicar información sobre los dueños de las empresas es fundamentalmente diferente. Se trata de cambiar el papel que las empresas tienen en la sociedad. A veces se nos olvida que la figura legal de empresas no puede existir sin el estado y sin acuerdos entre los estados. Por lo tanto, tienen el derecho, e incluso la responsabilidad, de asegurarse de buscar el bien común. La apertura en los datos de beneficiarios reales puede ayudar a lograr este objetivo, además de ser un incentivo deseable para las empresas genuinas, por ejemplo por reducir el riesgo de ser expuestos a actores negativos y de apoyar la estabilidad de las economías de todo el mundo."  
La privacidad es un derecho fundamental, pero no absoluto. Cuando alguien tiene una participación significativa en una empresa, reciben diversos beneficios, incluyendo la protección contra la responsabilidad personal. Ciertamente, a cambio de este privilegio, los gobiernos pueden asegurar que las empresas sean utilizadas para los fines previstos. A nombre de la prosperidad y del desarrollo económico, muchos países, deliberadamente, han incrementado la facilidad de establecer empresas. Este es un paso positivo, aunque ha tenido el efecto negativo de hacer que las empresas sean un vehículo para el lavado de dinero. Los gobiernos deben encontrar el equilibrio entre las libertades personales y las sociedades más justas.
¿La publicación de datos de beneficiarios reales es legítima?
Un estudio reciente que llevaron a cabo  Engine Room, OpenOwnership y The B Team encontró que, según un marco legal de derechos humanos, es razonable, legal y efectivo publicar datos de los beneficiarios reales en formatos abiertos. En muchos países, la legislación exige la publicación de información de beneficiarios reales, en una excepción a la protección de datos.
En los países donde esto no ocurre, siempre que el beneficiario real consienta, la publicación de esta información es legal aun cuando las leyes de protección de datos tengan un fin legítimo. Cuando no existen leyes de protección de datos ni leyes que exijan la publicación de datos de beneficiarios reales en una jurisdicción, las empresas tienen la libertad de publicar datos sobre sus beneficiarios reales, siempre que no viole otros principios legales como la violación de la confianza.
Mitigación de riesgos
Algunos riesgos percibidos alrededor la publicación de información de las personas que son dueñas de las empresas son secuestros, robo de identidad, extorsión e interferencia en el gobierno. Estas preocupaciones se magnifican en ciertos contextos, por ejemplo cuando se vive en un régimen autoritario o cuando se es famoso. Hasta la fecha, no se han documentado casos de daños resultantes de la apertura de información sobre los beneficiarios de las empresas y no hay evidencia que demuestre que una mayor transparencia resulte en secuestros o extorsión. Además, este riesgo es más grave cuando la información ya se ha publicado en línea en otros formatos. A pesar de que estos riesgos son increíblemente poco comunes, debemos tomarlos en serio, pues sus consecuencias podrían ser muy graves.
¿Cómo podemos mitigar estos riesgos? Primero, debemos considerar si existen excepciones que se justifiquen según el contexto del país. Tenemos que ser claros: ser rico no es una razón suficiente para estar exento. Pero si eres vulnerable, por ejemplo por pertenecer a una religión o tener una orientación sexual no reconocidas por el país, podrías estarlo. Debemos asegurar que el proceso de exención sea diseñado cuidadosamente y permitir a aquellas personas que tengan inquietudes legítimas de seguridad o privacidad puedan solicitar que su información no sea publicada. Estas solicitudes podrían ser verificadas y juzgadas por organismos independientes. Seguramente, estas excepciones serán escasas. De las más de un millón de empresas analizadas por OpenOwnership y Global Witness, 270 entidades solicitaron ser exentas, de las cuales cinco fueron aprobadas por el gobierno.
En cumplimiento a las leyes de protección de datos y conscientes de la necesidad de mitigar riesgos y respeto al derecho de las personas a la privacidad, debemos asegurar que la información colectada sea proporcional a los fines establecidos. En otras palabras, debemos publicar la cantidad mínima de información necesaria para identificar a los beneficiarios de las empresas – excluyendo información como su domicilio personal para proteger su seguridad.
¿Cuál es la importancia para OGP?
El Grupo de Liderazgo de Beneficiarios Reales durante la Cumbre reúne a los gobiernos miembros de la coalición con la esperanza de que la publicación de los datos de beneficiarios reales será la norma global como la única forma de luchar contra los efectos negativos de las empresas anónimas. En la medida en la que la privacidad y la protección de datos sigan siendo una barrera para el establecimiento de la norma, podemos trabajar con OGP para probar nuevas formas y generar información sobre este tema tan importante.
Encontrando el equilibrio
Aunque no podemos prevenir todos los usos posibles de los datos, organizaciones como OpenOwnership trabajarán con comisiones para seguir a la vanguardia del uso de datos y responder a cualquier asunto no previsto que surja.
Si hay preocupaciones en tu jurisdicción sobre protección de datos y privacidad en lo que se refiere a la publicación de datos de beneficiarios reales, puedes utilizar el ciclo del plan de acción de OGP para llevar a cabo una evaluación de los riesgos y posibles medidas de mitigación. Con mucho gusto OpenOwnership podría ayudarte.
Como lo explicó Zosia Sztykowski, "deben tomarse en serio las preocupaciones de privacidad, pero cuando la publicación de datos de beneficiarios reales se lleva a cabo de forma correcta, los riesgos más serios pueden mitigarse y no deben ser una barrera para lograr los beneficios comerciales y públicos que puede generar. Es un paso necesario para hacia la apertura que necesitamos para reducir los actos ilícitos y la corrupción, estabilizar a los mercados y fortalecer la confianza entre los gobiernos, empresas y ciudadanos."
Un resumen de los temas planteados en este artículo puede encontrarse en el informe ¿Privacidad o interés público? Argumentos a favor de la publicación de información sobre beneficiarios de las empresas, publicado por OpenOwnership, The B Team y The Engine Room. En este enlace puedes consultar un informe más detallado y en éste puedes leer más detalles sobre los esfuerzos de transparencia en los beneficiarios reales de OGP y OpenOwnership.
Related Content
Beneficial Ownership Fact Sheet
Beneficial Ownership Fact Sheet
Challenges and Solutions
Can beneficial ownership transparency really be compatible with data protection?
Can beneficial ownership transparency really be compatible with data protection?
Anti-Corruption: Beneficial Ownership
Anti-Corruption: Beneficial Ownership