Open Government and the Escazú Agreement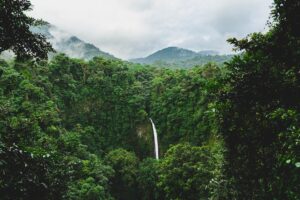 The Open Government Partnership (OGP) represents an important platform for advancing the implementation of the Escazú Agreement, which aims to guarantee the rights of access to environmental information, public participationGiving citizens opportunities to provide input into government decision-making leads to more effective governance, improved public service delivery, and more equitable outcomes. Technical specificatio... in environmental decision-making, access to justiceAccessible justice systems – both formal and informal – ensure that individuals and communities with legal needs know where to go for help, obtain the help they need, and move through a system tha... More in environmental affairs, and equality and non-discrimination.
OGP presents an opportunity to implement the Agreement by convening relevant stakeholders and offering institutional tools and resources, such as action plans, peer exchanges, and regional events.
This page lists resources to help reformers achieve synergy between OGP and the Escazú Agreement—from research publications to blog posts. These materials include policy recommendations, commitment examples, and partners that can support implementation. Additional resources can be found on OGP's environment and climate page.
Download the Open Government and Escazú Fact Sheet 
Research Publications
Blog posts
Four Ways to Strengthen Environmental Rights(2023): The International Network on Open Justice

An open, independent, and impartial justice system serves as a foundation for better access to justice by fulfilling all people's civil liberties and allowing individuals to more effectively protect...

(RIJA) explores how the open government community can address four themes of the Escazú Agreement from an open justice

To address barriers that prevent citizens from having their justice needs met, OGP participating governments are working to expand transparency, accountability, and inclusion into all systems of justi...

perspective.
Closing the gap to protect environmental rights (2021) and OGP as a key partner to implement the Escazú Agreement (2021): The OGP Support Unit

The OGP Support Unit is a small, permanent group of staff that work closely with the Steering Committee and the Independent Reporting Mechanism to advance the goals of the Open Government Partnership....

reflects on progress and opportunities amid the growth in the number of OGP commitments related to the Escazú Agreement.
Environmental democracy: a meeting point between open government and the Escazú Agreement (2020): Andrea Sanhueza, then elected representative of the public for the Escazú Agreement, highlights the importance of advancing the principles of access to information, participation, and justice in environmental affairs based on the synergies with OGP.
Synergies between the Escazú Agreement and open government (2019): Alicia Bárcena, then the executive secretary of the Economic Commission for Latin America and the Caribbean (ECLAC) and OGP Ambassador, discusses the complementarity between the Escazú Agreement and the open government agenda, highlighting opportunities for future efforts.
Events
Podcasts
To protect the environment, protect the defenders (2023): In this episode of the OGP podcast Voices of Open Government, Felipe Pino, an environmental activist and project coordinator at FIMA, reflects on the importance of environmental democracy and the implications of the Escazú Agreement.