Buenos Aires – Vulnerable Citizens Have Equal Access to Reproductive Health Services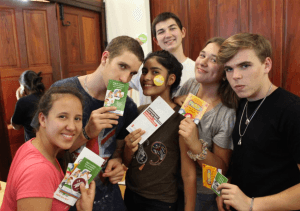 In Buenos Aires, access to sexual and reproductive health services is guaranteed for all residents by law, yet there is a stark gap between quality and availability of those services depending on where one lives. The disparity in access and education resulted in a rise of HIV diagnosis among youth outside the city center. As a result, most Argentinians with HIV who live in the 24 districts outside the city of Buenos Aires end up traveling to the city center to seek treatment.
Leveraging their OGP action plan, the Buenos Aires government in collaboration with the Huésped Foundation developed the digital platform Dónde. Among its many functions, the platform reduces obstacles and inconsistencies in sexual and reproductive health services and provides information on the availability of sexual and reproductive health services throughout the city. It has enabled vulnerable citizens to access georeferenced information on condom delivery points, family planning information, HIV testing, vaccinations and infectious disease centers.
Now, citizens can better locate centers, rate their experience and lodge complaints on clinics performing poorly or violating women's rights.
Photo Credit: Fundación Huésped
En Buenos Aires, el acceso a servicios de salud sexual y reproductiva, por ley, está garantizada para todos los residentes; sin embargo, existe un vacío enorme en la calidad y disponibilidad de dichos servicios, según el lugar en donde vive la gente. La disparidad en el acceso y educación ha generado un aumento en los diagnósticos de VIH entre los jóvenes que viven fuera del centro de la ciudad. En ese contexto, la mayoría de los argentinos que tienen VIH y que viven en los 24 distritos que rodean a la ciudad de Buenos Aires se ven obligados a viajar a la ciudad para tener acceso a tratamiento.
Aprovechando el contexto del plan de acción de OGP, el gobierno de Buenos Aires, en colaboración con la Fundación Huésped, desarrolló la plataforma digital Dónde. Entre otras muchas funciones, la plataforma reduce los obstáculos e inconsistencias sobre los servicios de salud sexual y reproductiva y ofrece información sobre la disponibilidad de servicios de salud y reproductiva en toda la ciudad. Esta plataforma ha permitido a los ciudadanos vulnerables acceder a información georreferenciada sobre centros de distribución de preservativos, a información de planeación familiar, pruebas de VIH y a centros de enfermedades infecciosas. 
Hoy, los ciudadanos tienen la oportunidad de ubicar centros de salud, calificar su servicio y enviar quejas sobre las clínicas que tienen mal desempeño o que violan los derechos de las mujeres.
Crédito: Fundación Huésped