Expanding Inclusion in Open Government for First Nations, Quilombola and Indigenous Women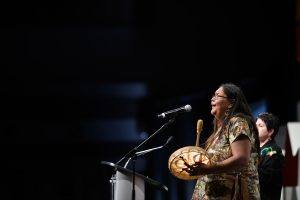 Since 1995, the 9th of August is commemorated as the International Day of the World's Indigenous Peoples, to take cognizance of the specific needs of Indigenous communities and First Nations. However, in the context of the OGP Global Summit 2019 held in Ottawa, Canada, a group of organizations discussed the exclusion of women of these groups from both national and global action plans and commitments. As a result of a session focused on exploring efforts and challenges of bringing First Nations and Indigenous Women into open government conversations, the participant organizations* put together a set of propositions for the OGP community to push forward policies that aim to achieve real inclusion of First Nations and Indigenous Women. 
Implement an Intersectional Approach
The aforementioned recommendations are linked to the Break the Roles campaign, which aims to strengthen gender perspectives and increase the participation of women in OGP. However, it is necessary to assure the inclusion of ALL WOMEN in these campaigns. Governments must allocate sufficient resources to design open government policies with an intersectional approach in order to address the multitude of intersecting exclusions and to develop strategies focused on tackling specific exclusion gaps, such as gender, ethnicity, race, age, religion, historical, social and political context of Indigenous Communities and First Nations, including Quilombola women**.  
To achieve more inclusive processes and commitments in OGP,  the community must consider marginalized groups like Indigenous and First Nations Peoples, especially women. bearing in mind that neither of them nor their public problems are homogeneous. It is urgent to increase their representation across all levels of government and in OGP Committees in decision-making and advisory positions.
OGP needs to create more discussion spaces on gender, decolonial and multi-cultural matters and develop advocacy strategies that ensure inclusion. It is imperative that OGP adapt its structures to take into consideration different ways of demanding the government and requiring information, in order to really include all kinds of manifestation. It is also crucial that OGP and its members invest in capacity building for First Nations and Indigenous women, including education and training for politics, research and data careers, so that they can acquire the knowledge and capabilities required to participate in OGP on an equal level.
Design Inclusive Co-Creation Processes
On the other hand, it must be acknowledged by all open government actors that digital platforms are inaccessible to a significant part of marginalized populations that could benefit the most from OGP, mainly in developing countries. Therefore, there should be alternate means of requesting and accessing information for people that do not have access to the internet. In that sense, national action plans must include specific lines of work aimed at innovation in terms of proactive transparency so that useful and reliable information is available for them and their communities, through culturally relevant channels and in their own languages. 
Shift from Advocacy to Action
It is critical that OGP fosters the creation of commitments to strengthen independent media by First Nations and Indigenous Populations, as well as specific commitments to ensure that Indigenous Peoples have adequate access to information on concession permits on Indigenous territories, with special emphasis on women's needs.
In conclusion, OGP must use gender perspectives and an intersectional approach in the development of alternative means to include voices of First Nations and Indigenous women in future OGP summits and consultations, guaranteeing their effective participation and influence in making decisions and commitments. Only by implementing these tools will it be possible to truly ensure that commitments, summits, and national action plans are based on the needs of all women – especially Indigenous, Quilombola and First Nations.
Learn more about OGP's current work with marginalized communities here.
* Article 19 Mexico and Central America Office, Article 19 Brazil Office, First Nations Information Governance Centre (from Canada) and Indigenous People's Alliance of the Archipelago.  
** Quilombola women sought a society free of oppression and racism, fought against the sexist structures in force in different historical periods, and stimulated a series of popular uprisings in Brazil.
Desde 1995, el 9 de agosto se conmemora el Día Internacional de los Pueblos Indígenas para reconocer las necesidades especiales de las comunidades indígenas y primeras naciones. En el contexto de la Cumbre Mundial de OGP que se llevó a cabo en Ottawa, Canadá, un grupo de organizaciones habló sobre la exclusión de las mujeres de estos grupos en los planes de acción nacionales y globales y en los compromisos. A partir del trabajo de una sesión que se enfocó en los esfuerzos y retos de incluir a las primeras naciones y a las mujeres indígenas en las conversaciones de gobierno abierto, las organizaciones participantes presentaron una lista de propuestas a la comunidad de OGP para impulsar políticas que logren una verdadera inclusión de las primeras naciones y las mujeres indígenas. 
Un enfoque interseccional
Dichas recomendaciones están relacionadas con la campaña Romper con los roles, que busca incorporar la perspectiva de género y fortalecer la participación de las mujeres en OGP. Sin embargo, es necesario asegurar la participación de TODAS LAS MUJERES en estas campañas. Los gobiernos deben asignar suficientes recursos para diseñar las políticas de gobierno con un enfoque interseccional para abordar la gran variedad de exclusiones que existen y desarrollar estrategias enfocadas en abordar ciertos vacíos de exclusión en particular, por ejemplo de género, raza, edad, religión y el contexto histórico, social y político de las comunidades indígenas y las primeras naciones, incluyendo a las mujeres quilombola. 
Para lograr que los esfuerzos y los compromisos de OGP sean más incluyentes, la comunidad debe considerar a los grupos marginados como las primeras naciones, sobre todo a las mujeres y tomar en cuenta que ningún grupo ni sus problemas son homogéneos. Es urgente aumentar su representación en todos los niveles del gobierno y en los comités de OGP, en la toma de decisiones y en los puestos de asesoría.
OGP necesita establecer más espacios de discusión sobre género, descolonización y temas multiculturales y desarrollar estrategias para asegurar la inclusión. Es fundamental que OGP adapte sus estructuras y tome en cuenta las diferentes formas que existen de exigir al gobierno y solicitar información, de manera que realmente se incluyan todos los tipos de manifestaciones. Además, es crucial que OGP y sus miembros inviertan en el desarrollo de capacidades de las primeras naciones y las mujeres indígenas, incluyendo temas de política, investigación y datos, de manera que puedan obtener el conocimiento y capacidades necesarias para participar en OGP a un nivel equitativo.
Diseño de procesos de cocreación incluyentes 
Finalmente, es necesario que todos los actores de gobierno abierto reconozcan que una proporción importante de las poblaciones marginadas no tienen acceso a las plataformas digitales, sobre todo en los países en desarrollo. Por lo tanto, se deben crear medios alternativos de solicitar y acceder a información para las personas que no tienen acceso a internet. En ese sentido, los planes de acción deben incluir líneas de trabajo diseñadas específicamente a manera de innovaciones para la transparencia proactiva para que tengan acceso a información útil y confiable para ellos y sus comunidades, a través de canales culturalmente relevantes y en su propio idioma.
Del discurso a la acción
Es importante que OGP impulse la creación de compromisos para fortalecer los medios independientes de las primeras naciones y los pueblos indígenas, así como compromisos específicos que busquen asegurar que los pueblos indígenas tienen acceso a la información sobre las concesiones otorgadas en sus territorios, tomado en cuenta las necesidades de las mujeres de forma especial.
En conclusión, OGP debe adoptar una perspectiva de género y un enfoque interseccional en el desarrollo de medios alternativos para la inclusión de las voces de las primeras naciones y las mujeres indígenas en las siguientes cumbres y procesos de consulta de OGP, garantizando su participación efectiva e influencia en la toma de decisiones y en el desarrollo de compromisos. Solamente si aplicamos estas herramientas podremos realmente asegurar que los compromisos, cumbres y planes de acción incorporen las necesidades de todas las mujeres – en especial de las indígenas, quilombola y primeras naciones.