What to Expect in the Year Ahead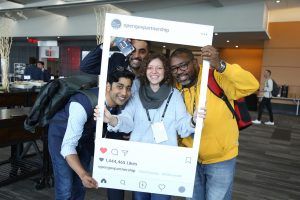 This article was originally posted on our Medium page here.
For more than two decades, my professional journey has been one dedicated to helping build more open, inclusive, and accountable governments with strong institutions that ensure the wellbeing of people. For the coming year, I am excited and humbled to continue this pursuit as Co-Chair of the Open Government Partnership (OGP) Steering Committee, alongside the Government of Argentina.
Our joint leadership role will be one of promoting continuity in the Partnership. We will also focus on leveraging the unique potential of OGP to spark positive change even in these challenging times for democracy. Right now, a record number of people have taken to the streets to protest changes in government services, such as subway fare hikes in Chile, and a range of political scandals, from Romania to South Korea. We owe it to people everywhere to support their engagement and to help government more ably serve the needs of all people.
These protests represent a continuing distrust of government and a deepening of divides between government and the people it serves. Our goal as co-chairs is to use the open government process to bring citizens back into government decision-making and to make government account for its policies and practices, which have such profound impact on people's daily lives.
To accomplish this goal we will continue our work to extend democracy beyond the ballot box. We will support the hard work that takes place across the Partnership to create and implement ambitious action plans — and identify leaders whose teams in government and civil society are making positive change happen. We will continue to raise ambition so that all citizens, including those traditionally underrepresented — women, indigenous people, youth, and people with disabilities — are fully included in open government.
And, we will work to implement open government across government branches and services. Spreading open government to parliaments and justice systems and other independent government agencies will increase the cross-society collaboration needed to fully embed OGP values.
Practically, this means that in 2020 we will not be hosting a Global Summit. Instead, we will focus on how we can support OGP members in advancing reforms and their implementation. This effort will rely on identifying leaders across the Partnership with expertise on priority policy areas. We want to ensure the knowledge and know-how collected over the past eight years are shared with all. We hope to find enthusiasm for a distributed leadership model that we believe will help the Partnership to succeed.
We also have identified several current priority policy areas within OGP that we will deepen and expand.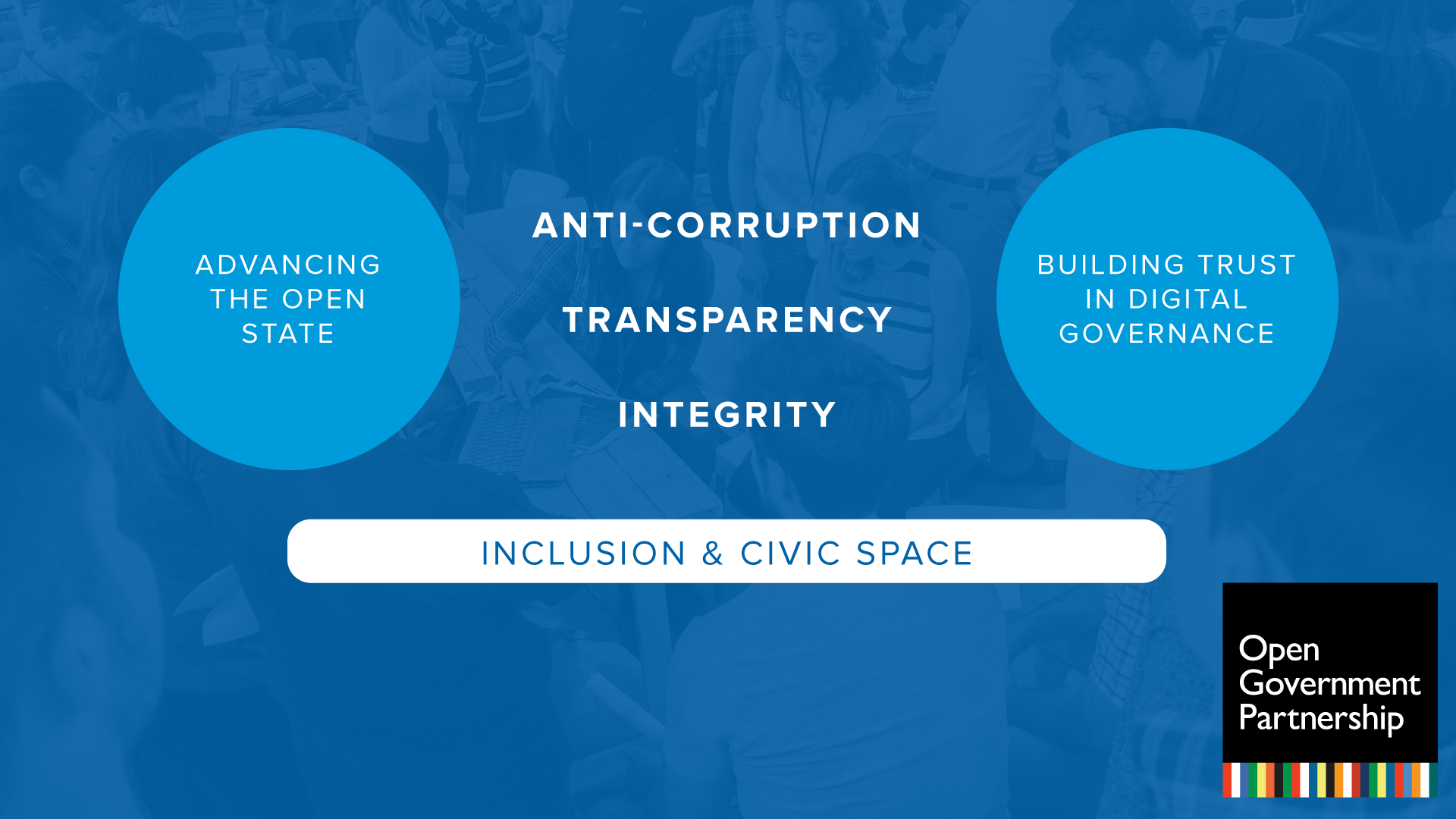 People-Centered Justice
We will promote open justice and access to justice by focusing on people's actual legal needs and the performance of justice institutions, from courts to legal aid organizations to justice ministries, in meeting them. In high- and upper-middle-income OGP countries this includes a focus on housing, consumer, and financial problems which are the most common concerns for the courts. In lower-income OGP countries, the problems is often one of basic documentation and services. We are already developing a coalition of open government leaders around justice issues at the national and local levels.
Balancing the Promise of Digital Governance
The growth of digital technologies, from algorithms to social media, is already a powerful force in open government. But data generation and use have proven prone to ethical conundrums, privacy abuses, misinformation, access divides, cyber-attacks and other potential misuses. Looking ahead, it is imperative that technology is used by governments in a fair, open, and inclusive manner. As co-chairs we will work with OGP members to identify and establish practices for digital governance that foster trust and integrity. Importantly, this focus will require significant collaboration with the private sector, who are key to developing the digital technologies and platforms that governments use and control.
Promoting Transparency and Integrity
OGP's track record in fighting corruption is strong. From empowering citizens in South Africa and Ukraine to have a say in how their governments spend resources, to unmasking the real owners of anonymous companies in Slovakia and the United Kingdom, However, much more remains to be done to deal with opacity, nepotism, and inequality. In our co-chair year, we will encourage the scaling of OGP anti-corruption commitments, especially those dealing with beneficial ownership transparency and open contracting.
Building a Stronger Civic Space
To ensure the Partnership advances on these key policy areas, we will also focus on strengthening commitments that reinforce the importance of civic space and that provide a safe space for citizens to hold their governments to account. If the massive Ni Una Menos protests in Argentina or the Candlelight Revolution in South Korea have taught us anything, is that governments work better when citizens are empowered to shape the policies that affect their lives.
Expanding Open Government at the Local Level
We also continue to recognize the impact of open government at the local level and will ensure that the new OGP Local Program is initiated in 2020. By broadening the base of stakeholders engaged in OGP, there will be more opportunities for all forms of local government — from small municipalities to entire regions, and the civil society organizations working with them — to scale up their reforms, learn from each other, and increase the impact of open government at the local and national level. We have seen great results in Austin, Texas; Sekondi Takoradi, Ghana; and Madrid, Spain and hope for more inspiring stories in other localities around the world.
As we look forward to the year ahead, we would like to build a stronger open government community — with new partnerships and actors from across sectors and regions. From participating in public moments such as Open Gov Week to sharing expertise at the local, national and regional levels, open government advocates are the heart of our movement. Through their passion and sense of purpose, we can invigorate open government with the values that define democracy, build trust, and give hope to people everywhere that government is there to serve their needs.
Desde hace más de dos décadas, he dedicado mi vida profesional a ayudar a crear gobiernos más abiertos, incluyentes, que rinden cuentas y que están formados por instituciones que trabajan por el bienestar de las personas. El próximo año tendré el honor de seguir trabajando en ello como copresidenta del Comité Directivo de la Open Government Partnership (OGP), junto con el Gobierno de Argentina.   
Nuestro liderazgo conjunto se enfocará en promover la continuidad de la alianza. Además, trabajaremos en aprovechar el potencial tan especial que tiene OGP de promover cambios positivos, incluso en tiempos difíciles para la democracia. Hoy, un número récord de personas están saliendo a las calles para exigir cambios a sus gobiernos, por ejemplo en el contexto del alza de las tarifas del metro en Chile y una serie de escándalos políticos desde Rumania hasta Corea del Sur. Les debemos a las personas apoyar su involucramiento y ayudar a los gobiernos a resolver las necesidades de la gente.
Estas protestas demuestran que la desconfianza en el gobierno continúa y que la brecha entre los gobiernos y sus ciudadanos persiste. Como copresidentes, nuestro objetivo será aprovechar el proceso de gobierno abierto para regresar a los ciudadanos al centro de la toma de decisiones y exigir a los gobiernos que rindan cuentas por sus políticas y prácticas, pues éstas tienen un impacto muy significativo en la vida de las personas.
Para lograr este objetivo, seguiremos trabajando en llevar la democracia más allá de las urnas electorales. Apoyaremos el trabajo de la alianza de crear e implementar planes de acción ambiciosos e identificaremos aquellos líderes que están logrando cambios positivos desde el gobierno y desde la sociedad civil. Seguiremos aumentando el nivel de ambición para que la ciudadanía, incluyendo a los grupos que históricamente han sido marginados (mujeres, pueblos indígenas, jóvenes y personas con discapacidades), participen en el gobierno.
Además, trabajaremos en implementar el gobierno abierto en todos los poderes y servicios del gobierno. Si ampliamos el gobierno abierto a los parlamentos, sistemas de justicia y otras instituciones de gobierno, lograremos la colaboración transversal que necesitamos para incorporar los valores de OGP por completo.
 En términos prácticos, esto implica que en 2020 no solamente organizaremos la Cumbre Global, sino que además nos enfocaremos en apoyar a los miembros de OGP para impulsar reformas y su implementación. Este esfuerzo se apoyará en identificar líderes dentro de la alianza que tengan experiencia en las áreas de política que hemos identificado como prioritarias. Queremos asegurar que el conocimiento y experiencia que hemos reunido en los últimos años llegue a todas las personas. Esperamos que el modelo de liderazgo distribuido sea bien recibido, pues creemos que éste ayudará a la alianza a lograr sus objetivos.   
 Además, identificamos una serie de áreas de política que ampliaremos y fortaleceremos.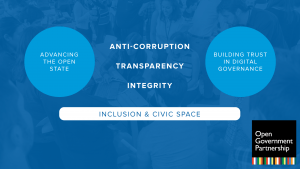 Justicia centrada en las personas
 Promoveremos la justicia abierta y el acceso a la justicia, enfocándonos en las necesidades reales de las personas y el desempeño de las instituciones de justicia, desde las cortes hasta las organizaciones de asistencia jurídica y los ministerios de justicia. En los países de ingresos altos y medios, nos enfocaremos en problemas de vivienda, consumidores y financieros, pues son los más comunes. En los países de ingresos bajos, los problemas en general están relacionados con los documentos y servicios básicos. Ya estamos trabajando en crear una coalición de líderes de gobierno abierto sobre temas de justicia a nivel nacional y local. 
Un contrapeso a la promesa de la gobernanza digital
Las tecnologías digitales, desde los algoritmos hasta las redes sociales, son herramientas muy importantes para el gobierno abierto. Pero es evidente que la generación y el uso de los datos es susceptible a problemas éticos, abusos de privacidad, desinformación, brechas en el acceso, ataques cibernéticos y otros problemas. En el futuro, será fundamental asegurar que los gobiernos utilicen la tecnología de forma justa, abierta e incluyente. Como copresidentes, trabajaremos con los miembros de OGP en la identificación y establecimiento de prácticas de gobernanza digital que promuevan la confianza y la integridad. Esto implicará una colaboración importante con el sector privado, pues es clave para desarrollar las tecnologías y plataformas digitales que los gobiernos utilizan. 
Transparencia e integridad 
El historial de OGP de lucha contra la corrupción es sólido, desde empoderar a la ciudadanía en Sudáfrica y en Ucrania hasta opinar sobre la forma en la que los gobiernos gastan sus recursos y desenmascarar a los beneficiarios reales de empresas anónimas en Eslovaquia y el Reino Unido. Sin embargo, aún falta mucho por hacer en temas de opacidad, nepotismo y desigualdad. Durante nuestra copresidencia, promoveremos el escalamiento de los compromisos anticorrupción de OGP, sobre todo aquellos relacionados con la transparencia en los beneficiarios reales y la contratación abierta.  
Un espacio cívico más fuerte
Para asegurar que la alianza logre avances en estas áreas clave, nos enfocaremos también en fortalecer compromisos que refuercen la importancia del espacio cívico y que creen un espacio seguro en el que la ciudadanía pueda exigir a sus gobiernos que rindan cuentas. Si el movimiento de Argentina Ni Una Menos o la revolución de las velas de Corea del Sur nos han enseñado algo, es que los gobiernos trabajan mejor cuando la ciudadanía está empoderada para definir las políticas que afectan sus vidas.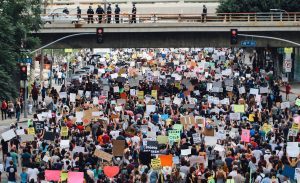 Ampliando el gobierno abierto a nivel local
Además, reconociendo el impacto que tiene el gobierno a nivel local, nos aseguraremos de iniciar el nuevo programa OGP Local en 2020. Si ampliamos la base de actores que participan en OGP, habrá más oportunidades para todas las formas de gobierno local – desde municipios pequeños hasta grandes regiones – y para las organizaciones de la sociedad civil que trabajan con ellos y de escalar sus reformas, aprender y aumentar el nivel del gobierno abierto a nivel local y nacional. Ya hemos visto resultados excelentes en Austin, Texas; Sekondi Takoradi, Ghana y en Madrid, España y esperamos seguir viendo historias en otras localidades del mundo.
El próximo año queremos fortalecer a la comunidad de gobierno, creando nuevas alianzas e incorporando a actores de todos los sectores y regiones. Desde su participación en momentos clave como la Open Gov Week hasta el compartir de sus experiencias a nivel local, nacional y regional, los líderes del gobierno abierto son un elemento clave de nuestro movimiento. Con su pasión, podemos revitalizar al gobierno abierto con los valores que define la democracia, promover la confianza y dar esperanza a las personas de que sus gobiernos están enfocados en cubrir sus necesidades.
Related Content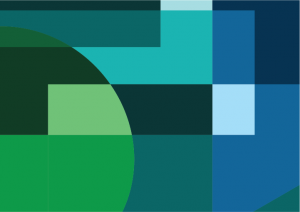 2019-2020 OGP Co-Chair Vision: Government of Argentina and Robin Hodess
As we begin our tenure as co-chairs of the Open Government Partnership, we are filled with excitement and humility at the task ahead.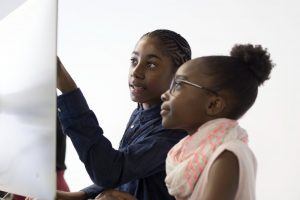 Challenges and Solutions
United for an Open Digital Future
Freedom of expression is an important sign of a thriving democracy, including across constantly emerging digital platforms and social media.