How to Get Beyond the Doom and Gloom: Align OGP with the Sustainable Development Goals
Notwithstanding the airiness of a late spring day in Ontario after a long winter or the charm of the Rideau Canal, the OGP Summit in 2019 was bound to be gloomier than previous ones I'd attended. I was at the launch in New York in fall 2011, when it felt as if a global, organic anti-corruption movement was picking up so much steam that it had helped bring down dictators and gave once-in-a-life-time hope to youthRecognizing that investing in youth means investing in a better future, OGP participating governments are creating meaningful opportunities for youth to participate in government processes. Technical ... across the Middle East. In London in 2013, it still felt as if technology was playing a largely positive role in advancing governance. At USAID, where I was lead on democracy, human rightsAn essential part of open government includes protecting the sacred freedoms and rights of all citizens, including the most vulnerable groups, and holding those who violate human rights accountable. T..., and governance, we were launching all sorts of initiatives to harness tech for good, including "Making All Voices Count," a Grand Challenge for Development that we hoped would enable those in government to listen and respond to the elevated voices of citizens using affordable technologies.  
In 2015, I came to Mexico City as part (again) of the US delegation just days after being confirmed by the Senate as Ambassador to the UN's Economic and Social Council. The demands of the new job dominated my thinking; I don't remember much except surprising my boss in the swimming pool early one morning and being inspired at a reception by the passionate Ukrainian delegation and their commitmentOGP commitments are promises for reform co-created by governments and civil society and submitted as part of an action plan. Commitments typically include a description of the problem, concrete action... to ending corruption in their country, still drawing energy from the Euromaidan.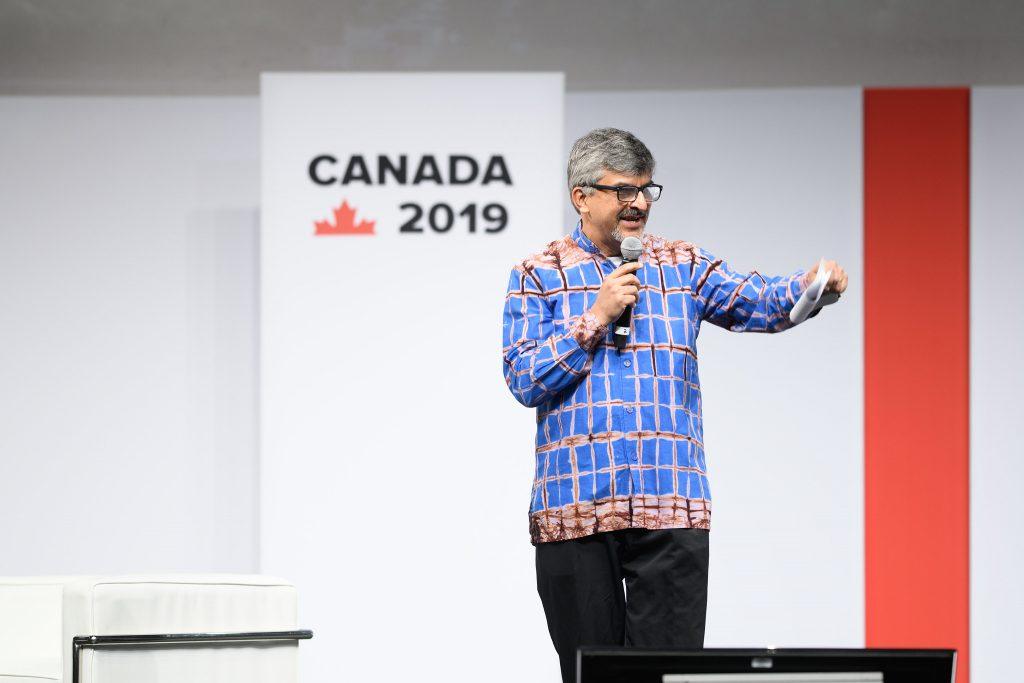 Rakesh Rajani at the OGP Global Summit in Canada.
The gloom that hangs over so much these days was to me perhaps best and unintentionally personified by Rakesh Rajani. In 2013, he had memorably shared the stage with President Kwikete. By now, Tanzania has left OGP, and Rakesh in Ottawa was asking hard questions about whether OGP was delivering for citizens. The closing civic space epidemic  has made OGP more indispensable but also has put burdens on the entire enterprise. I remember raising this issue at an OGP meeting in 2012 to be met with largely blank stares. Now, closing space, the rise of authoritarians, threats to freedom of the press are all topics of discussion at any OGP gathering.
The one bit of good news I see in 2019 is the power of aligning OGP with the Sustainable Development GoalsOGP countries are experimenting with open government innovations to accelerate progress on the Sustainable Development Goals, particularly SDG 16+ which includes peaceful, just and inclusive societies... (SDGs), especially around the 16+ agenda—creating peaceful, just, and inclusive societies. It was on that topic that I chaired a panel of distinguished speakers from government, international organizations, and civil society journeying from Africa, Asia, Latin America, the United States, and Europe. The conversation suggested that the SDGs and OGP seem to be experiencing benefits from localization, making these agendas real for people.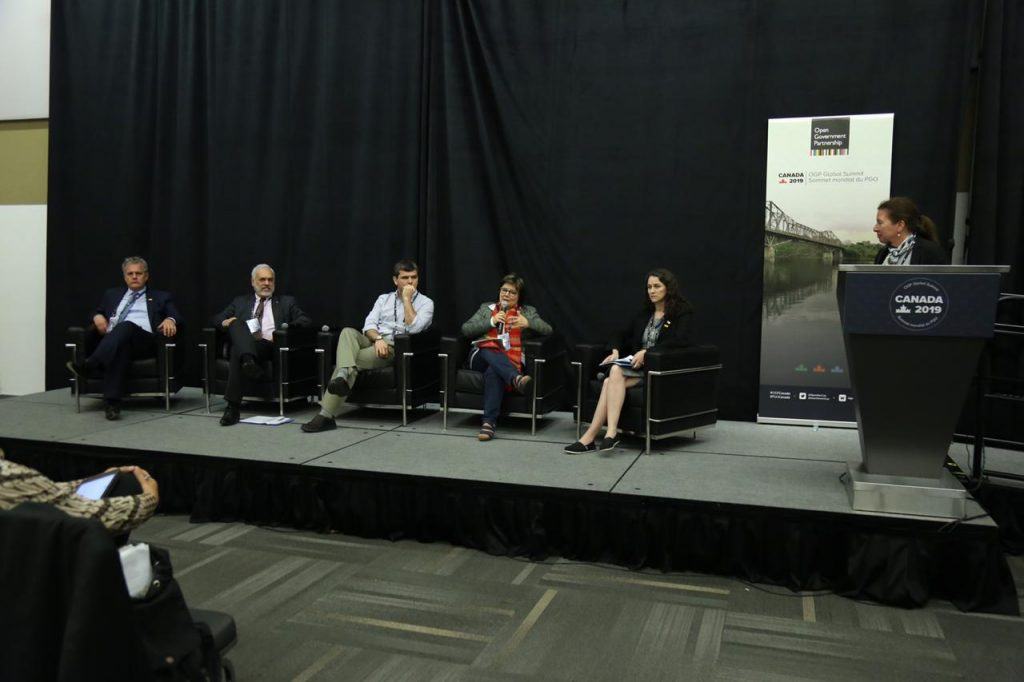 Session on SDGs at #OGPCanada moderated by Ambassador Sarah Mendelson.
The SDGs can benefit OGP and vice versa. For example, harness the access to justiceAccessible justice systems – both formal and informal – ensure that individuals and communities with legal needs know where to go for help, obtain the help they need, and move through a system tha... More metrics in the SDGs and pull forward transitional justiceTo address barriers that prevent citizens from having their justice needs met, OGP participating governments are working to expand transparency, accountability, and inclusion into all systems of justi... mechanisms tomake the OGP agenda relevant for societies emerging from conflict. Increase demand for uncovering beneficial ownershipDisclosing beneficial owners — those who ultimately control or profit from a business — is essential for combating corruption, stemming illicit financial flows, and fighting tax evasion. Technical... More as an effective pushback to those advancing closed societies and corruption, agendas favored by the Putins and the El Sisis of the world. Step up our ambitions around reducing all forms of violence and reducing inequality.
As a voluntary independent platform, OGP can help increase public awareness of the SDGs.  OGP can help nudge greater collaboration (including from donors) around the 16+ agenda, as is occurring with other SDG clusters, such as those around climate. Collectively, by 2030, OGP can help grow a new generation of human rights activists using data to demand transparencyAccording to OGP's Articles of Governance, transparency occurs when "government-held information (including on activities and decisions) is open, comprehensive, timely, freely available to the pub... More and accountability and demonstrating an SDG effect in governance. Nothing gloomy about that!    
A pesar de la aparente frescura de un día primaveral de Ontario tras un largo invierno y del encanto del Canal Rideau, había más pesimismo alrededor de la Cumbre de OGP de 2019 que en otros eventos a los que había asistido. Estuve en el lanzamiento de la alianza en Nueva York en 2011, cuando parecía estarse generando movimiento global y orgánico anticorrupción con tanto impulso que había logrado derrocar a dictadores y que ofreció una esperanza única a los jóvenes del medio oriente. En Londres en 2013, parecía que la tecnología estaba ayudando a impulsar la gobernanza. En USAID, en donde lideraba esfuerzos de democracia, derechos humanos y gobernanza, lanzábamos diversas iniciativas para aprovechar la tecnología para fines positivos, incluyendo la iniciativa "Making All Voices Count", con la cual esperábamos que actores de gobierno escucharían y responderían a las voces de los ciudadanos con tecnologías accesibles.
En 2015, vine a la Ciudad de México como parte (nuevamente) de la delegación de Estados Unidos, días después de haber sido ratificada por el senado como embajadora en Consejo Económico y Social de las Naciones Unidas. Las exigencias del nuevo trabajo dominaban mis pensamientos; no recuerdo mucho excepto haber sorprendido a mi jefe en la piscina una mañana y encontrarme en la recepción a la delegación ucraniana, tan apasionada, y sorprenderme por su compromiso por acabar con la corrupción en su país, aún con la inercia de Euromaidán.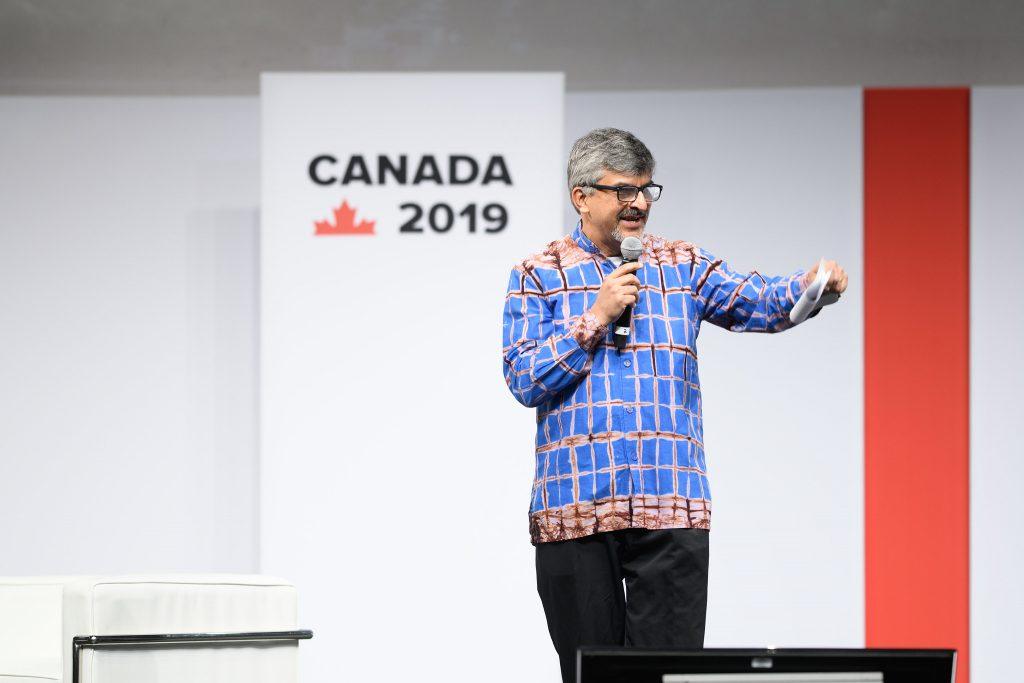 Rakesh Rajani en la Cumbre Mundial de OGP en Canadá
El pesimismo que me rodea estos días se personifica, quizá de forma no intencional, en Rakesh Rajani. En 2013, él había compartido el escenario con el presidente Kwitete. Hoy, Tanzania ya no forma parte de OGP. En la Cumbre de Ottawa, Rakesh cuestionó el impacto que OGP estaba teniendo en la vida de los ciudadanos. La epidemia de cierre del espacio cívico hace que OGP sea más indispensable, pero también representa una carga. Recuerdo haber tocado este tema en una reunión de OGP en 2012 sin recibir respuesta. Hoy, el cierre del espacio cívico, el alza del autoritarismo y las amenazas a la libertad de prensa son temas de discusión en todas las reuniones de OGP.
La buena noticia que veo en 2019 es la oportunidad de alinear a OGP con los Objetivos de Desarrollo Sostenible (ODS), sobre todo la agenda 16+ referente a la creación de sociedades pacíficas, justas e incluyentes. Durante la Cumbre, moderé un panel sobre este tema en el que participaron ponentes distinguidos de gobierno, organizaciones internacionales y la sociedad civil de África, Asia, Latinoamérica, Estados Unidos y Europa. Durante la conversación, se comentó que al parecer los ODS y OGP se están beneficiando de la localización, haciendo de estas agendas una realidad para la gente.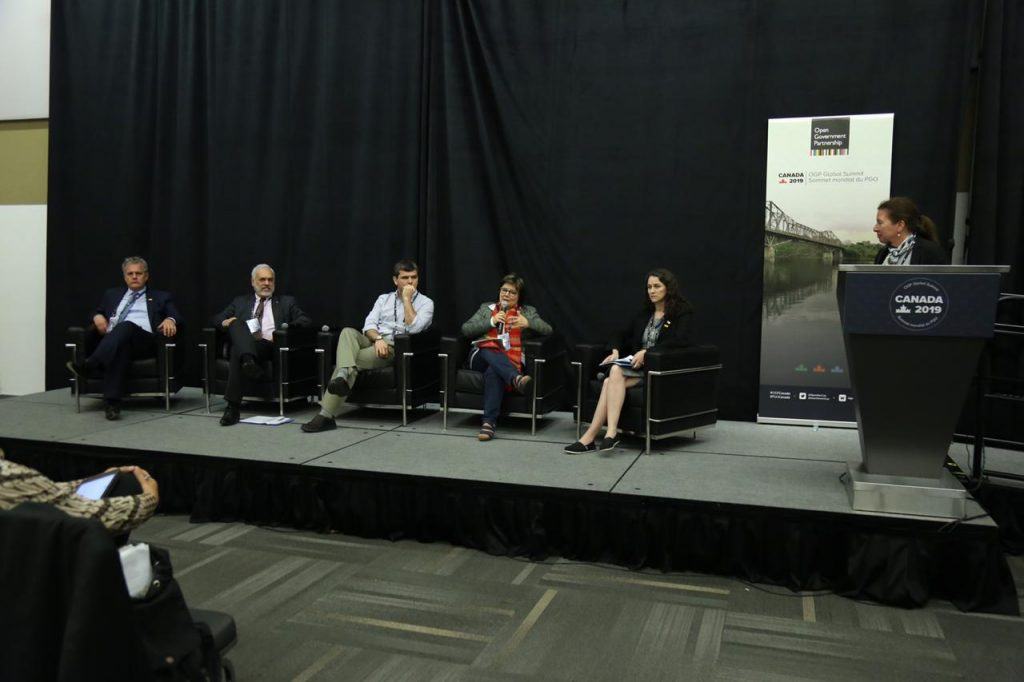 Sesión sobre los ODS moderada por la Embajadora Sarah Mendelson en #OGPCanada
Los ODS pueden aprovechar a OGP y viceversa. Por ejemplo, utilizar los indicadores de acceso a la justicia en los ODS e impulsar mecanismos de justicia para hacer que la agenda de OGP sea relevante para las sociedades que están saliendo de conflictos. El aumento en la demanda de descubrir los beneficiarios reales como medida efectiva contra el cierre de las sociedades cerradas y la corrupción, agendas impulsadas por los Putin y El Sisis del mundo. Elevar nuestra ambición para reducir todas las formas de violencia y la desigualdad.
Como plataforma voluntaria e independiente, OGP puede ayudar a sensibilizar al público sobre los ODS. OGP puede ayudar a impulsar una mayor colaboración (también de los donantes) a favor de la agenda 16+, como está pasando en otros grupos de ODS, como es el caso de las organizaciones que trabajan en cambio climático. De forma colectiva, para el 2030, OGP puede ayudar a establecer una nueva generación de activistas de derechos humanos que utilizan datos para exigir transparencia y rendición de cuentas y demostrando un efecto de los ODS en la gobernanza. ¡No hay nada de pesimismo en eso!
Related Content
Agenda 2030: A normative framework for recovering trust in government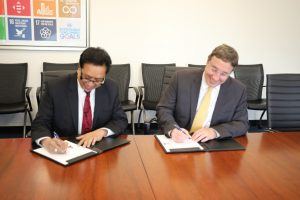 UNDP and OGP sign MoU for 2030 Agenda and Open Government
UNDP and OGP will collaborate in supporting countries to implement reforms related to SDG16, SDG5, and legislative openness by providing programmatic support and technical assistance to institutions and civil society…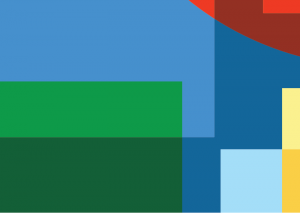 Challenges and Solutions
Making a Difference through Inclusion, SDGs, and Open Government
Read how Ukraine aligned their 2018-2020 OGP action plan with the Sustainable Development Goals.