Transparency and Accountability at the Frontlines of Justice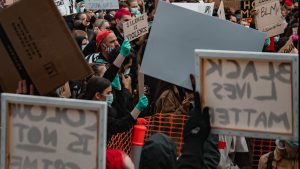 Introduction
The killings of George Floyd, Breonna Taylor, Ahmaud Arbery, and too many other Black Americans have brought to light systemic and entrenched racism. While these killings took place in the U.S., racism, discrimination, and attacks on peaceful assemblies are deeply rooted across the globe, manifesting in different ways. In South Africa, cases such as that of Collins Khosa are a reminder that police violence against poor, black South Africans remains common. Indeed, excessive use of force and weak accountability have been demonstrated around the world in Hong Kong, El Salvador, Brazil, Chile, Nigeria, the Philippines, and beyond.
At the same time, citizens and government leaders around the world have made their voices heard, through public protest, demands to change budget priorities, and reforms to police practices.
Because abusive police practices is a global problem that manifests itself at the local level, it requires a variety of solutions addressing different levels of government. Naming the problems of discrimination and policing is an important first step, but it is not enough. This document addresses the next steps.
This document suggests how members of the Open Government Partnership (OGP) can move from advocacy to concrete commitments on policing. It assembles what has been done and what could be done to realize the OGP's goals of inclusion, justice, and human rights through improved transparency, participation, and accountability. As the document shows, some work has been done through OGP to address these core issues. However impactful this work, it is far too rare and is limited in ambition. Few OGP members are working on free assembly and none have yet tackled more concrete police accountability measures or legal regimes (at least through OGP action plans).
To that end, this document focuses on four core areas that clearly need more work by OGP members:
This work is deeply indebted to the citizens, activists, government reformers, and innovators within police departments. It will never replace the expertise of those who have struggled to implement these reforms against powerful vested interests. Yet it can serve as a starting point—an idea book to adopt and adapt reforms worldwide.
---
All information and examples in this document are as of June 25, 2020. 
About OGP & Justice Policy Series
The Open Government Partnership (OGP) provides an opportunity for government and civil society reformers to make government more transparent, participatory, and accountable. Working together, government and civil society co-create two-year action plans with concrete commitments across a broad range of issues that are then monitored by OGP's Independent Reporting Mechanism (IRM). Recently, thanks to increased global activity around  justice, there is growing interest by many governments and civil society leaders to better link justice with open government.
This paper is an advance installment of a forthcoming publication on Open Justice to be released as part of the Open Government Partnership Global Report's series on justice. In 2019, OGP released the series' first installment on Access to Justice. In the coming months, the Open Government Partnership (OGP) will issue papers on Open Justice and Justice as a Means to Enforce Open Government. The series aims to highlight the important synergies between justice and open government and the ways in which countries can use OGP to make accountable, credible improvements to their justice systems.
The Access to Justice report can be found here.
More information about the Open Government Partnership and how it works can be found here.
Please contact research@opengovpartnership.org with any additional comments or inquiries.
ACKNOWLEDGEMENTS
Sanjay Pradhan, Chief Executive Officer
Authors:
Jessica Hickle, Research Associate
Mia Katan, Research Associate
Contributors:
Joseph Foti, Chief Research Officer
Maha Jweied, Independent Expert, Justice
Copy Editor: 
Amalia Pleake-Tamm
Special Thanks: 
Adna Karamehic-Oates, OGP
Additional Thanks:
Reviewers: Venkatesh Nayak (Commonwealth Human Rights Initiative), Rachel Neild (Open Society Justice Initiative), Rebecca Neusteter (The University of Chicago)
Featured Photo Credit: Tony Zhen via Unsplash