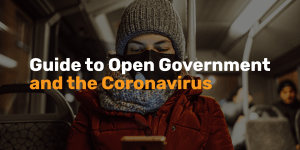 A Guide to Open Government and the Coronavirus
This is a moment of peak uncertainty for governments, civil society and citizens. Facing a unique challenge from the coronavirus, new policies and approaches are being tested in real-time. Many in the open government community are deeply involved...
Nos encontramos en un momento de gran incertidumbre para los gobiernos, la sociedad civil y la ciudadanía. En el contexto del reto sin precedentes que representa la pandemia de coronavirus, los gobiernos están probando políticas y metodologías en tiempo real...
En ce moment, l'incertitude est à son maximum pour les gouvernements, la société civile et les citoyens. Face au défi unique que représente le Coronavirus, de nouvelles politiques et approches sont testées en temps réel...